After sell-out seasons across London's West End and Broadway and two impressive international tours of North America and the UK and Ireland, the multi award-winning play 'The Curious Incident Of The Dog In The Night-Time' has arrived in Australia.
Adapted from Mark Haddon's best-selling book of the same name the play tells the story of 15-year-old Christopher Boone who, having come under suspicion for the apparent murder of his neighbour's dog, must use his cunning detective skills to prove his innocence.
Here actor Joshua Jenkins (Christopher) chats about what audiences can expect from this critically acclaimed production.
For those who have never heard of this production or read the book can you tell us a little bit about the play and the types of themes it explores?
It's a story about a 15-year-old called Christopher Boone. He has the most amazing mind and talent for maths and science but he struggles with everyday social interaction and the story starts where he finds his neighbour's dog dead in the front garden and he goes on an epic coming-of-age journey to find out who killed the dog. It's a story about difference, family, loss and love.
The play has received positive reviews from critics all around the world, with TIME Magazine calling it "life affirming and unmissable". In your opinion, what is it about this story that resonates so powerfully with audiences?
It's about these universal themes that people can relate to all over the world no matter where you're from or what language you speak. But the main theme that strikes a chord for me is the celebration of difference and how we in society treat people who see the world differently. Christopher is an underdog and shouldn't succeed given what he's up against. But we as readers and viewers root for him because he has this unique outlook on life which is very pure and hopeful.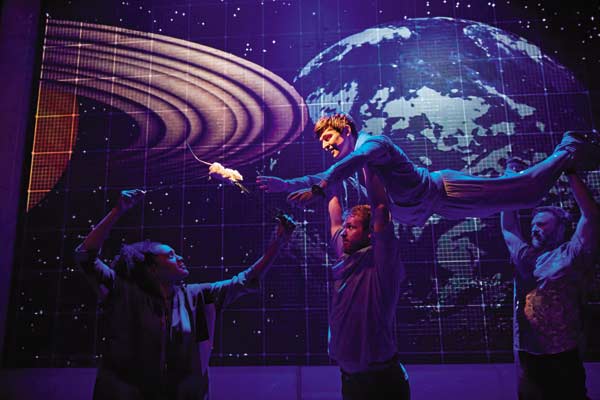 Image © Brinkhoff Mogenburg
Have you read the novel yourself and if so, did this have an impact on how you chose to portray Christopher?
Of course. I've read it several times and I fell in love with the story and Christopher the moment I read it. The book is like a bible to us in the rehearsal room that we could go to for help at any moment. Mark Haddon writes such a detailed character that he does all the work for the actor. We all know from the story all of Christopher's likes and dislikes and we also know how he acts and reacts around them.
What drew you to the role of Christopher? How would you describe him?
It's such a demanding role both physically and mentally. Christopher goes through a roller coaster of emotions throughout the play and the character never leaves the stage. I think as actors we want to play the most challenging roles to push ourselves and see where we are able to go creatively. It's roles like Christopher that made me want to be an actor, so I consider myself very fortunate to be doing so.
You played Christopher in the show's first UK tour, has your portrayal of Christopher changed or evolved from that tour to now? How and why?
Yes, I think so. The basics of what and who the character is, is of course the same along with most of the blocking. But there are a lot of detailed changes within the text, mainly because I'm working with a whole new bunch of actors. So, when a different actor offers you something up, you can only respond to that take on the line. Also, I think it's so important to keep the play fresh and interesting for yourselves on stage otherwise it will become dry and stale for the audience.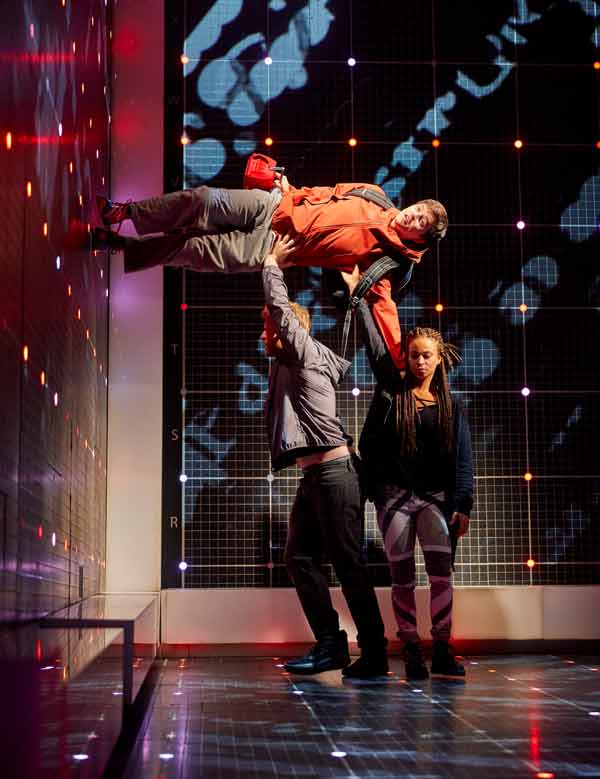 Image © Brinkhoff Mogenburg
What was it like working with Tony Award-winning Director Marianne Elliot (whose previous theatre credits include 'War Horse' and 'Angels In America')?
Well, we worked with her Associate Director Elle While but Marianne did come in a few times during rehearsals and was there for the tech during the first UK Tour and it was so clear even from those few encounters how brilliant she was. In the UK I think she's torn the rule book up in terms of what a play can be and she's constantly setting the standard for the rest to follow. She's a visionary and I feel very lucky to have the chance to be in one of her plays.
According to the show's website the play boasts "remarkable immersive staging". What does this mean and what can audiences expect?
Well in the book Christopher tells the reader what he's thinking and feeling at every moment. That's not massively theatrically interesting. So, in the play we show you through lighting, projections, sound, music and physical theatre. So, when Christopher is feeling, let's say anxious, then the whole set and tech will project its take on anxiety. Lots of stone lighting for example, loud and sharp noises and quick/dynamic movement. So, it gives immerses the audience into his world you experience first-hand what he's going through.
The play has won numerous awards including a record breaking seven Olivier Awards (2013). How does it feel to be part of such an award winning performance? Do you feel a certain pressure to excel in your role?
No, I don't any more. I've done this show hundreds of times and I still feel a massive responsibility every day to try and maintain the high standards that have been set, but I don't feel pressure. It's wonderful to be a part of such a well-loved story and play and certainly something I don't take for granted. Telling this boy's story with truth and integrity has to be the most important thing and maintained throughout the duration of the job.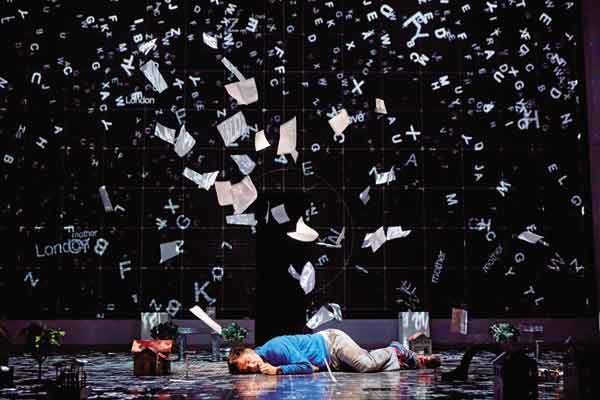 Image © Brinkhoff Mogenburg
In your opinion what sets this play apart from others?
I think in many ways it's a simple and beautiful story and play but it has the production values of an enormous West End show and that's a unique combination. The production values of this show are normally reserved for musicals, but when you combine it with a play it makes for a very powerful night at the theatre.
If there is one lesson you hope audience members will take away from this play what is it?
That we are all different and uniquely beautiful and that should be celebrated.
'The Curious Incident Of The Dog In The Night-Time' Tour Dates
4-28 July – Roslyn Packer Theatre (Sydney)31 July-4 August – Adelaide Entertainment Centre8-19 August – His Majesty's Theatre (Perth)