Humankind has always been faced with and governed by change, both in natural and man-made environments.
The notion of natural change and the need to adapt is a concept that the Curators in Space programme under the Flying Arts Alliance has undertaken and created Shift: an exhibition that highlights four curators and five very different artists in works depicting their understanding of change, the effects and how the need to adapt is absolutely vital.
Gillian Jones is one of the four Curators in Space participants; along with Zoe Blandford, Jo Kaspari and Emma McLean, they collaboratively worked to explore the idea of change.
Gillian passionately discusses the relationship between the curators. "Representing the idea of change with this exhibition is incredibly important. All the curators are from very different backgrounds and have all experience change in our professional and personal lives. We all have different experiences that created change amongst us thorough influences ideas and things like that," she says.
"We wanted all change to be represented and for us to be very aware that change is present and that we have to adapt."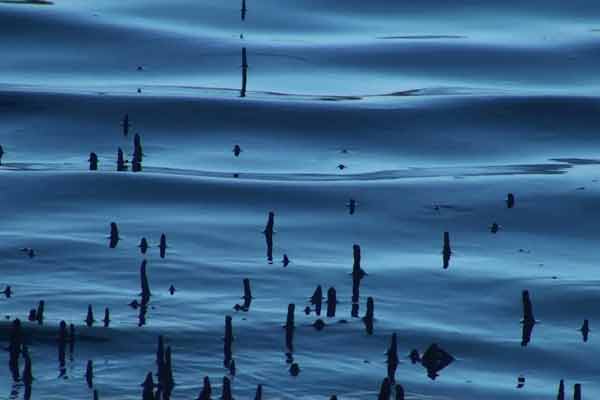 'Separated By Water' - Image © Duke Albada, Michelle Blakeney
The exhibition features works from Duke Albada, Chris Bennie, Joachim Froese, Sharmila Nezovic and Jude Roberts.
Gillian excitedly explains how each artist brings something new to the table of change.
"It's really diverse, there is really something for everyone. There is live performance, video, installations and paintings. Usually when you go to an exhibition it's all in one medium, this is difference as we have five different artists that have five very different takes on change. Some of the works have been created long ago and then there are some like the live performances that are created on the night.
"People really have a lot of opportunities to explore different mediums and understand different perspectives on what change means."
With the exhibition being created from the Flying Arts Curators in Space programme, it was only natural for Project Coordinator Elysha Rei to discuss why she first got involved with the Flying Arts Alliance.
"I've lived and worked in regional Queensland so I have a personal connection with understanding how different accessing art shows and things like that are between metro and regional areas. Having the opportunity to work for a service that brings the art to people living in regional Queensland instead of them always having to come to the city is one of the best parts of the job.
'The Daylight Moon' - Jude Roberts
"The mission to make art accessible has gone the distance as it was started 45 years ago and is still going! It's just great to be a part of it."
Elysha expresses how changes in technology have greatly assisted removing isolation from regional areas and assisted with closing the opportunity gap.
"The isolation has changed a lot due to technology, but there are still vast differences, challenges and achievements that you can't really comprehend unless you've been there. Being in the city you have art supplies, classes and opportunities to connect with other artists at your finger tips.
"When you're in the regional areas, things like seeing an exhibition or getting art supplies takes a lot more time and planning. The Flying Arts Alliance is providing equality with accessing art which is just amazing."
Shift is on now at the Judith Wright Centre of Contemporary Arts until 20 January.