In a culture where the word 'binge' now means entering the world of YouTube videos, fan content and all night adventures into the web, it's only appropriate that there is a festival that celebrates this.
Danielle Harvey, curator of Sydney's BINGEFEST, has taken this binge culture and done exactly that, by creating an amazing two-day addictive content-filled celebration of pop culture. This includes storytelling, performance art, journalism, video games, podcasts and even cats.
Creating a binge-style festival is a true passion for Danielle as she explains her excitement for the festival, as well as why the Sydney Opera House is the unlikely perfect space for it. "I'm a massive fan, I just fangirl out! I think the thing that's surprising is how well the old meets the new. People will come and have a new experience at the Opera House, it's always been a place for fans of art, this is just a different style."
"The concept of a binge is shown in a slightly different way to how you normally experience it. Binging is something you'd do at home, and you take a deep dive all night, this is a live performance, interactive binge! This is kind of the same as you can come any time of day and night and really indulge in the same way. It really celebrates the content and the creators in the binge way that allows you to not only see new content, but also shows off the Opera House at times you'd never normally see it."
BINGEFEST highlights amazing performers and creators including Shia LaBeouf, Nastja Säde Rönkkö, Luke Turner, Jad Abumrad and the much loved Internet Cat Video Festival.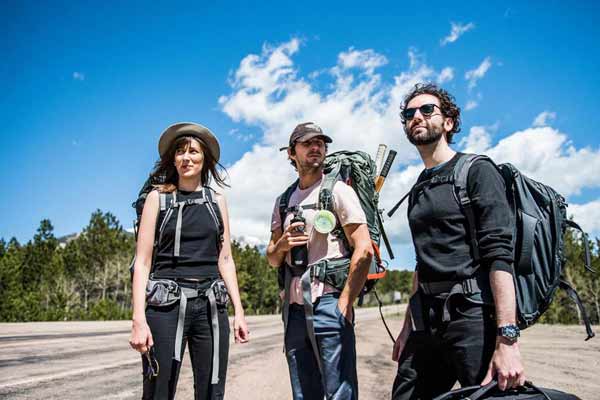 'Take Me Anywhere' - Film © Abazar Khayami
Danielle says the concept made it easy to get everyone on board. "It was really easy to get all the acts on board. They all loved the concept as well as the idea of doing something new. They got the concept and loved that we are just showing the binge culture for what it is. Every artist has great work whether it be a game or a story. They all enjoy that it creates an enjoyable environment for everyone."
With this being a new festival that celebrates the online binge culture, the main challenge for Danielle was getting sponsors on board. "I'm so grateful for the sponsors. It's a new festival and something that hasn't been done before, so for the sponsor to have gotten it and understood the culture was so important. They really have been key for this to work."
As this two-day festival revolves around online content, Danielle shares her thoughts on the development of content and binge culture. "Seeing how much it changes creation is what I enjoy most. We are now in a society where you can choose what you want to see and believe; we can now go past what we are fed by the media. It is exciting to see the diversity and the interesting works people are creating. The ones that rise to the top are those that do really interesting things with the form, and things that are diverse and different, it's really exciting to think about where it'll go."
Danielle has big plans for the future of the festival, which seem to very achievable. "I would love for it to become an annual festival that people trust. I'd love for it to get to the stage where people come for the few things they love and then trust our other picks they don't know, and come to discover others. I'd love for people to come and take a punt on things we can introduce them to," she says. "Someone said 'it's like you peered into my mind, because this is what it would look like' to describe the festival... I love that and want to continue to grow it."
BINGEFEST plays at the Sydney Opera House, 17-18 December.