In this world premiere performance, Australian performer Blake Bowden will take to the stage with a nine piece band to perform the best of Lorenz Hart.
Here, Blake answers some questions about what to expect from the show, which makes its first appearance as part of NOOSA Alive!.
This show is a celebration of Lorenz Hart who is arguably the father of American musical theatre. What elements of him do you hope to bring to this show?
I am inspired by Hart's passion which shines through in his exquisite use of language. I hope audiences can feel the connection that I have to his lyrics, but also that they have fun. Hart from all accounts loved being around people and he had always a good time while doing it. He wanted to make people feel something when they listened to his songs but he also wanted to make them laugh. I want that too. I want the audience to have a great time when listening to our treatment of his classic tunes.
What do you love about Lorenz Hart?
I love that he was a man so connected to the present time, yet he also knew where he came from and what those who came before him brought to the world of music, theatre and lyric writing. This shines through in his songs, he knew what made a classic song work while his use of modern colloquial language was unparalleled at the time and audiences craved it. I also love that he was a man with a secret life, although this clearly troubled him and led to his very early death, there is always something hiding in his lyrics and I think that's what ultimately makes them so brilliant.
What are you looking forward to about presenting this show at NOOSA Alive!?
Two years ago when I presented my cabaret show 'MARIO' at Noosa, I really felt the audience connected with us telling the story of a great man through timeless music. I am doing that again, in a way with 'Straight From The Hart' but on a much grander scale, and I really hope the audiences of this excellent festival will love what we have done with Hart's songs. It's really exciting!
This is a world premiere show! Do you have plans for it after you've played it as part of this festival?
Yes I will tour this show nationally after this premiere in Noosa. Before that though I have some other exciting projects on the horizon for later this year and hopefully I will be able to share that with audiences at the show.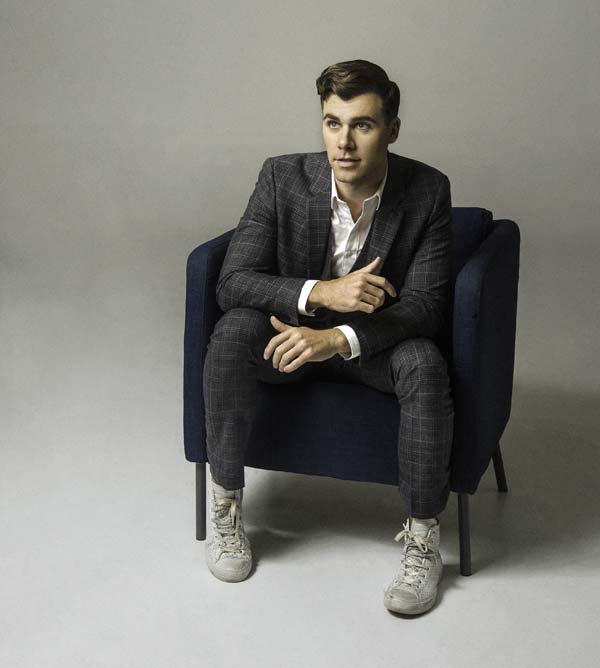 What are you hoping audiences leave this show thinking and feeling?
I want everyone to have a great time, listening to brilliantly crafted songs, played by an incredible nine piece band. I hope we move you and I hope we make you laugh, because so many of Hart's songs are so damn cheeky!
You're currently performing in the huge 'The Book Of Mormon' in Sydney. How does a huge show like that compare to something like 'Straight From The Hart'?
'The Book Of Mormon' is an absolute blast and audiences love it. I love being in it, it truly is the best musical I have ever been a part of. But there is no comparison in creating your own work and that's what drove me to create 'Straight From The Hart'. I have a need to tell my own stories and while I will hopefully always be a part of a 'big' show like 'BOM', I will always want to create new content with my own voice and share that with local audiences.
What do you like about this kind of show that you don't have with 'Mormon'?
Ultimately the creative control that I have in creating a piece like 'Straight Form The Hart'. It is mine and I watch the show grow from an idea I have to a full scale production and there is nothing that can compare to that for a creative person.
More broadly, what do you love about performing?
Performing is all I have ever known and I am truly lucky that I have been able to make a life and a career from it. It isn't an easy road and there a lot of sacrifices that you have to make along the way, but there is also nothing else like it for me. The feeling I get standing on the stage and creating something unique in that moment, with my body and my voice is a magical thing and it is a privilege that I will never take for granted.
Can you sell the show to us using a lyric of one of the songs in the performance?
"But I always knew, I would live life through, with a song in my (Hart) for you."
'Straight From The Hart' plays The J on 28 July.