Set in a nightclub and underscored by electro-pop music, 'SLUMBER' by Hideaway Circus follows a girl squad of elite circus performers on the last night of their lives.
Josh and Lyndsay from Hideaway Circus spill their guts about what to expect.
First of all, what is this show all about?
'SLUMBER' is about a group of girlfriends who go out to the nightclub when one of them goes a little crazy and starts killing all her besties. The show features hard-hitting hip hop dance choreographed by Keone and Mari Madrid, circus acts from all over the world, and hilarious comedy from our lovely and slightly unhinged serial killer. It is a hybrid of a lot different genres: a slasher-circus meets dance piece with a storyline dripping with blood.
The tagline for the show is 'Circus. Dance. Blood.'… Where did this come from? Will we see real blood live on stage?!
There is a lot of fake stage blood from three different murders – the front row often gets a little blood splatter. The tag line came from us trying to brainstorm the clearest way to describe the show in a short sentence. If you like circus or dance or shows with blood effects, then 'SLUMBER' will be right up your alley.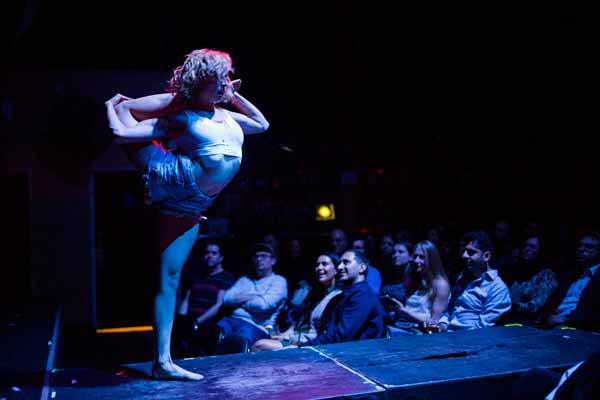 How did you come up with the idea of a 'who lives and who dies' type show?
We were inspired by many of the immersive shows happening in New York City (where we live) and we had been interested in exploring the idea of the audience participation in the storyline. Lyndsay and I played around with various different endings but realised during the creation that it would be way more fun and interactive if we let the audience decide who gets to live and die. It helps to keeps the show fresh and alive each and every performance.
Have you ever seen another circus performance with a similar premise?
No! We've never seen a circus show play with the themes of real danger in circus performance with theatrical danger. It's a really fun combination of themes that complement one another in surprising and compelling ways. 'SLUMBER' is premiering in Australia at Adelaide Fringe.
Image © Livio Mancini
What makes this festival a good place to show Aussies this performance for the first time?
We really wanted to introduce 'SLUMBER' in the Adelaide Fringe for a few reasons. We thought the combination of performance styles in 'SLUMBER' would be enjoyed by a fringe audience who come to see new and multi-disciplinary work. We also knew that the Fringe was a popular festival for new circus work, and has a strong culture of embracing weird and wonderful shows. When one of our cast members, Joren Dawson, introduced us to the Royal Croquet Club team we knew immediately that we had to make it happen.
Have you been to Australia before?
Lyndsay has been before, but I (Josh) haven't. We're both super excited to spend six weeks in Adelaide seeing shows and travelling around the country after. I want to make sure we hit up all the best tourist destinations, so send us your recommendations for things to do and see!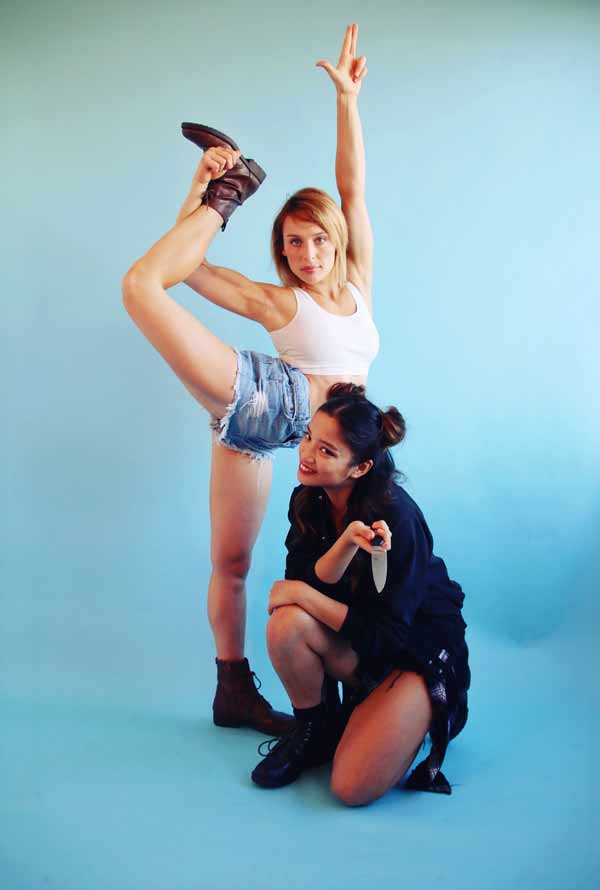 What are you looking forward to about this trip Down Under?
The weather and the art! Right now we're in the middle of a gross, cold, rainy New York winter so we're more than ready for some sunny summer weather. We're both so excited to see lots of amazing shows playing at the Fringe. Thankfully, since we have later show times we'll be able to catch a lot of fantastic performances including 'Gravity and Other Myths', 'Filament', and 'Briefs' which have been on our to-see-bucket-list for a while.
You two founded the company two years ago after you meet at graduate school. What was the process in coming up with Hideaway Circus?
We both had life-long passions for circus and show-business, and after meeting (and falling in love) we knew that we wanted to start a new contemporary American circus company. Thankfully we found a few mentors through Columbia University who guided us through setting up a company and getting it off the ground. We launched with our weekly interview podcast featuring long form conversations with circus artists and entrepreneurs, followed by the New York premiere of 'SLUMBER' this past fall. Now we're also working on a virtual reality circus project as well as another new live production called 'Party Starters'.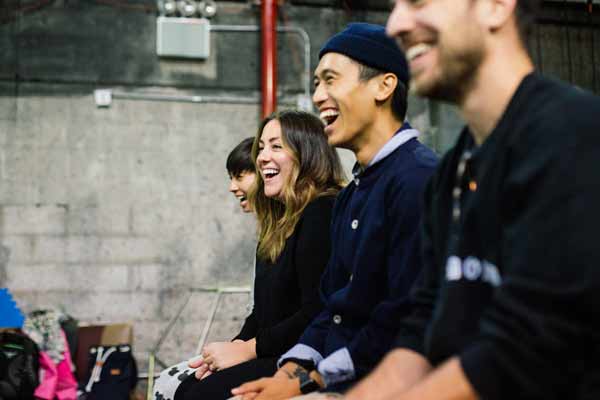 Where does both of your passions for the art of circus, dance and theatre come from?
My passion for circus started at age ten after seeing a performance of Cirque Du Soleil near my home town. I've been pursuing circus since; as a teenager I performed with Circus Smirkus, and continued to perform while studying in university in New York City. Quickly I realised I was more passionate about directing and producing than performing, and began switching over to that side of the business. Prior to starting Hideaway Circus I had done casting for circus shows in New York, Las Vegas, and London. Lyndsay's passion for theatre also began in her childhood producing and directing productions of 'Beauty And The Beast' with her neighbours in the her backyard. She pursued performance and producing at a university in Florida and then moved to New York City and worked for various Broadway theatre producers and off-Broadway theatre companies, including Atlantic Theatre Company and Soho Rep.
What's next for Hideaway Circus?
We've got lots coming up! 'SLUMBER' is headed out on tour this year, we have a new virtual reality circus show we're creating this Spring, and we're opening a new comedy show called 'Party Starters' in the fall.
'SLUMBER' plays The Menagerie at Royal Croquet Club from 16 February-19 March.