Fresh from Sweden, Sirqus Alfon are heading to Adelaide Fringe with their show 'I Am Somebody'.
It's filled with high-tech musical innovations, rhythm, humour, magic... And lasers.
Sirqus Alfon performer Martin Östman answers some questions about the show.
Sirqus Alfon started on the streets of Berlin. What has the transition from that to touring globally involved?
After doing street shows for a long time we started touring clubs and explored the benefits of using stage, sound and light. We used the skills we learnt from the streets, such as controlling the crowd and keep them focused, to develop new shows. It turned out that our stage expression was pretty unique since we are all self-taught and had no preconceived ideas on how to tell a story from the stage. We have always used the mindset from working on the streets when visiting a new culture and country, it is a great asset when meeting an unknown audience. Combining our work from the streets with experimenting in new technical solutions has give our work a unique touch and also helped us to reach further in our artistic ideas on what is possible. We could never afford the technology we would have wanted, so instead we ended up inventing new low budget technical solutions to make our show spectacular.
It's described as a show for the 'internet generation'… Why?
The internet generation is a generation that consumes media really fast. If they find something they like they spread it. If they do not like it they click on something else. Our show is inspired by that mind set and tempo. We offer a crazy, fast, high tech DIY variety inspired by YouTube, gadgets and old school clowning.
How long does it take to put a show like this together?
Just like a circus artist who works on a certain trick for years and use it in different performances, we are using material that we created ten years ago. Through our love for technology we have adapted old tricks into new environments and managed to give our performance different looks. We are constantly updating our work and we add and remove from the existing structure. Instead of trying to find a story to tell we are inspired by giving our audience a unique experience. The show develops every time it meets a new audience just like our work on the streets used to do. It has taken us ten years to get here, but it is also a show that was finalised a year ago. When we perform it in Adelaide it will get new flavours, develop and change. That is what we love about our work.
Why is Adelaide Fringe a good place for Sirqus Alfon?
We have heard many times that our work would be perfect for Adelaide Fringe. So we are really eager to come and perform, and meet the Australian audience. Adelaide Fringe has a great reputation of being a cradle for creativity, cabaret, circus and unexplored performing arts. We hope to get inspired but also to contribute to the art scene.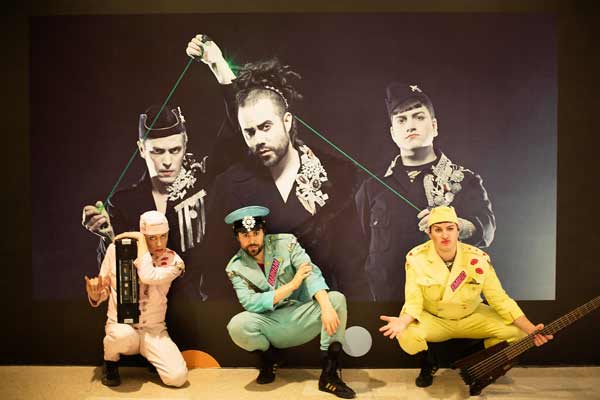 What's the most interesting place you've ever been, and what made it interesting?
We have had the opportunity to perform at some really different and exciting places. We did a project in Kenya where we worked in close collaboration with orphans. Together with the children, we created a musical performance that we toured to different schools in very poor regions of Kisumu in Kenya. That experience in combination with performing for the Swedish king, in a burlesque club in New York, Northern Europe's biggest tech conference or at a school with newly arrived Syrian refugees, shows how adaptable our work is and how it develops from interacting with new audiences.
What do you love about being a part of Sirqus Alfon?
The freedom of creating art from the heart, based on the skills of three totally different personalities and hundreds of meetings with an ever-changing audience. But also, that we constantly develop and dare to combine a low tech expression with a high tech language.
How do you keep the content of the performance itself nice and fresh for every show?
You will notice that this is a show that always changes. Since we involve the audience in the show parts of it looks different every time you see it. It is constantly full of surprises.
Has anything particularly out-of-the-ordinary happened to the group on their travels?
Back in the days when we played a lot of squats and underground festivals, we accidentally lit fire to a punk-rocker that had fallen asleep in the middle of the stage. We managed to put the fire out before something bad happened, the crowd cheered since they thought it was all planned as part of the show.
What are you hoping audiences leave the show thinking and feeling?
I hope they start to celebrate their inner nerd and go home eager to experiment with their own crazy ideas.
'Sirqus Alfon: I Am Somebody' plays at Ukiyo, Royal Croquet Club from 16 February-19 March.