Most cinematic and theatrical adaptations of Jane Austen's 'Sense And Sensibility', like the work's Elinor Dashwood, have been dour and rule abiding replications of the 19th century novel.
New York playwright Kate Hamill's revival, directed by Geordie Brookman for the State Theatre Company of SA, is unashamedly Marianne Dashwood; a whimsical pursuit of pleasure.
In the two centuries since the first publication of Jane Austen's work, the period dramas have attracted a cult following. Janeites don bonnets and sip tea upon manicured lawns; they also write fan fiction, stories that use Austen's work as the foundation, but which add sex and occasional zombies. Purists and literary scholars may argue that the work's themes of greed, desire and patriarchal control are universal and will resonate without modernisation; you need only watch 'The Bachelor' to know that the courting of a wealthy beau still induces gossip and innuendo. From the opening scene of Kate Hamill's absurd comedic frolic, though, she proudly advertises that this is a Janeite modernisation, where anything goes.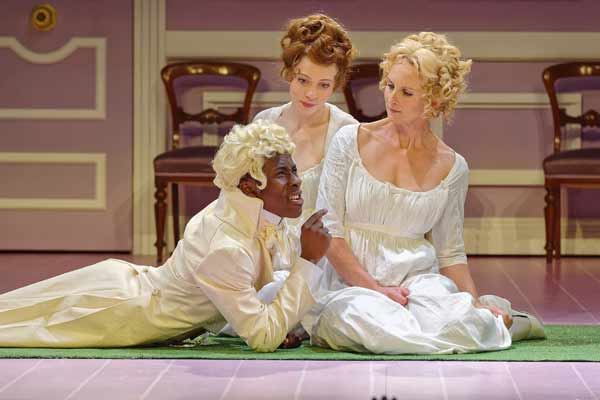 The play commences when a duo of roller skaters in period dress unfurl a paper sign advertising the title of the work. Much of the comedy is simply a variation upon the two components of this initial gag; anachronisms and overt acknowledgment that "this is theatre, this isn't real". The production features dozens of swift scene changes, and not one passes without an effective and humorous gag: chairs slide and halt with accuracy and precision reminiscent of the curling in the Winter Olympics, all to the refrains of '80s bands like The Clash and Joy Division; as in Monty Python's 'The Holy Grail', halved coconut shells imitate the clopping of hooves. In this context, the cast revels in hamming it up, with Nathan O'Keefe (Edward Ferrars) and Geoff Revell (Sir John Middleton) garnering a substantial proportion of the laughs. While this is a play worth seeing simply for the chuckles, there remains a dramatic core, albeit hidden at times, which adds substance to the froth.
The two eldest sisters, Elinor and Marianne, played by Anna Steen and Miranda Daughtry respectively, provide a solid and believable foundation that the mirth and silliness can orbit around. While some of the subsidiary characters do not noticeably or tangibly change from beginning to end, Elinor's inhibited passions ultimately explode, while Marianne's exuberance is eventually cruelly tempered. As in the source text, their lovers, Rashidi Edward (John Willoughby) and Nathan O'Keefe are not given as much time or opportunity to cement their characters. We mainly know of how fervent the Dashwoods' loves are because of the force of their reaction to losing them. Dale March, Lizzy Falkland and Rachel Burke each display their versatility, as they alternate between roles. Dale is stiff and endearing as Colonel Bradwood but flamboyant as John Dashwood. Rachel and Lizzy are despicable as Lucy Steele and Fanny Dashwood, but charmingly over-the-top as Margaret Dashwood and Mrs Jennings.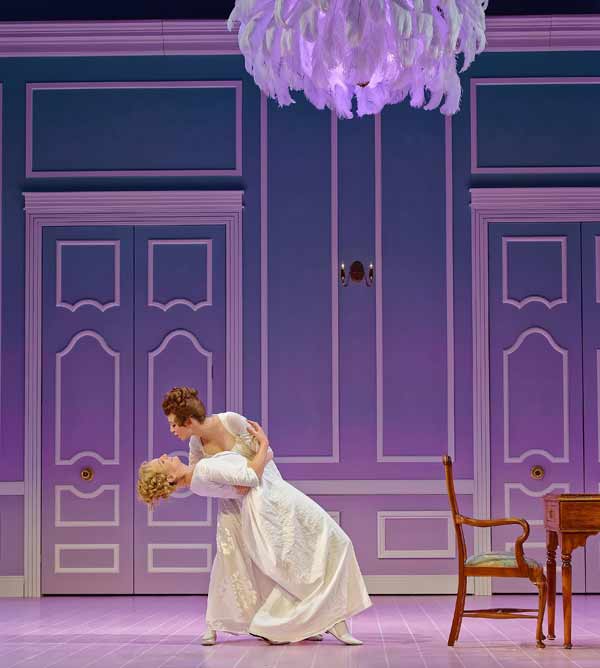 Sets and lighting by Ailsa Paterson and Geoff Cobham respectively bring visual candy to this production, and each rapidly smooth the multitude of transitions from homestead to homestead, drawing room to ballroom. Accent coach Jennifer Innes ensured that verbal articulations were suitably plummy. This is a successful final quarter for the company's Ensemble and a fitting end of Geordie Brookman's reign at the helm of State Theatre. Even if the Royal Wedding and 'Downton Abbey' are not your cup of tea, 'Sense And Sensibility' may well be.
★★★★☆