Fractal Theatre Productions is putting on a production of novel by iconic Australian writer Henry Williams – 'My Love Had A Black Speed Stripe'.
Originally performed as a one-man show back in 2002, director Brenna Lee-Cooney has adapted the novel to include all the original characters of the book. The story follows protagonist Ron who is obsessed with his Holden Monaro. "Love me, love my Holden. I laid that on the line with the missus before we were spliced," are the first words of the novel, setting the tone of a love story between man and machine.
The play explores the darker side of Australian suburban reality, one that most Australians would prefer to think is relegated solely to the past. With Ron sharing his less than progressive views on life, women, materialism, politics and immigration, the production is both endearingly funny and bleakly terrifying.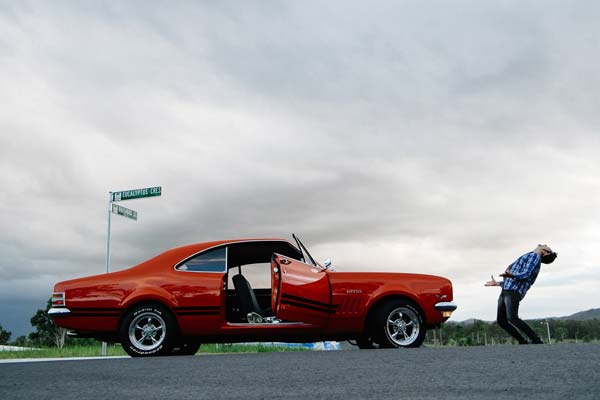 Award-winning actor and singer Sandro Colarelli ('Cyber Girl' and 'Welcome To The Lucky Country') will play Ron, alongside Zoe DePlevitz as his long suffering wife Rose. The production will also star Beth Incognito as the enlightened neighbour and Vanja Mutula as the new immigrant neighbour, and Ron's loathed Pommie boss. Together Vanja Matula, Zoe DePlevitz and Beth Incognito create the beloved Monaro through a series of unique and intricate mime/ circus/ dance/ body and vocal percussion sequences.
What initially drew you to wanting to get involved with the production?
I remember Brenna telling me about a box of books that had been found under a friend's house containing unsold paperback copies of Henry William's 'My Love Had a Black Speed' when I was working on a project with her years ago. After telling me the story I was particularly intrigued because it is a quintessentially Australian story set in the outer suburbs of Brisbane, filled with imagery and characters that I remembered from childhood. Also, because of my name and father's background, I often don't get cast in roles that give me a chance to explore my Anglo-Australian side. This was a wonderful opportunity.
Ron is not exactly a sympathetic character, whether it's espousing archaic views on women and immigrants, as well as constantly choosing a car over his own wife. Are there difficulties in portraying an insensitive character?
Yes. From the outset Ron is a chauvinist like Rodney Rude or Ted Bullpit ('Kingswood Country') and the author is clearly making a statement about Australian males in a satirical way. However, when you get inside the character's skin you realise there is a lot of sadness, anger and displacement at the root of his misogyny, hypocrisy and racism, and that is a difficult intellectual and emotional state to sustain, because I don't share any of his views or prejudices.
What do you think is at the root of Ron's obsession with the Monaro?
An inability to communicate with other human beings in general and obsession with control. The car is kind of the equivalent of the real doll phenomena where an object replaces human interaction and can be completely controlled.
Do you think Ron has any redeeming qualities as a character?
Yes. He is a union bloke, and stands up for the worker!
What's it been like working alongside Zoe DePlevitz who plays your wife, Rose?
Zoe is a terrific performer! This is the first time I've worked with her. Zoe brings a broad range of dance and physical movement techniques which enriches the style. She's a great gal.
Can you tell me about how the performers work together to create the Monaro on stage?
This is a physical theatre work, so the performers use all of their bodies to create the car. It involves lots of acrobatics and balancing work – man/ woman as machine.
What's it been like working with Brenna Lee-Cooney as a director?
I've worked with Brenna for many years now – she is a rigorous and vigorous director. A creative powerhouse of amazing ideas.
As an actor, which do you prefer: working in film and television or working live in a theatre environment?
They are both unique mediums to work in. I enjoy what both has to offer. TV work requires you to do small and intimate work as an actor, theatre is larger and often involves grander ideas and challenging concepts.
Anything else you'd like to tell us about 'My Love Had A Black Speed Stripe'?
It is a forgotten Australian novel that went out of print the year after it was published. It's an appealing concept to be bringing this novel to life again for new audiences to discover. This Brisbane-centric story deserves more recognition as an insightful window into the Australian psyche and cultural landscape.
'My Love Had A Black Speed Stripe' plays Studio 188, 16-24 April and Anywhere Festival Parramatta (7-10 May), Brisbane (13-23 May) and Frankston (26-29 August).