Ryan Henderson has joined Western Sydney's esteemed Blackout Theatre Company this summer for their production of 'Dogfight The Musical', a musical about Vietnam-era US Marine Eddie Birdlace.
Eddie makes a bet with his army comrades over who can turn up with the ugliest date, and subsequently encounters Rose, a woman of character who changes his life.
Though he has been acting for years, Ryan is new to musical theatre, so he is able to bring a mixture of experience and fresh enthusiasm and drive a complex role where he is not able to trade in obvious or corny pathos.
"I think he is just a very conflicted character," Ryan says. "In certain ways he is definitely unlikable but at the same time you sort of sympathise with him. There's a lot of dramatic irony [in the show], so a lot of what he does and the way he actually thinks comes from that culture in America... The entitlement and arrogance that they had.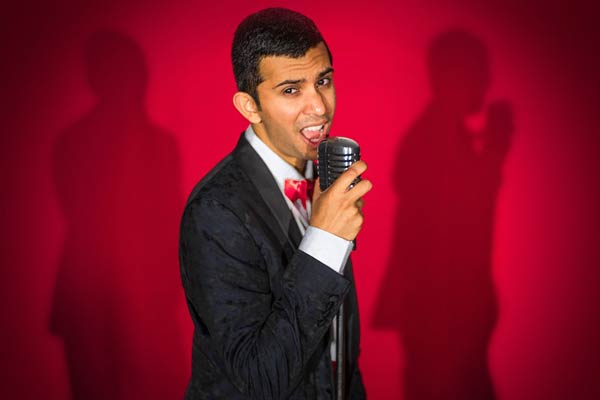 "The way he speaks and acts has been ingrained through his life, and the audience will know that all these things that are promised to them [after the war] aren't going to come true... You are sympathetic with him through that. It is challenging because a lot of the times he is in the wrong and he does a lot of things that are not relatable."
The key to the success of Ryan's characterisation has been to begin with Eddie's identity as a marine.
"We have had a few military personnel come through. One of my good mates is actually in the Navy so I've been picking his brains a lot about, I guess partially the culture but also the formalities of military life and the way that the culture impacts his interactions. We had someone come in from the army to take us through all of the drills and take us through certain strategies, things like how to salute, how to march, the different kinds of practice in the armed forces. We have done a fair bit of research into that as a team as well."
Ryan admits that his research forced him to confront the idea of what is lately called 'toxic masculinity', and how this multiplies in organisations like the marines.
"As a whole [they] do come across that way, and so he does come across as that reluctant hero character. Through the interaction with women, through the story, he does change and does develop as a character. I think he's a very split character, you see two versions of him, with the other marines and then when he is with Rose, [who] surprises him a lot of the time. He is programmed to see women in a certain way, but the way he interacts with her and the things that she says and does really shock him."
It was easy to develop the desperate wartime camaraderie that the show demands, in part because of the atmosphere of Blackout Theatre Company, one of the most solid local organisations in Sydney.
"It's such a family oriented group... They do a lot of things within the community. At the moment we are doing a lot of carolling and a lot of fundraiser barbeques. They go out to the children's hospital every year around Christmas and sing to the sick kids there... It reflects in the shows."
Ryan says one of the most challenging aspects to 'Dogfight The Musical' is blending this old school military feel and intensity with musicality.
"The music is very '60s, a lot of rockabilly and a five piece band coming through... Sort of upbeat, but then you also have a lot of really great ballads. The writers, they are incredible, the harmonies they have written for the show are absolutely phenomenal, that's one of the things that really excites me about it. You have these five, six part harmonies through these songs that are so intricate but so beautiful when they all come together. So it's very '60s rock and roll with a musical theatre twist... But then you do have the orchestra element as well, especially at the end in the bigger ballad numbers."
With both music and character, the show seems to build towards an end point.
"Stamina-wise, it's such a huge show" Ryan agrees.
"You are on stage for two hours straight, and then the finale... It's a very big number in terms of the solo. I sort of refer to it as the 'Empty Chairs At Empty Tables' number, from 'Les Mis', it's quite similar to that in that it's a mournful finale at the end of the show, it's a massive number and the orchestra really swells through that."
So does this mean Ryan sees 'Les Misérables' as the perfect musical experience?
"'Dogfight' is probably up there! It's hard to get past some of the current ones that are coming through and remoulding a lot of musical theatre, things like 'Book of Mormon' and 'Hamilton'. I have always been attracted to musicals that are different, things like 'RENT' and the cultural change that that created, shows like 'Spring Awakening'. It's hard to say... It changes."
'Dogfight The Musical' plays the Lendlease Darling Quarter Theatre from 8-12 February.