The Piece Project is simple: four female street artists will battle it out in the name of art.
Each have a chance to be featured on the label of Longview's The Piece Shiraz.
They have five hours to complete a huge mural or art piece, live before a festival crowd.
A winner will be crowned and the audience will witness the creative process and outcome of one of the four hard working artists.
Longview Vineyard Director Mark Saturno pens an open letter with more information on the event.
"To all those who like art, wine, food, dancing and fresh air. Wine festivals are either pompous, elitist and wanky or a swill fest of drunkards with purple mouths stumbling to the beat of a bad cover band. Neither are great fun. But Longview is boldly providing a sensory explosion of wine, art, food, dance and music that re-invents the wine event.
Welcome to The Piece Project! The only street-art event held on a vineyard: Longview Vineyard.
Here's what happens: Longview invites four top street artists to compete in an aerosol battle where the winner's art becomes the label of Longview's super-premium Shiraz: The Piece. These artists' imaginations run wild and it's a spectacle that is three-dimensional and thoroughly interactive.
'I'm Back!!!' by Dvate
As guests stroll through the most amazing vineyard scenery the Adelaide Hills has to offer, they can sip award winning wine, savour amazing food and witness these spray-can controllers do their thing.
It'll be an all-female affair as we celebrate the genius of Aussie street art legends Ladie Poise, Nish Cash, George Rose and Lisa King. Call it graffiti, call it genius, call it vandalism if you must... But street art is a living, breathing art form that happens in real time and is dynamic, daring and innovative.
Every year, huge crowds turn out to watch these modern masters create massive murals in five hours, and as the paint flies, the music pumps and visitors experience a sensory explosion of Longview's trade mark wine, food and hospitality. The Piece Project lets people experience something they rarely get to witness; a live art show on a grand scale that unfolds before their eyes.
And when the wine is released they can own not only a limited-edition piece of art, but a limited release premium wine that cries out to be displayed as much as it does to be cellared.
If you come for the wine, you'll discover an art form that is and always has been for the people. If you come for the art, you'll discover wines from a brand that's a lot of fun.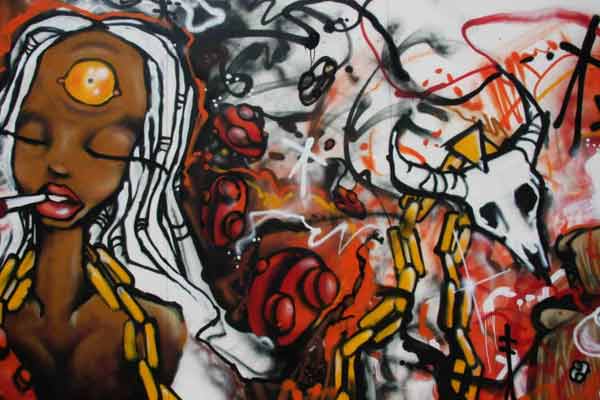 'Tasting Note' by Store
If you come for the food, expect street-eats inspired by cities across the US. If you come to dance, Fresh FM's DJ Ryley, Nan and Betty spin the wheels into the sunset.
And fresh air? It's all around us in abundance!
The Piece Project. It's a wine event, an art competition, a feast, a dance party and an experience that no one will forget in a long time. And when the wine is on the shelf or on your table you can say, 'I was there!'"
- Mark Saturno
The Piece Project takes place at Longview Vineyard on 29 January.