'Puntila/Matti' is a troubling, terrifying and entertaining work focused on responding to class, conflict and changing technologies.
Created by Tobias Manderson-Galvin and presented by MKA Theatre of New Writing and Doppelgangster, it's a world premiere, taking place at Kings Cross Theatre and promising to be every bit as funny as it is bleak.
Here, Tobias answers some questions about what to expect in the show.
This is a world premiere. What will the play be bringing to Kings Cross Theatre?
Flag burning. HBO style soft-core sex scenes. Surf punk, trap hip hop and doom metal. So okay it's an anti-road trip. Scene one we crash a car. Scene the-rest-of-it we try to sell you merchandise. I hope people like to buy over-priced t-shirts with my face on them, dude. Because we printed a lot of them. The show is definitely heavy on the anti-corporate agenda, but truly only because we haven't worked out how to sell out yet. I'll also be bringing my Job Seeker diary so select lucky audience members get to pretend I applied for a job from them.
You're behind the concept and direction for this show. Where did the ideas come from?
Let me come clean with you. I stole it all off 20th Century German theatre legend Bertolt Brecht. In my defence he did the same to a Finnish woman (Hella Wuolijoki) in 1940. That plus I went to the library. I know, I know, calm down, there's plenty of shouting, brutality, and violence in the show too though.
What was the process in terms of its development?
Half of it I was locked in our composer's recording studio drinking chocolate soy milk while smashing out some bangers on his Swedish synth. The team are from Australia, UK, USA and Germany so the other half is spent over Skype trying to make each other throw up or cry.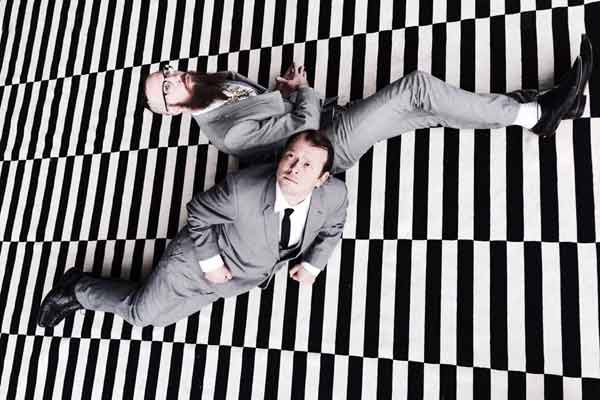 There's all sorts of references to class, conflict and changing technologies. Do you think it's important to address these kinds of real things in theatre? Why?
Yes but also I think it's important that we talk about reptilian overlords, multiverse travel and the time I saw a dragon. Lots of millennials come to our shows and people give them a bad rap: 'they're over stimulated, self interested meme-addicts', but they're better than the home-owning boomers who go to the theatre to sit there and die watching copies of themselves argue in a nice minimalist kitchen.
Where did your passion for the arts come from?
Usually I just think of ourselves as an angry counterpoint to the rising tide propaganda and PR that much of our culture is, still I didn't have a lot of friends to begin with. They say Marx (Karl) could never payed his bills so no wonder he wanted an economic revolution. I'm not close-minded though, Neil Henry just got fired as coach of the Gold Coast Titans; so I'll submit my resume for that.
There's a to-be-announced special guest in the show… Any hints?
It's me in a cheap black-and-white photocopied mask of Bertolt Brecht's face.
Not only are you part of the behind-the-scenes of 'Puntila/Matti' but you also play a part in the show. What's it like having such a big involvement in a theatre production?
I only have time to go on one Tinder date a night, so I'm offering a free ticket if you match with me, and we'll get to know each other during the show.
What are you hoping audiences leave this show thinking and feeling?
If it's anything like our last show audiences will walk out early and complain to the front of house staff who'll tell them to get over themselves. But you know it'd be great if people left thinking that we were some kind of human-hammer hybrid, capable of dismantling the world around them and thinking 'they nailed that'. And if they're reviewers I hope they leave feeling satisfied with their bribe money.
'Puntila/Matti' plays Kings Cross Theatre from 22 September-14 October.