Based on the novel by Kathy Lette and Gabrielle Carey, 'Puberty Blues' follows the lives of two teenage girls – Debbie and Sue – as they navigate the world and endure the ups and downs of puberty, high school and fitting in.
Deadset Theatre Company's Matilda Butler, Zoe Muller and Jean Collins have all been hard at work to prepare the production for Adelaide. Here, they answer some questions about the performance.
Describe what this show is about.
Matilda: The story closely follows the lives of two teenage girls Debbie and Sue as they endeavour to become a part of the popular Greenhills Gang. Throughout the play, Debbie and Sue mature as they experience relationships, sex, smoking and drinking. Set in '70s Australia, the show brings to light the challenges that teens have faced and will always face in growing up.
How are each of you individually involved?
Jean: Zoe and I are Co-Directing the show, whilst Tilly (Matilda) is Assistant Directing. We are producing and production managing as a group with the help of Verendus Theatrical. The script was also written by Zoe Muller. Both Matilda and Zoe play the lead roles of Sue and Debbie and I play the role of Vicky. It is a big project for us all!
Why do you think a show like 'Puberty Blues' is important?
Zoe: The story of two young girls growing up in 1979 Australia has been captured truthfully by authors Kathy Lette and Gabrielle Carey and I think it is important for this piece of history to be shared with a new generation whether that be on screen or on stage. This story is important as it educates audiences about how women were treated in '70s Australia, as well as highlighting issues such as drugs, sex and alcohol, all of which are still relevant for young people today.
It's a "raw, disturbing and honest" portrayal of adolescence. What kinds of things do the characters in this experience?
Z: The characters in 'Puberty Blues' are faced with disturbing challenges experienced when growing up and this stage adaption does not shy away from showing them. Sexism, rape, alcohol, drugs and sex are all focused on within the story. These issues are not touched upon lightly, instead leaving the audience feeling disturbed as they witness the abuse these teenagers face throughout the story.
What challenges have you faced so far in putting this together?

M: The biggest challenge was getting started. Jean, Zoe, and myself had always dreamed of putting on our own show, we've been talking about it for years so making the decision that we were actually going through with this show was the hardest. There have of course been heaps of other challenges along the way, mostly with things we thought would be easy, or didn't even think of at all.
What has been rewarding about doing this?
J: It has been amazing being able to experience a different side of theatre. I have always just acted and now having the opportunity to direct gives me a different perspective.
Z: Being able to bring such a classic, well-known Australian novel to the stage has been such an honour and extremely rewarding. Meeting a group of dedicated, talented young actors has just made this experience even better. Everybody has learnt so much, not only about acting or directing but also about how life was like in the 1970s. Being able to showcase this to an Adelaide audience is a dream come true. We are all thrilled to have this opportunity and bring this honest coming-of-age story to life.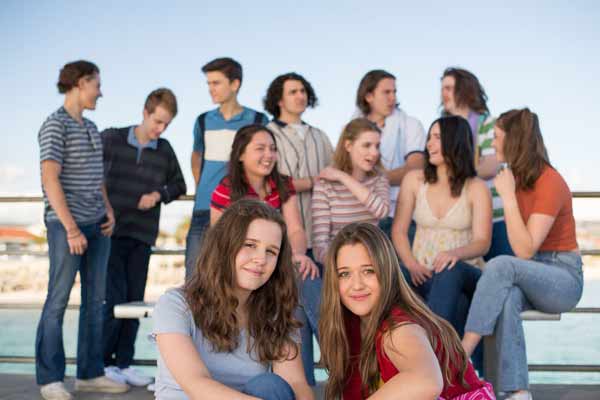 What would you tell your younger selves if you had the chance to give yourself a snapshot of your future?
M: I think I would just love to tell my younger self that theatre is and always will be exciting. My younger self would be absolutely thrilled to hear about this.
Z: I would tell myself to keep working hard with school and theatre because it will pay off in the long run. Young me would be stoked to know that older me is putting on 'Puberty Blues' as a theatre show!
J: I would tell myself that one day I would have the opportunity to work with two of my best friends on an amazing project. I would say that my dream to produce and direct my own show has come true.
What are you each hoping people take away from this performance?
M: I hope that this performance gives people an insight into life as a teenagers in '70s Australia. I would hope for people to appreciate how much culture has changed since then.
Z: I hope people leave the theatre feeling shocked at how life used to be like for those teenagers in the story. I want people to feel thankful for how far we have come as a nation yet still realise how current the issues presented are in today's society.
J: I hope people take away the importance of self-respect, love and a little bit of history. To take a look back at our country in the '70s and see the similarities between our generations.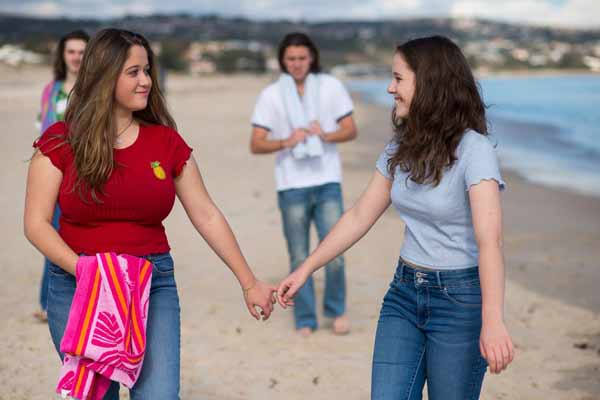 Sell the show in a sentence each.
M: What kind of Australian wouldn't love a story that involves so much of the beach, chiko rolls, pies, choccy moo, even redskins and heaps of slang, yet conveys such a deep message about growing up?
Z: 'Puberty Blues' is an honest insight to what life was like in Australia 1979 while still being relevant to teenagers today and we are thrilled to be bringing this iconic story to the stage for a new generation of Aussies!
J: Throw on your straight legged Levi's, jump in your panel van and head down to Holden Street Theatres to see a deadset great show.

'Puberty Blues' plays Holden Street Theatres from 25-28 October.