'Pinch Me' is the newest production from Dead Owl Factory which explores the story of the concrete revolution through the eyes of a young girl who is slowly coming to the realisation that her actions, and the actions of millions of others, have a significant impact on the world at large. It is the story of a couple out to dinner on their smart phones, the whistle of the wind through the skyscrapers and the sound of climbing the corporate ladder. It encourages audiences to go back to where people sing to the forests and the earth is still whole. It's a journey of self-discovery, of discovering a self we left behind in our hunter-gatherer roots.
"We were never designed for the sedentary, indoor, socially isolated, fast-food-laden, sleep-deprived, frenzied pace of modern life." – Steven Ilardi
'Pinch Me' will be performed in conjunction with Anywhere Theatre Festival – a festival that encourages exciting, engaging, passionate theatre anywhere but traditional theatre spaces. The Dead Owl Factory has done just that, by taking their performance to three venues around Brisbane including; SAE Institute, the West End Markets and the Lucky Duck Café and Bar – where they encourage their audience to join them for a drink before and after the show.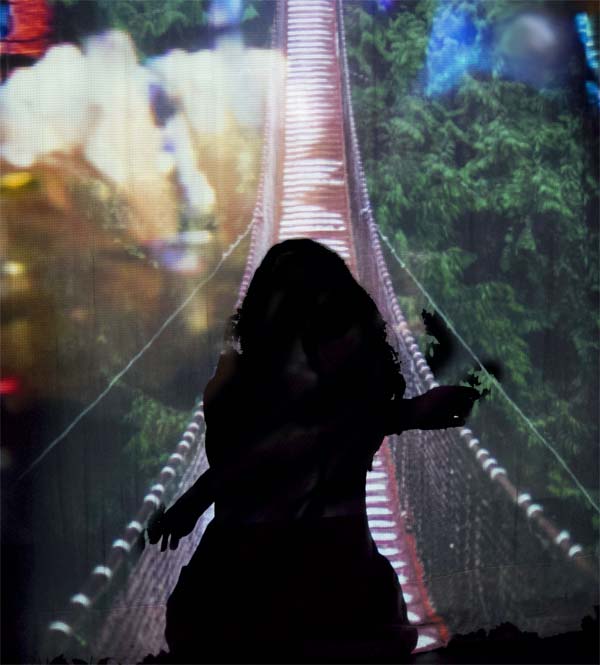 Director of the production, Katie Farr is looking forward to bringing 'Pinch Me' to Brisbane.
How did Dead Owl Factory come about?
Dead Owl Factory came together in 2012 to create two performances for Anywhere's 2013 festival. We were a collective of artists that had met through Griffith University Applied Theatre courses, but the reason we came together was really an interest in exploring human consciousness and the universe in performance. This is my first project as writer and director and it's been awesome to have the support of the collective. I'm also working with a solo performer, Katelyn Panagiris, a graduate from Queensland Academy For Creative Industries, who hasn't worked with us before. Part-performer, part-collaborator and part-dramaturg, I couldn't have asked for a better partner in crime for 'Pinch Me'.
Has Dead Owl Factory been involved with Anywhere Theatre Festival before?
Yes, in 2013 we performed 'Here's To Us' at Jugglers Art Space and 'At Aulis' at Can You Keep A Secret? in Greenslopes.
Where did the idea for 'Pinch Me' come from?
I've had been playing with the idea of writing a show about dreams for about a year, and in that time also experienced growing frustration with the state of the environment and a what seemed to be total indifference in the city. They say write about what you know, so I decided to combine the two. I hardly recognise the show when I think about the original idea, it has evolved so much.
What does the enchanted world of 'Pinch Me' look like?
It's a world where you can't assume or expect anything. What you were sure of can suddenly turn into something completely different. Because we're performing in 2 very different venues, there will be two very different worlds. At SAE there is a really industrial concrete feel, and Lucky Duck has a great outdoor beer garden that will feel really warm and homely like a dream you had while napping on your back deck.
Why do you think the concept of the concrete revolution is an important one to talk about?
I've been reading, watching and thinking a lot about the concept of progress and profit over people and the environment. I almost feel like if we don't start talking about it now, pretty soon we will be living in a concrete world. We need trees. They help us breathe. It's as simple as that.
How will Dead Owl Factory approach this concept differently to what has been done in the past?
Using the dream story as a vessel to explore our disconnection through metaphor and symbolism means we can ask questions about our current place in history while also shining the light on the experience of dreaming. This idea came from looking into dream interpretation and the importance of dreaming. We all experience these things called dreams, but dismiss them as wild hallucinations, or barely care to remember them at all. I wanted to see what it would be like to create a dream that explores the things that don't make sense in our everyday experience.
What can the audience expect from 'Pinch Me'?
An ethereal, silly, and familiar story. Moments that make you realise we all share the same experiences.
Do you think the world would have been a better place back in the hunter-gatherer days?
It's hard to say yes, I think. We definitely experienced a deeper sense of connection to each other and to the environment, particularly in tribal societies, but I'm not fooling myself thinking we should all go back to hunting buffalo and living in teepees. I think it's important to learn what we can from the past and look at how we can make the future a better place for everyone.
What is your biggest dream?
At this point in my life I have a different one every day. I want to live simply and experience real community. I'm really excited by stuff like the Tiny House Movement and get goosebumps every time Russell Brand talks about radical social change.
'Pinch Me' plays SAE Institute 7-9 May and Lucky Duck Café and Bar 14-16 May.