Starting from the fragile and complex socio-political relationship between India and Pakistan, I don't want to be there when it happens investigates, in a broader sense, the psychology of trauma in the era of contemporary conflict.
As we live in a time dominated by anxiety over community relations and issues connected with religious intolerance, I don't want to be there when it happens faces these issues head on, presenting a mosaic of languages, religions, cultures and historical perspectives, each of which shaping our society.
The artists involved in this exhibition delve into alarming signals of the profound existential unease of our age either directly or indirectly. They unravel the present time, deal with the legacy of history and look towards the future.
Abdullah M.I Syed – Flying Rug Of Drones
"A number of problems and contradictions are challenging the world in recent years: a diffused sense of inequality, systemic poverty connected with violence and crime, military imperialism, and the phenomenon of migration which has now reached the dramatic dimension of cultural displacements." Perth Institute of Contemporary Arts Senior Curator Eugenio Viola says.
"These complex processes have generated an upsurge of intolerance, expressed by the rise in influence of extremist right-wing political parties, in the re-emergence of religious extremism, prejudice and discrimination against national minorities."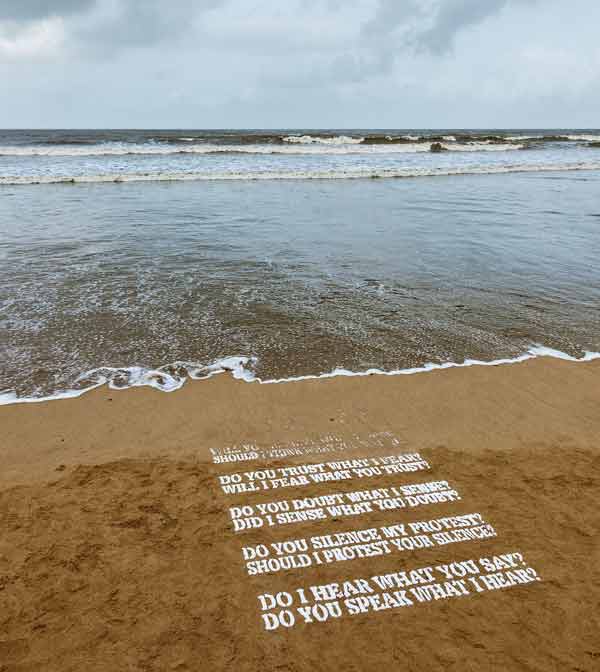 Reena Saini Kallat – Saline Notations
Throughout the exhibition, works will interact and communicate with each other. Alongside Adeela Suleman's hand-bitten chandelier, visitors will experience the disquieting Abdullah Syed's installation of suspended drones made from razorblades. Connected the the birds eye view of a drone is Sonia Leber and David Chesworth's video, recalling an unidentified Australian non-place.
This exhibition coincides with the 70
th
anniversary of the Partition of India, which saw the departing British colonial powers dividing the country. West of this partition because Muslim-majority Pakistan while the rest was Hindu-majority India. This divide was one of the greatest forced mass-migrations of humans in history.
I don't want to be there when it happens takes place at Perth Institute Of Contemporary Arts from 11 November-24 December.