Adelaide's OzAsia Festival will be shaken up this year with 'Hot Brown Honey', a fierce group of women of colour from various yet similar backgrounds who deliver as many thought-provoking ideas as they do with sensual, high-spirited entertainment.
Currently overseas, the group, comprised of Kim (Busty Beatz) Bowers, Ofa Fatu, Mateheare Hope 'Hope One' Haam, Juanita Duncan, Crystal Stacey, Ghenoa Gela is looking forward to coming home to Australia and kick up a storm for the OzAsia Festival being held in Adelaide. The festival is again directed by Joseph Mitchell, his third time in succession. Previous festivals have focused on specific Asian countries. This time around it's a broader focus for quite a special reason: it's the tenth anniversary.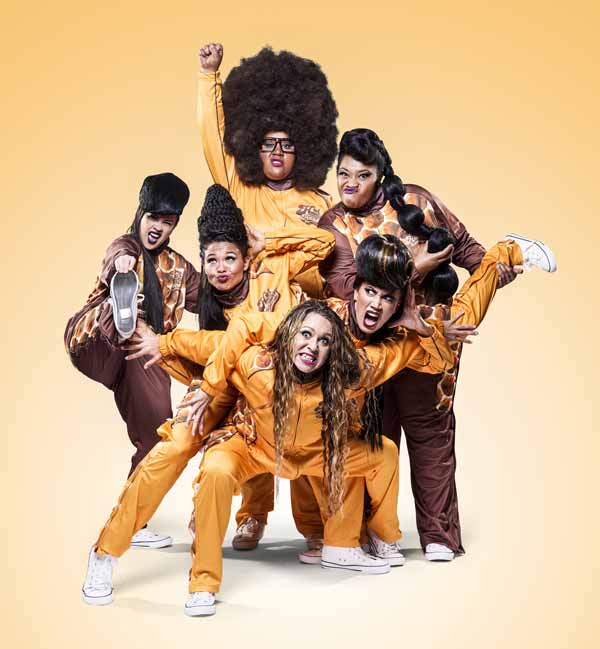 Image © Dylan Evans
The festival is touted as Australia's 'premier international arts festival focusing on Asia'. As well as 'Hot Brown Honey', from the UK making its Australian premiere is the dance production 'Until The Lions' directed by Akram Khan. If sinister tales from the uncharted mountains of Japan tickle your fancy, 'The Dark Inn', also making its Australian debut is a must-see. There is something for everyone whether it be electronic music, sombre tales from the east, renowned SBS TV 'Family Law' star Benjamin Law speaking on contemporary issues with Madeline O'Dea or the forever popular Moon Lantern Festival where people make their own lanterns.
There are a number of films on a range of subjects from Singapore and Iran, artworks from across south-east Asia and much more. Many events including 'Hot Brown Honey' have an age limit but there are numerous events for families to attend. Back to the sweet stuff and Kim is thrilled that the conversations about Asia, minorities and all things politically progressive are being had.

Image © Danika Yakina
"It's uplifting that there's so many people that are real and willing to make a change and look at the world in a different way," Kim (Busty Beatz) says.
"The show is a theatrical explosion of culture and controversy. We came to Scotland and the reactions we get are amazing. Some of the people you'd think would be most disinterested such as the older men turn out to be the ones who come up after the show and just bombard us with questions! And people have said, 'where are you guys from? Australia? Really!'"
The phrase currently being thrown around, 'SJW's' (social justice warriors) is not an insult to these women; in fact, they wear the badge with pride.
Image © Danika Yakina
Despite the old cliché of Adelaide being known as the 'city of churches', the truth about the arts scene and the success of OzAsia proves that there's more to the South Australian capital than meets the eye.
"And this is what Australia looks like in reality. It's overwhelming and enlightening at the same time. It's fascinating to see where people stand politically and 'Hot Brown Honey' is a show that can be a catalyst for that. We talk about stereotypes in the show, a range of issues that affect us as women of colour coming from Australia, which is the stolen generation. All our act is highly entertaining but we drive home the stories that might not have been heard before."
Starting from a club night and founded by Kim, the girls have forged that certain kind of chemistry that comes out of shared experiences, heritage and values. All are deeply feminist and many of the acts in the show aren't always what they seem. For example, Lisa Fa'alafi performs a striptease, but it soon becomes apparent that it's to show the audience that women, especially from her culture, are often sexualised for men's gratification. The success of the act encouraged them to take their message on the road and the ladies haven't looked back since. As it's the festival's birthday, it's even more reason to celebrate a culture rich in history, culture, differing views and experiences.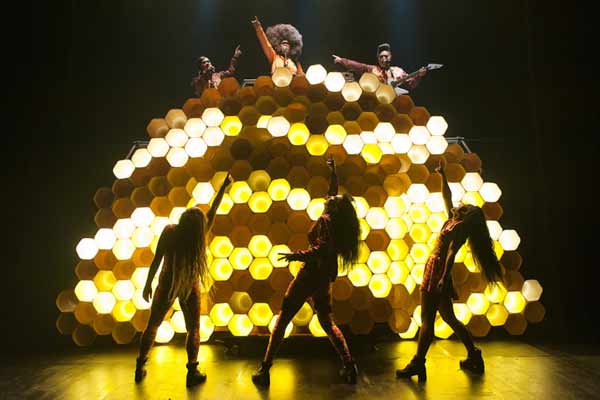 Image © Dylan Evans
"We found in a lot of the world that in the representation of women of colour, there is a real stereotype where women are cast in the most appalling of ways – just a prostitute or a maid. There's amazing movements happening where we're starting to talk about diversity but you can look at TV in 2017 in Australia and think 'I don't see a lot of people who look like me'. We need to reflect the streets of Australia. In Adelaide, you see a vibrant community and artists have the capacity to shift culture.
"When you're on stage as a black woman, it is political. We live in a world that's in a huge shift and the lines in the sand have been drawn. We talk about Angela Davis and we must believe we can transform the show and we should believe we can do that all the time. That's the ideals of the show. I just want people to listen. There's a whole heap of structures that keep us bound and there would be an important shift in the world if we just listened to each other."
Although the show is political, there is a healthy balance of hip hop music and humour to appeal to a wider audience, often touching on subjects that are generally ignored in the mainstream media such as the treatment of Indigenous Australians and the offensive nature of the Australian flag.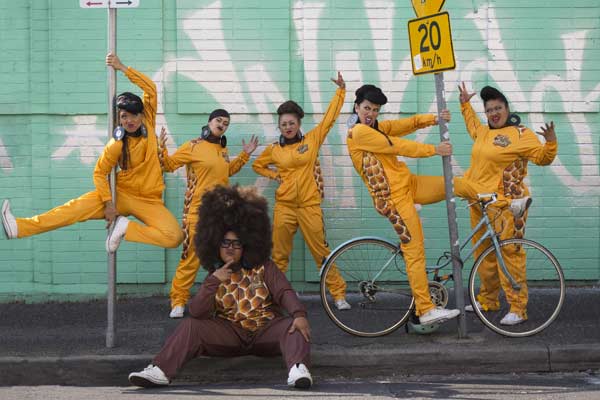 Image © Danika Yakina
"Yes, there's patriarchy and institutionalised racism and what we say in 'Hot Brown Honey' is that we can make change. But it's not like touching black women's afros and the activism it takes – it's a critique of that. Australian politics… Well, what the colonising clusterf*** we say in the show! Don't even get me started on the same-sex marriage plebiscite!
"Australia gives off a certain identity to the world and it's really interesting the way that can play out in all facets of life, including in the arts. So, it's been fascinating to make something from where we're from. People want to hear those stories. Come with your preconceptions and let them be shattered. Check your privileges at the door. The male response has been awesome. All our audiences have been so diverse. There's a real understanding of what happened with colonisation in their own country but there's a real understanding of what 'fight the power' means in the show."
The OzAsia Festival runs in Adelaide from 21 September-8 October. 'Hot Brown Honey' plays Space Theatre from 26-30 September.