In a nameless institution six disparate outcasts have their lives and bodies observed, dissected and obliterated by the eyes of the ever-present Tinker – perhaps a friend, perhaps a doctor, perhaps neither.
Montague Basement are presenting 'Cleansed' by Sarah Kane at Sydney Fringe Festival. It's been described as Sarah's most shocking and controversial production.
Here, Director Saro Lusty-Cavallari pens an open letter about Sarah and this show.
Image © Zaina Ahmed
"Sarah Kane needs no introduction. I mean that quite literally – we really should stop giving her an introduction. While hardly a household name, Sarah Kane is infamous among performers and theatre audiences for her bleakness, her explicitness and most unfortunately, her struggles with mental illness. She has become the Kurt Cobain of the stage, her suicide has become the sole angle through which to read the body of work that it cruelly cut short.
On the one hand it's a good time to be staging a Sarah Kane play: the National Theatre made international headlines with the faintings and walkouts that accompanied their sold-out production of 'Cleansed' and the esteemed Old Fitz in Sydney are advertising their production of Kane's final play '4:48 Psychosis' with her own tongue in cheek epitaph "writing it killed me". Yet I'm finding myself increasingly sympathetic to the anxiety that plagued Kane during the premiere of her fourth play 'Crave', where she created a pseudonym and fake biography for the play to escape the controversial reputation that was clouding responses to her work.
I truly believe Sarah Kane is one of the greatest playwrights of all time. She took the evocative minimalism of Beckett's dialogue and Edward Bond's striking imagery and honed it into something far more perfect than either of those men achieved. Known as one of the most brutal self-editors, her ruthless sense of refinement resulted in a stark clarity that many playwrights should learn from today. 'Cleansed' is known for its bursts of violence, but what is rarely discussed is the surreal beauty that Kane creates out of that violence. After his hands and tongue are removed a character performs a "dance of love" in a patch of mud as an unseen child sings The Beatles; it's the kind of inexplicable moment of beauty, pathos, ugliness and absurdity that David Lynch would envy.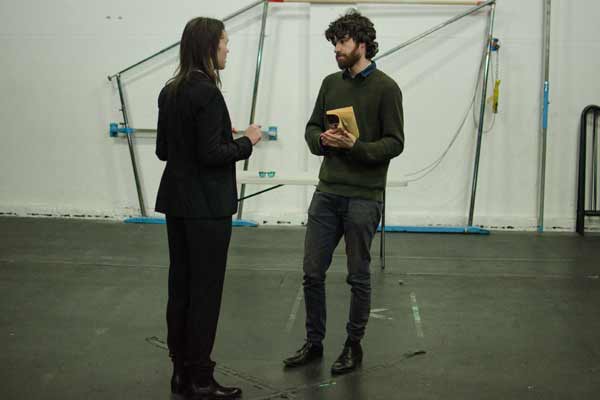 Image © Zaina Ahmed
In the words of her friend and collaborator James Macdonald "she wasn't just promising, she delivered". Yet even the most sympathetic reading of Kane will do so with a hint of condescension – as performed as she is, she lacks the respect of the dead men who lived to see old age. Unfortunately I don't think this is because of the unflinching nature of her work but because of three things that tend to undermine the validity of a playwright's stature; she was young, she was a woman and she was mentally ill. In a review of Montague Basement's 2016 production of 'Crave' she was described as "an English psychiatric patient whose writings have been performed as plays". I was angrier at this than any criticism directed at myself or artists I know personally.
If you come to our production of 'Cleansed' – and I hope you do – there's every chance you might hate it; I'm left cold by most Ibsen or Moliere for what it's worth. But I beg you to treat Kane's work as composed with the same self-assuredness and rigour as that of the most canonised plays. Her work lives on in spite of not because of the controversy the author unfortunately has attracted, as one of the most imaginative, empathetic and beautiful collection of plays in the English language."
– Saro Lusty-Cavallari
'Cleansed' plays PACT Theatre from 19-23 September.