Haunting and resonate, 'Mwathirika' tells the difficult story of Indonesia's dark days in 1965-66.


Internationally recognised Papermoon Puppet Theatre extend their unique form of storytelling to shed light on the complexities of history and mass persecution seen through the eyes of a family and their neighbours in a small rural village. Childhood friendships are torn apart and lives are turned upside down.

Papermoon Puppet Theatre uses the universality of non-verbal performance, whimsical theatrics and multimedia to reveal an intimate moment in Indonesia's untold past. 'Mwathirika' is a thought-provoking, emotionally chilling and visually bold work.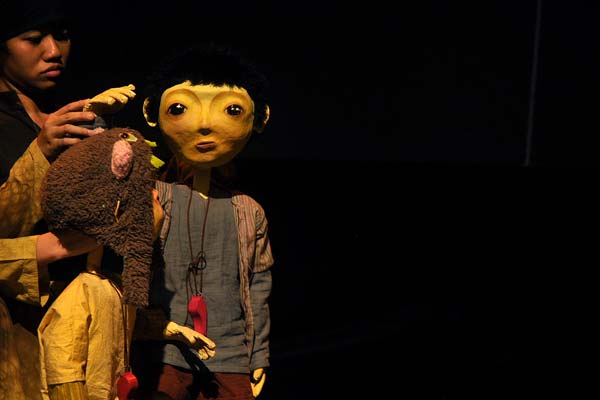 The child-stars of 'Mwathirika', Moyo and Tupu, have each written letters to Australian audiences.
"Hello everyone,
My name is Moyo… and this is my little brother, Tupu.
I am 9 years old, and Tupu is 4 years old.
These red balloons were given by our father, we call him Baba.
Few days ago he came home and brought these balloons for us.
Just before Baba came home, Tupu was crying because I broke his wooden horse. So he was very happy to get that red balloon for him.

Anyway, do you see the red whistle in Tupu's neck?
That's a whistle that I gave to him. It's very special. Everytime he feels scared, or need any help, he just need to blow the whistle, and I will come!
Yes! I will always come!
Why?
Because I love my little brother.
I promised to Baba that I will protect him, no matter what!

Oh.. ya.. this is my slingshot.. I made it by myself! And i use it as my weapon.
I am a boy, I need to protect myself and my little brother.
That's why I need a slingshot."
– Moyo, 9 years old

"Hello!!
I am Tupu.
I am afraid of a barking dog.
I love to play with my brother, Moyo.
And I know that Moyo will always be there for me.
Always!"

– Tupu, 4 years old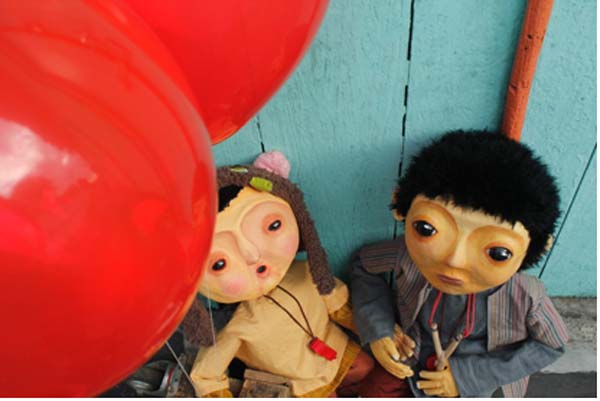 "That was the last letter that I received from Moyo and Tupu. The last letters that I could share to you, our Australian friends… It's been a while that we haven't heard the red whistle was blown by Tupu again.. People said that Baba's family has disappeared, and no one wants to tell us clearly about it. They don't want to talk about it. But this time, we would love to share the story to you," Papermoon Puppet Theatre say.
"We will bring 'Mwathirika' to you, as a reminder. A reminder about family, about love, and about the feeling of loss. That tragedy happens everywhere, in my country, and also in your country. So we would love to invite you to come, to feel and to share the same loss that we might experience in this life which might look like a circus tent."


'Mwathirika' plays Adelaide Festival Centre as part of OzAsia Festival, 25-26 September.