The Adelaide Festival Centre is home to two distinct collections: the Works Of Art Collection and the Performing Arts Collection.
The A-Z: Art & Objects exhibition brings these two collections together under the simple premise of the alphabet. It showcases both paintings and items that represent each letter.
Senior Exhibitions Curator Charissa Davies pens an open letter about her experience in the art world, and her thoughts on a featured artist in the exhibition.
"Although I no longer live there, every time I return the Adelaide Hills it is still one of the few places I feel I can truly breathe. As a kid, you could disappear all day in the native scrub discovering termite mounds, or feed the Shetland ponies that lived in thepaddock next door.
Punch And Judy puppets, donated by Lachlan Haig
You could build your own cubby house in the pine forest or pick blackberries and apples in the orchard across the road. It sounds idyllic and it was.
Unknown to me, at the same time I was naively running around enjoying my childhood, in the town next to me was one of South Australia's most ground-breaking artists. His name was Stanislaus Ostoja-Kotkowski.
Born in Poland in 1922, he moved to Australia in 1949 first to Melbourne then settling in the Adelaide Hills where he lived until his death in 1994.
In his studio he combined science and art. He was a pioneer in chromasonics and laser kinetics, using technologies that were way ahead of his time. He worked across many artistic mediums including theatre lighting and design, op-art collages, film, photography and the very early stages of computer graphics.
Costumes from the Kenneth Rowell 1948 production of 'The Listeners' donated by Joanne Priest
I went through art school, completed my Graduate Diploma in Art History along with a Masters in Curatorial and Museum Studies without ever hearing about Ostoja-Kotkowski.
I wouldn't discover this incredible artist until I began working at Adelaide Festival Centre in 2010.
The first time I saw his work titled 'Vibra 2', it screamed out at me, my eyes couldn't focus and as someone who generally doesn't like bright colours, I couldn't take my eyes off the fluoro blues and oranges set against a silver metal frame.
It was like nothing I had seen before. At the time, I was sceptical: 'It's probably created on a computer' I thought. Until I looked closer. It was all hand cut.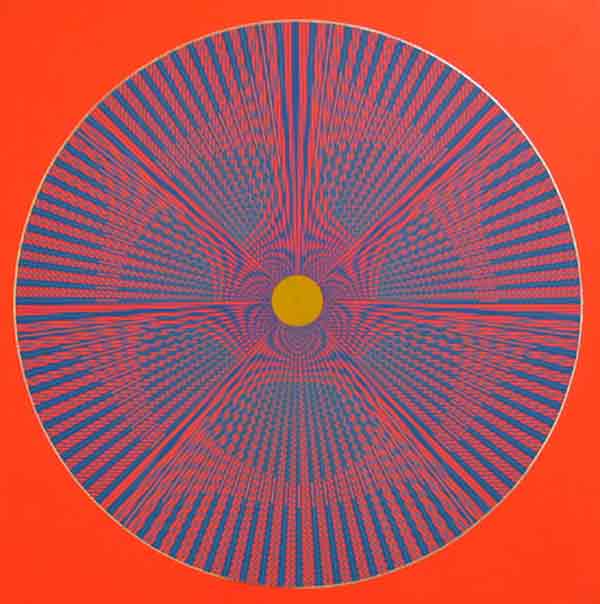 'Vibra 2' by Stanislaus Ostoja-Kotkowski
Tiny slivers of precisely cut pieces of paper that, when collaged together, formed an amazing, mind-blowing artwork that made your eyes go crazy.
The work feels as though it's vibrating, drawing you in... While at the same time, pushing you away.
It is because of this unnerving feeling I get when I look at 'Vibra 2' that is it one of my favourite works in Adelaide Festival Centre's Works of Art Collection.
Ostoja-Kotkowski may have lived most of his life in the idyllic hills, but while I was enjoying my childhood he was holed up in his studio using ground-breaking technology in light and sound to create works that influenced science and art across the globe."
- Charissa Davies
A-Z: Art & Objects is on display at the Artspace Gallery and Festival Theatre foyer. It is closed after 18 December but reopens from 4 January-4 February.