'The Merry Widow' takes a delicious look at Art Deco France.
Ladies sweep into ballrooms in fishtail gowns, dapper gentlemen kiss hands and both dance.
In this performance of Franz Lehár's popular musical presented by Opera Queensland, David Hobson and Natalie Christie Peluso play two perfectly paired lovers.
Here, David Hobson (playing Count Danilo) pens an open letter about the show.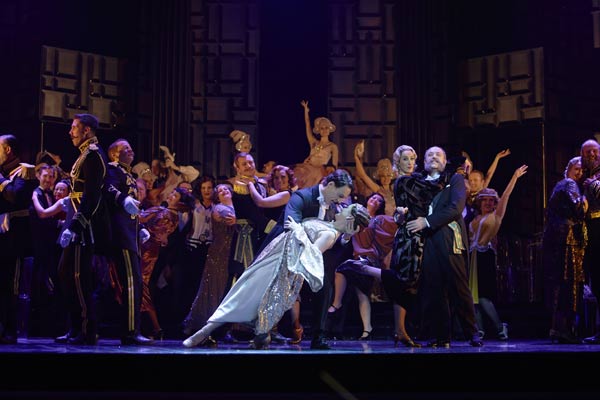 Image © James Rogers, courtesy of West Australian Opera
"I remember seeing the Sydney Dance Company productions of 'Some Rooms' and 'After Venice' in the 1980s. What a revelation – An amazing amalgam of dance, music and theatre. You didn't need to be a fan of ballet or modern dance to be mesmerised by the brilliance of Graeme Murphy's vision and storytelling so of course I was very excited to be asked to work with this National icon in his production of the 'The Merry Widow' for Opera Queensland.
Lehár's 'The Merry Widow' is an old Viennese workhorse operetta that is a staple of most opera companies. Graeme has injected new life and energy into it with a sumptuous art-deco design set in 1930s Paris. I have played the character of Danilo a few times before for Opera Australia but with this new and vibrant approach it will make it feel like a whole new piece.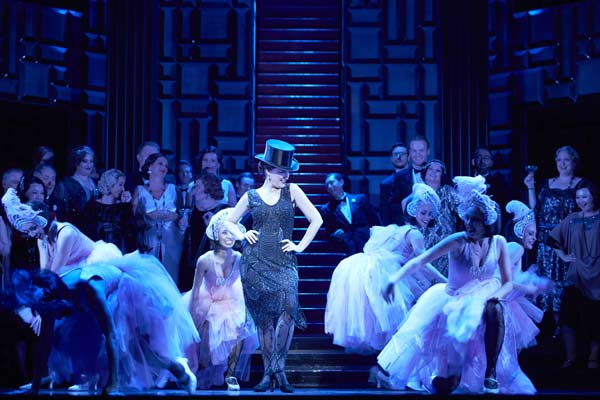 Image © James Rogers, courtesy of West Australian Opera
Count Danilo is a man hell-bent on destroying himself through wine, women and song due to his family not allowing him to marry Hanna, the woman he loved because of her of breeding (unlike the recent royal nuptials – back in the 19th century arranged marriages were all the rage). However now Hanna is widowed, worth millions and available but Danilo is not interested in her money and like a Hepburn/Grant or Astaire/Rogers Hollywood '30s movie a game of misunderstandings, firebrand exchanges, musical battles and love scenes ensue under the backdrop of international embassy diplomacy, whacky characters and chorus girls in 'Moulin Rouge' type night clubs.
What a perfect antidote to the fragmented, fast-paced digital world we live in to be immersed into the romance and glamour of this production.
Rehearsals are about to be begin and it always feels like the first day of a new school. Nerves and anticipation abound – Am I sounding like one big bite?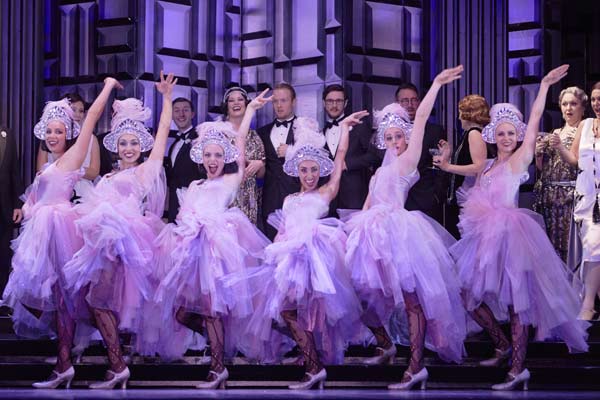 Image © James Rogers, courtesy of West Australian Opera
I've worked with the lovely and talented conductor Vanessa Scammell and Opera Queensland legend Jason Barry-Smith but it will be my first production with Natalie Christie Peluso as Hanna. She is a delightful girl with a beautiful voice and hopefully we will create the right balance of tension, drama, humour and romance into the relationship. Any preconceptions you have about your character, other characters and the story can change once you get into the rehearsal process acting and reacting with the other performers so one has to be open to changes. Ultimately, I am confident this team is going to create a great night of entertainment. Live theatre with all the performing arts elements at their best – Opera, dance, design with great style, humour and romance. What a perfect escape for audience and cast.
– David Hobson"
'The Merry Widow' runs from 22-30 June at Queensland Performing Arts Centre.