'Resting B*tch Face' by Common Thread Circus is set to examine the different faces women present to the world in their lives.
The show, which is being put on as part of Wonderland Festival, stars a troupe of women you'd not normally find in a circus, which is all part of the idea behind it: flipping expectations on their head – literally.
Here, Common Thread's Shannon Egans pens an open letter about the company and the performance itself.
"Common Thread are a brand new, all-women circus company, who will be hitting the stage at this year's Wonderland Festival with our debut show 'Resting B*tch Face'. The four of us met a number of years ago at our training home, Vulcana Women's Circus, and have been performing together in various projects for a number of years. We found camaraderie in that we're a bit different in terms of typical circus artists, we all have professional jobs by day, and juggle our circus training and performing in and around that.
Our experiences as women navigating these contradictory worlds has inspired parts of the upcoming show, as well as a number of other experiences that a lot of women and non-binary folk can relate to. Given the lack of representation of women, trans and non-binary folk in the arts and most other sectors, we are keenly aware of how important it is to have a diverse range of people sharing their stories on stage. While we definitely don't claim to represent or speak for everyone, the four of us do come from various backgrounds and generations, and so each of us has brought different perspectives and politics to the creative process.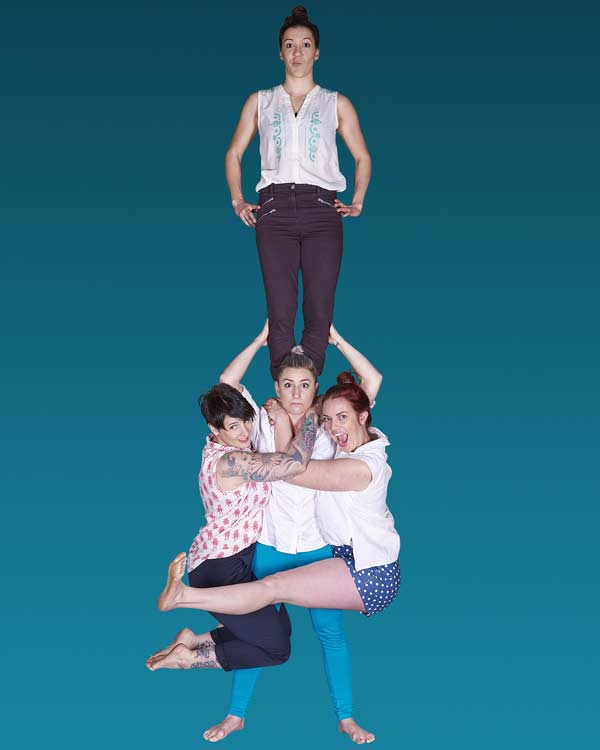 In the show we tackle topics like appearance, beauty and aging, behavioural expectations, ticking biological clocks and being on the internet while female. We wanted to produce something that was bold and comedic, using a blend of circus, cabaret, burlesque and drag to break down gender stereotypes and explore the experiences we regularly face as women navigating the world.
While the themes in the show do have a serious side, we wanted to highlight the absurdity of the expectations placed on women, and laugh along with people as we hold these ridiculous stereotypes up to the light, and defy them. So put your best bitch face on and come join us at the Brisbane Powerhouse! As they say, smiling gives you wrinkles, resting bitch face keeps you pretty."
– Shannon Egans
'Resting B*tch Face' plays Brisbane Powerhouse on 1-2 December.