Contemporary Hong Kong composer, Alain Chiu, will present the world premiere of his new, musical-performance piece at this year's Adelaide Fringe, a bold, creative vision entitled 'Never Seen'.
"'Never Seen' is actually a straight translation of a French phrase called jamais vu," Alain explains. "It's a psychological phenomenon where maybe you wake up to a loved one in your bed but you don't recognise the person, so that real out-of-body experience."
Jamais vu is essentially the opposite of déjà vu, described as the sensation of encountering a familiar situation for the very first time. In 'Never Seen', Alain, along with vocalist Chu Pak-hong and violinist Eric Chan, attempt to recreate this phenomenon through a minimalist composition of repeating text and musical phrases. "Basically we try to repeat a lot of things in 45 minutes," Alain says.
"The musical materials are not extravagant; they're very simple and based on seven, short phrases in Cantonese. In the span of 45 minutes we try to repeat with different methods, such as loopers and different methods of delivering text, or switching instruments.
"Through repetition and cycles we hope to recreate that feeling of using the whole thing over and over again, but at the same time trying to find your own patterns. We invite the audience to experience that method by interpreting what the music is about.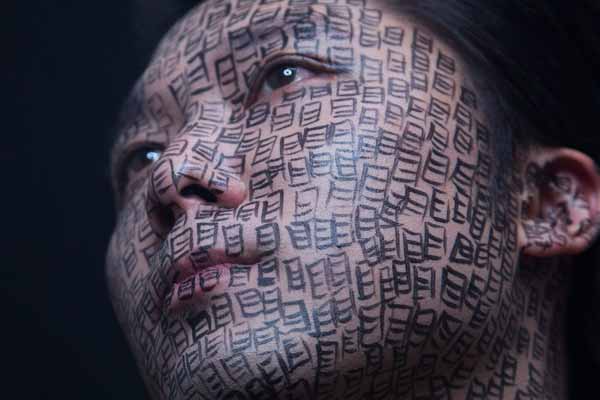 "We don't explain expressly what the words mean or what the music means, but we invite them to find it out themselves."
The concept of repetition and cycles has played a significant role in Alain's work, with the idea of 'Never Seen' originating in a previous composition and becoming something Alain wanted to explore more deeply as a composer. "The whole concept is based on an opera I wrote in Cantonese," he says.
"That was two years ago, and after the opera I told myself it's something I should really explore. So it took me two years to actually create this piece, but this is a really new concept to put it on the stage.
"So it's an experiment, but also an experience; it's an ongoing process. I'm very excited about it because it's the first time we've put this concept to test. We're excited and scared, but at the same time we look forward to it very much. We tell the audience 'don't expect anything, just come in and experience the music'."
The premiere of 'Never Seen' is part of an event on the
Frusic programme
called 'G'day Hong Kong' that is the first, interdisciplinary showcase of Hong Kong talent at Fringe. "It'll be really exciting because this time the whole performance will be based on a text in Cantonese, which is a local dialect in Hong Kong," Alain says.
"There are political issues about the dialect because some people try to crackdown on it, try to replace it with Mandarin. As artists in Hong Kong, we try really hard to preserve the dialect and local culture.
"So it's really nice to have a chance to bring the show outside of Hong Kong and show it to other people."
'Never Seen' plays at Bakehouse Theatre (Adelaide) 13-25 February.