What 'Mamma Mia! The Musical' lacks in intricate set designs and visual production, it more than makes up for in fun, frivolity and of course a killer soundtrack.
Following Sophie (the loveable Sarah Morrison) as she invites all three of her potential fathers to her upcoming wedding, the show is a hilarious jukebox musical underscored by the best music from ABBA.
'Mamma Mia!' is the perfect recipe for a truly enjoyable night at the theatre: it has heart, toe-tapping tunes, emotion and a hell of a lot of laughs, with a to-die-for cast that brings it to the level it deserves to be at.
Alicia Gardiner and Jayde Westaby play Rosie and Tanya respectively, bringing their free spirits to life alongside Donna (Natalie O'Donnell). They sing 'Dancing Queen' into a blow dryer, toss feather boas around each other's necks and just generally live vicariously through their younger selves. These three cast members play their roles brilliantly, conveying a deep longing for the past and an appreciation for what once was.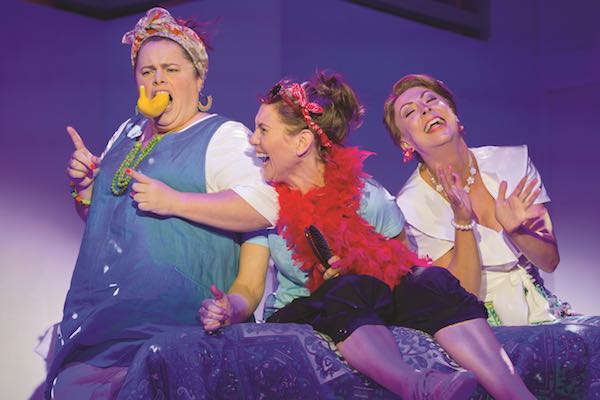 Sophie's three potential dads are Sam, Harry and Bill (Ian Stenlake, Phillip Lowe and Josef Ber); three wildly different men. Each separates himself from the next perfectly, creating an invisible wall between them that paints three pictures of what each was like with Donna 'back in the day'. It's here that I'll mention the sheer relief when Ian Stenlake proved he was much more fit to play the role of Sam in terms of vocal ability than Pierce Brosnan was... But then again, practically anyone is.
A highlight includes the hysterical 'Does Your Mother Know' where Tanya finds herself on the receiving end of some flirtatious remarks, made by a man years too young for her. The ensemble carries her around like a member of the royal family (the choreography here is particularly impressive) while she subtly flirts back, rejecting him simultaneously: "Well I can dance with you honey / If you think it's funny / Does your mother know that you're out?"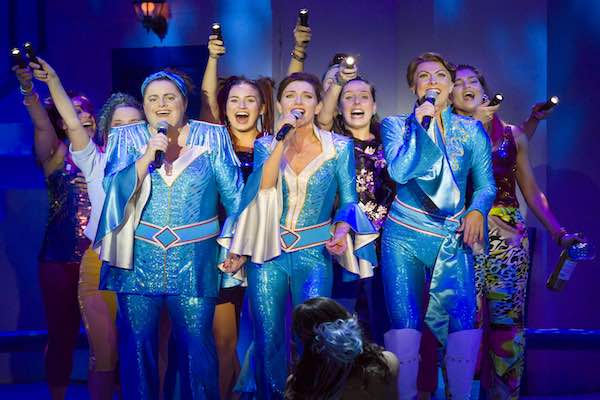 As mentioned earlier in the review, the set design and visuals for 'Mamma Mia!' aren't particularly overwhelming but the storyline itself doesn't call for intricacy in that department, so not much is lost... Particularly when the performances from practically every cast member are enough to distract you from beginning to end.
Featuring all the hits like 'Mamma Mia', 'Voulez-Vous', 'Money Money Money', 'Super Trouper' and plenty more, 'Mamma Mia! The Musical' is a well-rounded experience, boasting a talented main and ensemble cast, complex choreography and a heartwarming storyline loved all over the world.
★★★★☆
'Mamma Mia! The Musical' Tour Dates
Until 4 February – Queensland Performing Arts CentreFrom 10 February – Capitol Theatre (Sydney)From 15 May – Crown Theatre (Perth)From 10 July – Princess Theatre (Melbourne)From 9 October – Adelaide Festival Centre