Amy Currie loves 'Love Actually'. Her friend Natalie Bochenski hates it. So... Who is right?
In this Wonderland Festival show, two long-time collaborators battle it out before your eyes in the hopes of coming to something of a conclusion when it comes to their opinion on the iconic rom-com film.
Here, Amy answers some questions about the show.
First of all, tell us a bit about 'Love/Hate Actually'.
'Love/Hate Actually' is a comedy showdown that aims to decide once and for all whether beloved Christmas rom-com 'Love Actually' is a glorious affirmation of the human spirit or a festering pile of... Yule logs.
You're on the 'love' side. Is this autobiographical for you? Do you actually love 'Love Actually'?
Yes, very much – although I may love it very slightly less after watching it countless times when we were writing the show. I'm a sucker for romance and Christmas cheer, while Nat is a bit more cynical. We have the same robust discussion about the film every year to the point where it's become something of a running joke between us. I actually showed up at her door with some handwritten signs last Christmas Eve (yes, just like *that* scene) to defend the film. It didn't work, though, so here we are.

What are you wanting to achieve by presenting this show?
Everyone seems to have a strong opinion about this film! People adore it or they can't stand it. It's time to find out who's in the majority. Obviously, I am confident that love will conquer all.
You're not new to comedic theatre. How does this show compare to things you've done before now?
I do a lot of improvised comedy theatre, so it's always a bit of a novelty to do something with an actual script. It feels like a bit of a holiday to be able to just say some words you prepared earlier. Of course, the downside is that you have to, you know, actually write the show.
Why do you think audience participation works so well in shows like this?
Getting involved in a show can turn an enjoyable night out into something you remember for years! It's so important to us that nobody feels uncomfortable or overly embarrassed . We want the audience members who help us out to enjoy themselves – it's always optional, low-pressure and designed to make them look good.
Where did the idea for this production originate from (aside from, obviously, the film itself)?
Years and years of heated debate! We joked about a showdown for a while before it occurred to us to actually have one. I think we're both quite sure we're going to win.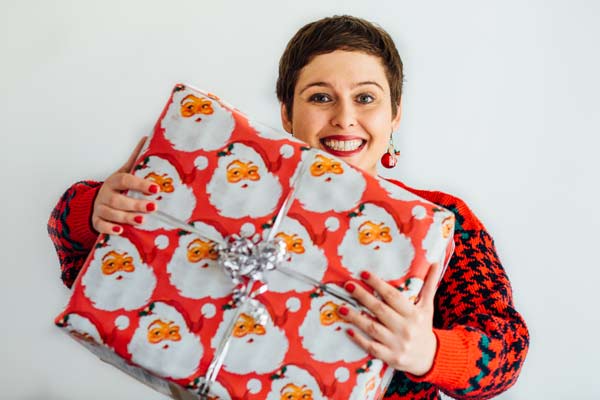 What kind of preparation goes into putting a show like 'Love/Hate Actually' together?
We watched the film about a thousand times – and I still cried at the soppy bits. Once we'd both put together our key arguments (a bit like preparing for a high school debate) we started playing around with skits, jokes and games. It's been tremendous fun.
What are you looking forward to about presenting it as part of Wonderland Festival?
Wonderland has such a party atmosphere. It really matches the mood of an Australian Christmas – lively, fun and a little bit sweaty. I can't think of a better environment for our show.
Sell the show with a 'Love Actually' quote.
"Let's do it! Let's go get the shit kicked out of us by love!"
'Love/Hate Actually' plays Brisbane Powerhouse from 30 November-3 December.