Brisbane girls Natalie Bochenski and Amy Currie are bringing 'Love/Hate Actually' back to Brisbane in late November for the Wonderland Festival.
They debuted the show at last year's Wonderland, so the girls are happy and excited to be back.
"What drives me is spreading the message," Natalie says. "I'm going to be honest: Amy has the bulk of people on her side. She's wrong but everyone believes her. But when I can get people and bring them over to my side, that's a victory."
She's been serious until this point, but can't continue and starts laughing. "And that's why I keep fighting. Every day."
Amy steps in. "Oh, you should see her little face. She is never so happy as when hate wins."
The great thing about Wonderland, the girls agree, is its support. The girls say "they really promote local artists and performers".
"There is something great for everyone to see. We think it's fantastic."
"And I'm really counting on Brisbane grinches," Natalie adds. "I need that hate to come back this year."
'Love/Hate Actually' is an interesting and original sketch show the girls created based on arguably the most beloved Christmas rom-com. Amy loves the film, while Natalie hates it. They both explain why and let the audience decide at the end.
"Believe me, I am very aware of the irony [of creating a show about something she hates]. I was sick of it before we started doing it. I hate the movie but because we've developed this show, I now have to spend all my time talking about it."
Since its debut, they've toured Australia and the world – "well, the southern hemisphere, at least".
Natalie and Amy performed in Vanuatu last month, which was "fantastic and so amazing".
"It was probably the sweatiest experience we've had doing the show. Amy in particular wears a lot of jumpers, sweaters, and turtlenecks, and it was 28 degrees and 100 per cent humidity, performing in an art gallery that was essentially a shed. A wonderful, lovely shed, but a shed nonetheless. And it wasn't air conditioned," Natalie adds.
Amy claims to have had "one of the best theatrical experiences" of her life there. The manager's dog wandered in during her monologue and jumped on stage with her.
Aside from Vanuatu, the girls performed in Perth Fringe World at the start of the year and at the Melbourne Fringe in September.
"And we were nominated for best comedy last year at the Fringe World Festival (the world's third largest fringe festival)," Amy says.
Natalie and Amy are planning interstate shows again next year. "We'll be taking the show back to Perth Fringe World, and then on to Adelaide Fringe as well. That's all locked in.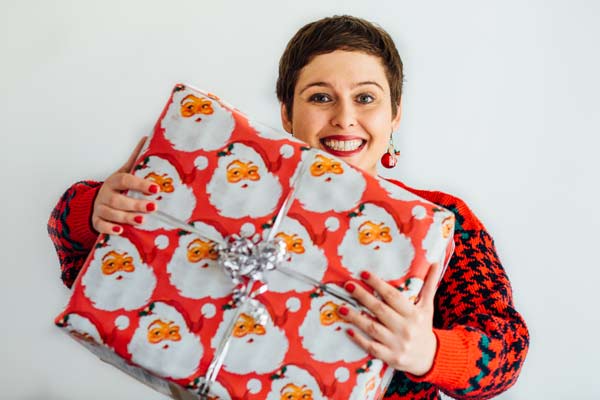 "We're really looking forward to spreading the gospel of hating 'Love Actually'," Natalie says.
Amy pipes in with the alternative "or loving!"
At the suggestion of a UK show, where the film is based, the girls don't object. "Perhaps I'll be able to wear my turtleneck somewhere a bit cooler," Amy says. "That would be nice."
"Our aim is to hopefully take the show on tour to other places, but part of the show is about Christmas in Australia," she explains.
"The ridiculousness of celebrating Christmas in a very traditional, English way when it's so hot and sweaty outside. You watch 'Love Actually' and it's all about cold weather and snow, and hot chocolates and fires – and that of course, is not our experience here in Oz. It really is a Northern Hemisphere thing."
As for future endeavours, Trump and Brexit are particularly "ripe for comedy these days". Natalie admits there may be a few slight digs at Trump in the show. "We can't help if there are a few little parallels with that handsy President [Billy Bob Thornton]."
"If Trump wants to sue he can go right ahead. I'll punch him in the nose," cheerful, love-conquers-all Amy says.
'Love/Hate Actually' plays Studio 188 Ipswich on 17 November before Brisbane Powerhouse 22-25 November.