Two acclaimed Australian performers share their love for the songbooks of Peter Allen and Olivia Newton-John in their tribute show 'Livvy & Pete'.
Helpmann Award-winner Michael Griffiths and cabaret sweetheart Amelia Ryan take their own friendship to the next level in 'Livvy & Pete' to celebrate the iconic performers, their songs and of course, their costumes.
"I think part of it is that Peter and Olivia are so much a part of Australian popular culture," Michael says.
"I grew up with Olivia and I discovered Peter more through being a musical theatre boy... Later in my 20s, but I grew up adoring Olivia Newton-John and grew up with 'Grease' on VHS, which I'd play on repeat. At least from my point of view they are two artists that are very much in the fabric of my youth and growing up and identifying as an Australian.
"We certainly don't get too serious or political or anything like that; it really is about sharing songs and having fun. We don't assume their characters but we do dress up because it's fun, so I'm wearing a white shirt and Amelia has a cavalcade of costumes. We're always very much ourselves; there is a script but we love going off it because we like making each other laugh."
Peter and Olivia shared a special friendship that was both personal and professional; Peter's most successful song, co-written with Jeff Barry, 'I Honestly Love You' became a major hit for Olivia in 1974.
Together, their songbooks span the Australian cultural consciousness and are packed with countless sing-along favourites. But perhaps more enduring than their music, are the costumes Peter and Olivia became best-known for. Did someone say, 'jazzercise'?
"We have fluorescent lycra, leggings and headbands, and we do 'Physical' very faithfully costume-wise," Michael says, "and there may be some audience participation jazzercise in 'Physical', there may or may not... But certainly, that costume makes an appearance. You know how Livvy rocked that Lady Di, '80s blow wave? Amelia even has a wig that suggests that hairdo."
Michael and Amelia will present 'Livvy & Pete' as part of this year's NOOSA Alive! Festival, where audiences will be treated to everything from 'Rio' to 'Tenterfield Saddler' and 'Xanadu'.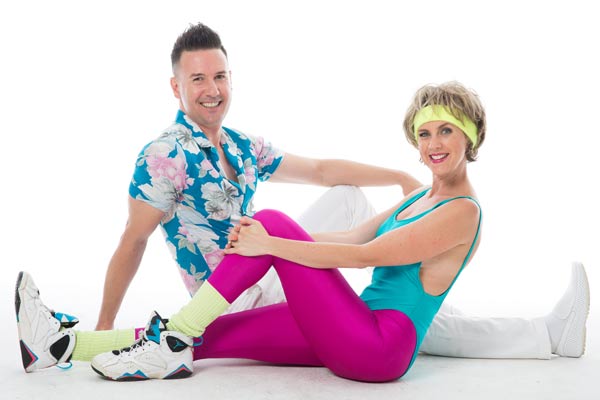 "The music is fun and at the risk of putting people off, as much as we can we make them sing along, which doesn't mean we make anyone do anything they don't want to but we do find that when you sing 'I Still Call Australia Home', people just want to join in," Michael says.
"It's fun, especially once there's booze on the table. We often do it in a cabaret setting, which basically just means there's grog," he laughs. "So we encourage people to sing if they feel so inclined."
"It's an informal hour of us singing these songs because they're fun, and making them duets even when they're not. For instance, 'I Honestly Love You' is not a duet traditionally but it works as a duet. Rather than it being about one lover lamenting a love that can't come to fruition, we get both sides of the story. So we've arranged it for two voices and sing harmonies. Basically we stand on stage together and it's really fun."
'Livvy & Pete' is on at Noosa Arts Theatre (NOOSA Alive!) 25-26 July.