Contentious and captivating, 'Hypatia' hits The Blue Room Theatre this September.
An educator, mathematician and an astronomer, Hypatia Of Alexandria was a remarkable woman. Well-known and respected, it was unusual for a woman to have a high position during this era. Falsely accused of stirring conflict between two of the city's most important figures, a mob of religious extremists stripped her naked and beat her to death.
Hypatia's legacy is an all-too-relevant example of a powerful woman silenced by a fearful, biased society. 'Hypatia' tells the story of one woman to uncover the truths of many.
Orchestrated and presented by acclaimed theatre makers The Open Lid Ensemble, this influential original work uncovers the true story of Hypatia.
Performer and devisor Kat Shaw stumbled upon the story of Hypatia a few years ago.
"I'm really excited to share her story. I've had this idea tucked away for a few years now, so it's great to finally share it," she says. "We are telling the story of what happened to her through her voice. We think the story has been told through the eyes of some men, so we wanted to give her voice back."
Image © Marshall Stay
Taking place over 2000 years ago, like-minded women can still relate to Hypatia's misfortune.
"First of all people should know about this woman because she is incredible; we wanted to highlight the importance of the story."
Kat and The Open Lid Ensemble are hoping that Hypatia's story has a positive effect on society. "As modern and progressive we think we are, this is still a story we hear about."
With an important message to deliver, 'Hypatia' went through a series of stages. "Once I pitched the idea to the team and everyone was on board we applied to The Blue Room Theatre and began our research. This was followed by creative development, talking out scenes, developing characters, text and devising movement sequences."
A lot of the movement sequences in the performance are supported by the design and lighting, while merging elements of Greek theatre with the Japanese dance style Butoh.
The biggest challenge for The Open Lid Ensemble was taking an idea and creating a show. "A challenge we encountered was pin-pointing exactly what the show was about, its purpose and knowing what we wanted the audience to take from it. Once you have the core purpose everything follows."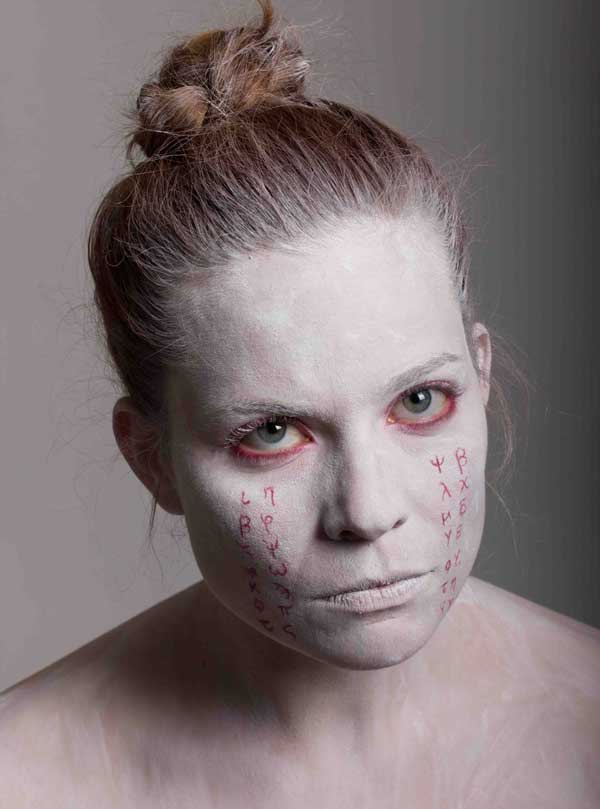 Image © Marshall Stay
In the show, Kat will be playing Hypatia. "It's a bit intimidating playing a strong role. It's definitely a challenge to portray her not as a stereotype and to find the three dimensions of her."
Kat has been acting since the age of 12 and recently started devising in 2012.
The Open Lid Ensemble is a seven-piece, all-female collective. "We are an ensemble of all women and we want to highlight that. We are capable of expressing, we can play with gender and we can create anything we want."
'Hypatia' experiments with different ways of interpretation. "There is a moment in the performance…It could be the death scene, that won't be expressed through literature."
"We are very conscious on violence against women as a lot of women have experienced this. We hope that 'Hypatia' is a wake up call to society."
'Hypatia' plays at The Blue Room Theatre on 19 September-7 October.