Contemporary art project creators, Aphids, will be bringing 'Howl' to Perth this July.
'Howl' is a celebration of 15 significant moments in art history. The parade was created and will be performed by artists Willoh S. Weiland, Lara Thoms and Lz Dunn. 'Howl' aims to provoke thought within it's audience with regards to the power art holds and it's role among society as well as celebrate the relationship between art and controversy.
The inspiration for 'Howl' originated from a reaction of two events among the artistic community. The first was an artist protest at the Sydney Biennale which was followed by a withdrawal of funds from the Australian Council For The Arts. The second was the controversial child pornographic charges that faced a Melbourne artist for a series of his artistic expressions.
"Those two things lead us to consider what the role of controversy in art is and to think about the different historical perspectives on that," Aphids Artistic Director and creator of 'Howl', Willoh S. Weiland explains.
"The work is a series of 15 controversial artworks that we perform. They are visual artworks and we are reenacting them in a parade format.
"We are asking people to consider the works themselves.
"What their own perspectives on controversy is and what you should and shouldn't be allowed to do in the name of art," Willoh says. "It's asking people to consider those works and their meaning and importance and celebrate those moments of controversy.
"Celebrate the artist's right to protest or be controversial in the same way that we take that as a given value in terms of freedom of speech or freedom of expression."
"We're trying to achieve a response of thoughtfulness and consideration for what art is, what it can do, what its social role is and get people to listen up."
Originally debuting in 2016 at Festival Of Live Art, this year 'Howl' will take over the Perth Institute Of Contemporary Arts (PICA) in late July.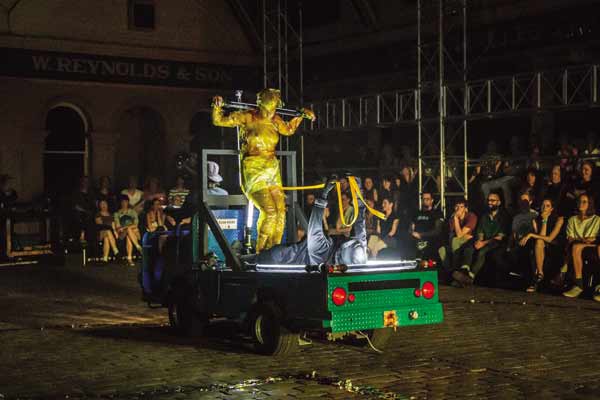 "We are so excited about doing it in PICA because it's a visual art context and it's a gallery, so it will be radically different because last time was in a big, open warehouse. This time we will be much more in touch with art history.
"People have a certain expectation when they come to a gallery which we hope to destroy," Willoh says.
Willoh describes the parade to be a wild spectacular.
"It's incredibly ridiculous and incredibly serious at the same time."
"The idea is that there are parts that are quite shocking and there's parts that are quite celebratory and I think that combination is really good.
"You can expect dancing, a speech by Hitler and a giant urinal. Just all the good stuff."
'Howl' is set to run on 28-29 July.