When the meth-addicted Isaac is discharged from Afghanistan, he returns to a home that doesn't exist quite as he left it.
Younger sister Maxine has grown a beard during her transition to become younger brother Max, and is using the third-sex pronoun 'hir'. Arnold, Isaac's father, sits placid in the lounge room with his makeup and nightie on, rendered almost speechless by a stroke. Mum, Paige, is responsible for his emasculated state; Exacting revenge on her husband after years of abuse, she dulls him by mixing estrogen into milkshakes with prescribed medication.
Zoe Pepper, Director at Black Swan State Theatre Company, is bringing the pacy family ordeal to life, as part of their Conversations series. Two weeks into rehearsal, the cast have well and truly cracked into the black-comedy can of worms that is 'Hir'.
"There's been a lot of talk about the cycle of abuse and how it would have impacted on you to grow up in a house where violence is a staple in the household," Zoe says. "When violence and aggression are part of the language of the family, it changes what's acceptable behaviour."
The play's format definitely has a touch of the sitcom about it, and has been described as ''Roseanne' on acid'. When Arnold doesn't shut the front door as he's told, Paige squirts him with water from a spray bottle, like a disobedient puppy. Following her post-gender awakening, she also refuses to clean the cluttered household.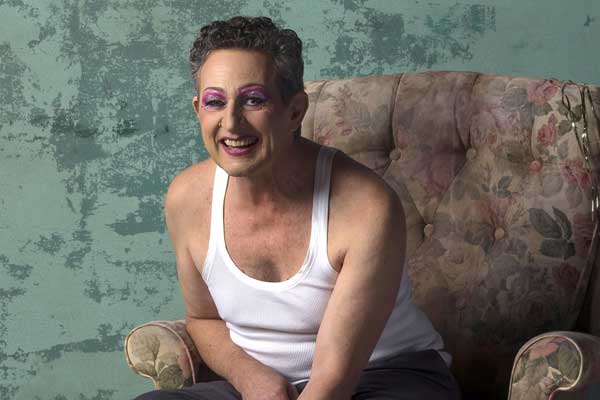 "You have to fight against wanting to say your lines so quickly because of the anxiety of being surrounded by all this crap that's on the set," Zoe says.
But beyond the absurd is a care for the fragile inhabitants of the four-handed world in 'Hir'.
"It does it with good humour, and I hope the audience empathises with all of the characters, because they are all incredibly flawed and complex," Zoe says. "Everybody's just trying to survive in the only way they know how, and through the behaviour they've learnt."
And while the extent of the violence that exists within Isaac's family may be challenging for audiences to grapple with, a kitchen-sink drama will always be universal.
"There's a lot of push-pull that only exists between people who are related to each other," the Director says. "You're watching these people that love each other, but drive each other crazy at the same time."
Image © Daniel James Grant
The cast work hard to consistently find comedy within the darkness of the script. The brutality of the characters' actions is underscored by slapstick beats they push to hit.
"I'm always looking for how we're going to build this moment that's filled with tragedy so there's still a punchline and a laugh at the end," Zoe says. "It's a fine balance, and a great challenge."
The play's exploration of gender and dismantling of the patriarchy is charged by the #MeToo movement and growing consciousness of Aussie audiences. Power assumed by its men is suddenly absent, and anyone can vie for the position of new top dog. 'Hir' presents one version of a world 'beyond' gender, where characters can be freed from the abuse they've suffered.
"It is this disorientating time for the straight man," Zoe says. "It's a pretty big, bold idea, wrapped up in a dark dark family sitcom."
'Hir' plays Studio Underground at the State Theatre Centre from 10-27 May.