Titillation, tinsel, brawn and baubles await at Curves & Claws' second annual 'Christmas Spectacular'.
Brisbane's premier burlesque and variety show is once again bringing a dazzling all-inclusive production to audiences. A forerunner for showcasing talent regardless of body type, sex, race or sexual identity, the show promises to push limits and champion acceptance.
"I didn't want to run just a burlesque show," explains Producer, Kitty Obsidian. "We really like to push the boundaries and I really like pushing LGBTI. Often there's a little bit of fetish in there as well. Just a tiny hint. It's very much an 18+ show."
A stellar line-up of international and interstate acts has been assembled, featuring regular cast members and Curves & Claws debutantes. "You never know what you're going to get when you walk into Curves & Claws because it's never the same. If I find talent, I like having them back again and again. But I do try and make sure every show is different."
Rebelle Velveteen - Image © Ashlee Savins Creative
Three newcomers to the Curves & Claws family will grace the stage, including headline act, Brisbane borne Rita Fontaine.
The first dame to be crowned Miss Burlesque Australia (2010), Rita is considered a triple threat.
"She does cabaret singing as well as burlesque and costume making. We are very lucky to have her headlining back in her hometown. She's a bit incredible."
Chelsea Mae Smooch - Image © Joel Devereux
Also making their Curves & Claws debuts are pin-curled Mae de la Rue, winner of the Best Classic Burlesque Act at Burlesque Idol Grand Final 2016, and "pint-sized powerhouse" Rebelle Velveteen, winner of Burlesque Idol Sydney 2015.
"Mae is a Sydney performer and Rebelle used to be a Sydney performer, but now runs various workshops and classes and performs in Canberra." Returning to the Curves & Claws stage for the second time is Boylesque artist and Pro Natural Bodybuilder, Hardonis.
"I don't want to give away too much but I'll be bringing something special in the spirit of Christmas and giving," Hardonis says. "It's worlds apart from the two routines that I've previously performed and very original."
Hardonis - Image © Joel Devereux
Also treading the Curves & Claws boards again are flame haired tease, Night Temptress, the lady who gives good face, Lady Le Feu, the cute as a button Pain Proof Pixi, and Curves & Claws' resident Mistress of Ceremonies, Lady Severine Sinful.
"Frankly, I give her a microphone and just let her do what she wants because she's amazing," Kitty says.
No 'Christmas Spectacular' is complete without a visit from Santa, who will be on hand to celebrate the naughty and chastise the nice.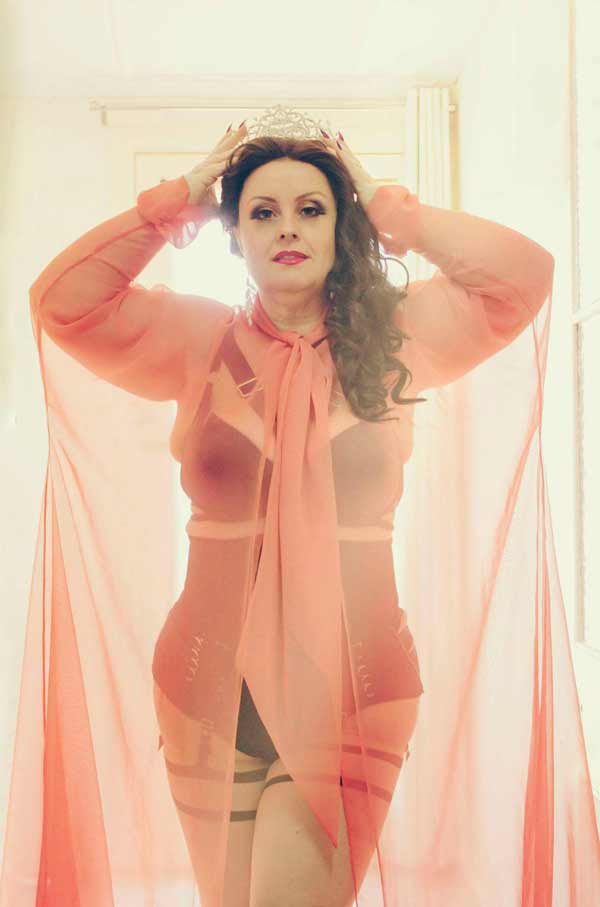 Lady Le Feu - Image © Say CheeseCake Photography
"Everybody loves a dirty Santa Claus," Kitty laughs.
A band of naughty elves played by Curves & Claws' new dance troupe, Killer Curves, will add to the mischief. "We are going to show what Santa's elves do when it's their time off, when they don't have to be all smiles and cupcakes anymore. It is a lot of fun."
If seeing the Curves & Claws 'Christmas Spectacular' is on your Christmas wish list, Kitty suggests that you get in quick to avoid disappointment: "We are expecting a sold out crowd so I always tell people to please get in early because I hate having to turn people away at the door. It happens at every show and it breaks my heart."
Curves & Claws' 'Christmas Spectacular' plays at the New Globe Theatre on 10 December.