The Redcliffe Musical Theatre Youth (RMT Youth) cast gave the Hollywood stars a run for their money with their production of 'Grease'.
Friday 12 June saw the inaugural performance of 'Grease' by RMT Youth directed by Thomas Armstrong-Robley. Leading stars Adam Goodall, Genevieve Tree, Alex Kuchmenko and Shonagh Hale did not disappoint 'Grease' fans as they found the line between adding their own individuality to the famous characters: Danny, Sandy, Kenickie and Rizzo while staying familiar to the audience.
Aside from special guest Simon Chamberlain (Teen Angel) and Patricia Dearness (Miss Lynch), all of the cast were under the age of 20, and were supported by a production crew all aged under 25. "I've worked with a lot of casts in the past but I cannot sum up in words how special this particular group has been from the very start," Director Thomas Armstrong-Robley, aged 21, said.
"As performers, this group have brought talent backed with hard work, a fantastic grasp on the stimulus material, fresh ideas and a true openness of the process."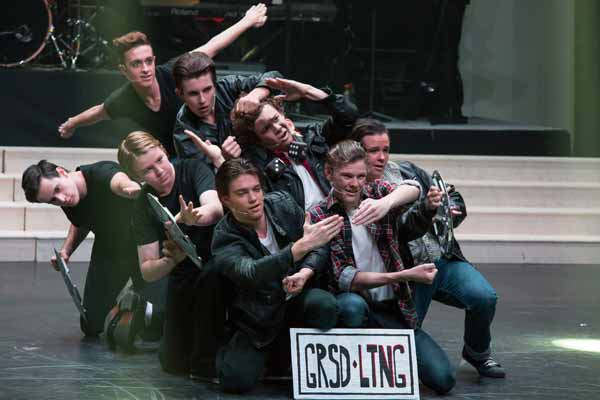 Image © Beak Photographics
While all of the leading cast were outstanding with their performances, Kaitlyn Maxwell and Liam Kirkpatrick gave Rebel Wilson and Adam DeVine's performance from 'Pitch Perfect 2' serious competition as these up and coming stars stole the stage in their roles as Jan from the Pink Ladies and Roger from the T-Birds, adding a balanced dose of comedy to the well-known musical.
Matthew Bapty, in a smaller role as Eugene Florczyk, was highly memorable with his interpretation of Eugene being a mix of the characters Sheldon Cooper ('Big Bang Theory') and Steve Urkel ('Family Matters') as his unforgettable outburst during the all-time favourite 'We Go Together' thrilled the audience to an almost standing ovation.
Special guest Simon Chamberlain also brought the audience to these heights with his comedic interpretation of Teen Angel during his rendition of 'Beauty School Dropout' showing how great one man's voice can be!
Simplistic yet impressive sets and props set the feel for Rydell High and other memorable scenes from the movie such as the drive-in, and if you managed to draw your eyes away from the performance for a moment to observe the six-piece band in the background, you were both awed and entertained by 21-year-old musical director, Lucas Lynch, who managed to interact with the cast, conduct and play the piano simultaneously during the entire show.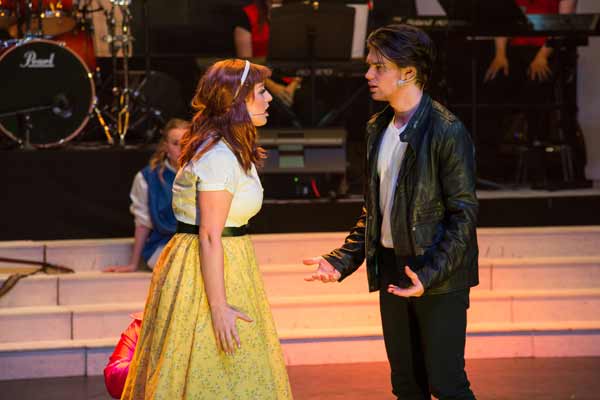 Image © Beak Photographics
The skills and talent of 18-year-old choreographer and stage manager, Brodie Jones, were revealed during the famous 'Hand Jive' scene at Rydell High. Having studied dance since she was three years old, Brodie outdid herself following her choreography in Redcliffe Musical Theatre's world premiere of 'Saturday Night Fever'.
Redcliffe Musical Theatre's Executive Producer, Madeleine Johns, could not have been prouder of these youths of which most had come up through the ranks of RMTs Roar Academy for the Performing Arts. "'Grease' is a great choice for the RMT Youth production as it is age appropriate and has such a great score," Madeline said.
Those who missed the 'Grease' performances 12-13 June 12 should be disappointed, but don't despair. You will get another opportunity to see what may just be the world's next movie and theatre stars at RMTs 'Music Of The Night' and 'Born In The USA' opening July/ August 2015.