A hundred years on after the Gallipoli Landings, the story of the ANZAC's remains fairly prevalent in the minds of Australians.
'ANZAC Bikkies', a production organised by Brisbane Arts Theatre, examines the stories of those who had their lives turned upside down by this tragic yet iconic campaign in Gallipoli. The play by local Brisbane writer and performer, Paul Sherman, focuses on the story of Ginger Mick, played by Joel Sutton.
"It follows a few characters from the moment they start signing up to join the ANZAC core and then through their experiences at Gallipoli. There're also a few characters around the edges of the story, there're a couple of scenes set in England and also the British brass who are on the ships in charge of the Gallipoli campaign," explains Joel. "My character, Ginger Mick, is based on the historical C.J. Dennis, is a statue outside an RSL who comes to life and narrates the scenes."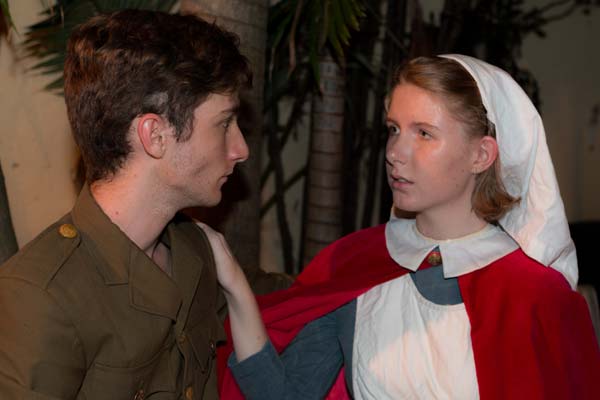 After receiving the role of Ginger Mick, Joel read up more on C.J. Dennis and the character who he is embodying. "The colloquialisms they used, the phrasings, it really is a different way of speaking. I work as an engineer and I've spent the last week up in a construction site in central Queensland. That was a pretty good way to practise a broad larrikin accent, being on site with guys who had their own laid back approach to life," laughs Joel. Speaking to the main traits of the character of Ginger Mick, Joel says, "he really is a quintessential larrikin. Any time you ask someone to talk about the ANZAC spirit or look up on it, you'll see things like good humour, cheeky, not particularly respectful of authority, and that's exactly what Ginger Mick is."
This is not only Joel's first lead role, but it's also his first foray into a more serious production. "I'm pretty new to this theatre thing, I've only been in a couple of productions before. This is the first drama I've been in. It's been an interesting experience. This is my first time with a major role, so this is all fairly new to me. Lynn (Director) and John Boyce (Brisbane Arts Theatre Creative Director) have been really good in how they're getting into the era, going before the time of instant communication and globalisation, back to when Australia was more rustic and slower-paced."
Although there is definitely a feeling of long standing tradition when it comes to ANZAC Day, Joel explains, "if you go back 20 or 30 years, I don't think it would have quite the presence in popular culture as it does today. I think that has grown over the past few decades especially with people going back to Turkey with the dawn services on the Gallipoli beaches. That's a fairly recent phenomenon." When asked why he believes the story of Gallipoli and the ANZAC spirit remains in our popular consciousness today, Joel says, "it was the first major war that Australia was involved in after federation and ANZAC Day has become quite a big deal in the nation's psyche. It's 100 years on, it's always going to be a big event with that sort of anniversary. There's always going to be interest in how the ANZAC spirit was developed."
Despite the tendencies of patriotism surrounding ANZAC Day, Joel is fairly conscious of the meaning and framing of stories like Gallipoli. "I think it's important when you do put on something like this, it can't be celebrating war. It's got to be memorialising it. When I saw the script I was really happy with how it portrays war, fairly stark facts while still paying tribute to the men and women who embody the ANZAC spirit."
Conscious that this is the story where over 8,000 Australians and nearly 3,000 New Zealanders lost their lives, Joel is careful to assure people that this production will definitely not be a hollow display of nationalism or attempting to whip up jingoistic pride. "War is tragedy and civilisation in general has got a bad history of glorifying it. I think we're slowly getting better at avoiding that. Popular culture glorifies war and violence and the rest of it so it's really important that any sort of memorial, whether it's Remembrance Day or ANZAC Day, really needs to be held in the proper manner and the proper spirit. We really don't want to go down a path of imperialism and jingoism again," says Joel thoughtfully.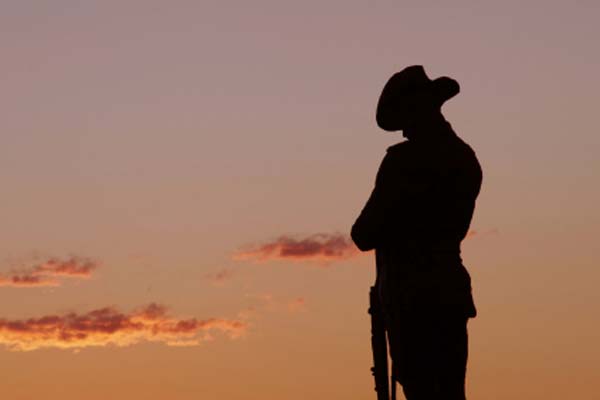 Despite coming up to a century since the failed campaign at Gallipoli, Joel questions as to whether the messages that have come out of the tragic event have really sunk into Australian consciousness. "I don't think we can say that we've really learned from it because we've got young men and women serving in Afghanistan and Iraq with unclear goals, unclear end conditions, and that's exactly what happened at Gallipoli. There was a big mix up on what they were going to achieve and how they were going to go about achieving it. In the end it was a complete disaster as a campaign," reflects Joel. "How many men, women, sailors, soldiers, pilots had relationships and had dreams of what they were going to achieve after the war and never got to?"
'ANZAC Bikkies' plays Brisbane Arts Theatre, 21-25 April.