Born in the east of Congo, Future Destin Fidel was forced to flee his home after the civil war in 1996.
In 1998, Future found out that his mother was killed in Congo. During this time, he was desperately searching for his sister whose whereabouts where unknown. She eventually contacted Red Cross to find out where Future and her other brother were, and in 2004 they were re-united. Future lived in a Tanzanian refugee camp – Nyarugusu – for eight years before being granted refugee status in Australia.
In 2006, Future started his career in the arts by joining a Kwatamaja (African) Dance Group in Australia, as well as participating in acting workshops via a private training company. The following year, he and a group of young refugees formed the Fimbo Boys – who mainly performed African modern dance and song. Since their development, one of proudest achievements has been steering many young people away from getting into trouble, drinking, wasting time and supporting their dedication to such a positive and empowering creative programme.
Developing and performing in the achingly honest 'I Am Here', Future presented the piece alongside other children of war who now call Australia home. Reimagining the harrowing stories of the young artists caught in the chaos of conflict, 'I Am Here' performed at the Brisbane Powerhouse, World Refugee Day Community Festival, Refugee Lantern Parade and Empire Theatre in Toowoomba in 2011.
Now a La Boite artist-in-residence, Future D. Fidel is set to premiere his first full-length play – co-produced by La Boite and Brisbane Festival – in September. Winner of the 2014 Young African Australian Star Award for Excellence in the Arts, Future writes with an undeniable force of authenticity. A high-impact production, 'Prize Fighter' is inspired by his own story and those he has met along the way.
A talented young boxer, Isa (Pacharo Mzembe), is preparing for the biggest fight of his career. On the line is the national title and the promise of fame and riches beyond his wildest dreams. What unfolds is a modern-day fable of a Congolese boy orphaned by war and forced to become a child soldier by the very people who killed his family. His powerful left hook offers a new life in Australia, but his greatest obstacle is not his opponent – it's his past.
"These memories he has as a kid, he still remembers. And all the things that he had to do as a child soldier haunt him every time he boxes," says Future. "Being in the ring was like being in the war zone for him and he felt he was still that soldier and not the best boxer that he wanted to be."
Among four other artists who have developed their work over a year-long residency, Future has been guided by former Artistic Director Chris Kohn and new along with incoming Artistic Director Todd MacDonald and the team at the theatre company. He believes La Boite's programme helps young writers to become better and polish their skills and he feels privileged to premiere his play during their 90th year.
"I mean, you can write a play but you can't always get professionals who have been in the field for quite a while, to read it and give you some useful feedback... People at La Boite are lovely, every time I walk in I feel like I am home. It's really a great experience being part of that family."
Future recalls memories from his childhood and recounts the path that has lead him to 'Prize Fighter':
What do you remember from your homeland?
I was still a child when I left. All I can remember are my childhood memories when we used to play on the streets with other boys. Playing games at night, overhead the moon shined.
How did the Tanzanian refugee camp help children and young adults like you?
As an orphan in a place full of some stronger and selfish people, you'll always feel like you don't matter. I can't say it was terrible because the struggles have helped me overcome other, bigger problems.
What does Australia mean to you?
Home is where you can eat, drink and sleep without having a sense of insecurity. That's Australia. It means I can do more than what I would have done.
If you had have stayed in Africa, what do you think your future would have held?
It is always hard to predict the future, so I can't really say how it would have been if I was in Africa. Since this is the future of 1994, it possibly means I wasn't meant to be there.
Is there a story behind your parents naming you 'Future'?
I believe every name has a story behind it. I was told, this meant 'the future is always unpredictable'. Why? I don't know.
In what way does the young boxer in 'Prize Fighter' resemble you?
I don't think I can say there is a resemblance between myself and the young boxer in 'Prize Fighter'. Possibly his curiosity, apart from that, he is from a middle-class family and his life seems to be on track, where as mine was unpredictable.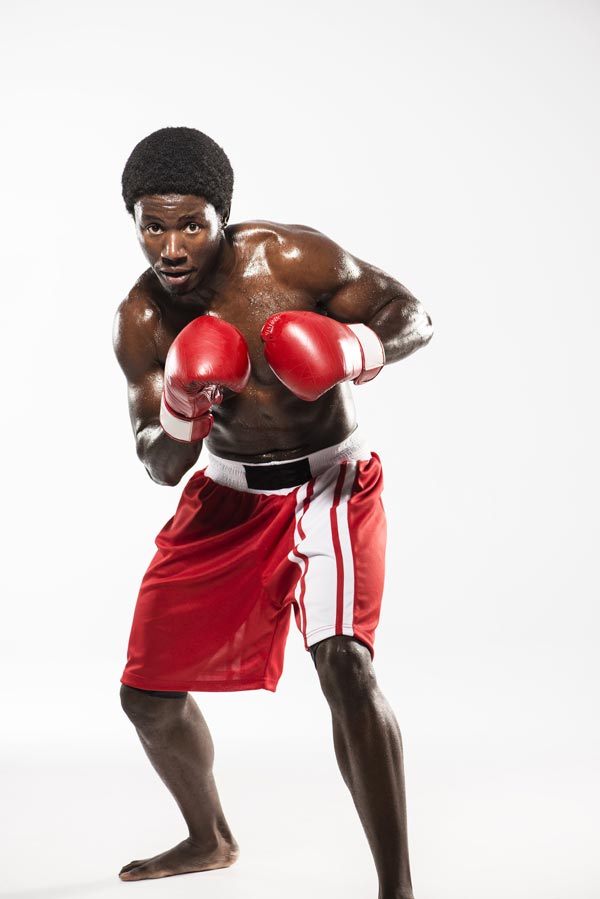 Have/ will you ever return to Congo?
I haven't gone back but I am sure I will one day for a visit.
Do you think westerners have a blind spot when it comes to affairs in Congo and Africa; the state of the country etc.? Do you think it's blissful ignorance or media-driven?
I don't think westerners will ever know the truth about Congo or why it is the way it currently is. Media will never show what is really happening.
How close is the African community in Australia – Brisbane in-particular?
I don't know about other states because I haven't lived there, but I can surely say that African communities in Brisbane are together.
Do your experiences from your homeland differ greatly, or can you mostly relate and support each other?
In every community there are always some people that never want to support others, that's not new. I can't entirely remember the experience back home. But if some people can't support you, there is always one or two people that will support you.
Were Pacharo and Gideon Mzembe cast together, or is it a lucky coincidence they're brothers?
I can't talk much about the casting because that's somebody else's worry, but I am glad they are involved in this project. Them being brothers is a big plus because, they will own it without fear.
How extensive was the process of creating 'Prize Fighter' – from idea to production?
When you are creating something you love, it always seems effortless. It was a great experience even though I went to sleep at 4am to finish up a scene and woke up at 7am ready for rehearsals. At the end of the production I will be glad I did that because hard work always pay off.
Was it therapeutic writing the play?
The purpose is to entertain and teach at the same time. It is not a class, but the audience will be taken on a journey they will be glad they took.
How did you feel the first time you heard people reading your script?
The first time I heard people reading it was more like 'uh... so, that part is not as funny as I imagined' or 'that part is really emotional'. It gives you a much better understanding of the world of the play.
Do you believe 'Prize Fighter' will affect people?
I hope it doesn't. I believe one in every five people that will watch the show will know somebody that is a 'Prize Fighter' if they are not themselves. If they are, then I know they will walk out with confidence and pride. Not because of the dark side but because regardless of how tough life was, they are the 'Prize Fighter'.
What does the future hold for you?
If I could predict the future I would say I will be the next Shakespeare. But I might end up being a car mechanic so I wouldn't know what the future holds. I believe this to be the beginning of something great. I know I am not putting my pen down anytime soon, until Australia laughs and cries, knowing that I am doing this for my country – Australia.
'Prize Fighter' premieres the Brisbane Festival at La Boite, 5-26 September.