It's an accident Dawn Pascoe ever became involved in circus 12 years ago.
"I did my Bachelor Of Arts and Theatre Arts [at Western Australian Academy Of Performing Arts] first, and then did a bit of circus within one of those courses and just fell in love with it," Dawn says. "The story of fate goes I found a crumpled-up flyer at the university I was at, and went, 'Oh, circus, hey? In New Zealand? That sounds cool'. So I looked more into it, applied, got in, and then told my parents that in two weeks I was going to New Zealand. And they went, 'Um, excuse me?!'" she laughs. "I just followed my intuition and it was the best decision I ever made."
Accidents are a recurring theme in the Perth-based performer's anecdotes. But something that's not accidental is her talent on the trapeze, which will be on full display in her Fringe World show 'Flaws And All'.
"I was actually working on a completely different show and was going to rework that show, but then I started playing in the studio again and realised there was another story to be told here and started working with my director, Sarah Nelson. Within a few months we'd made a completely different piece."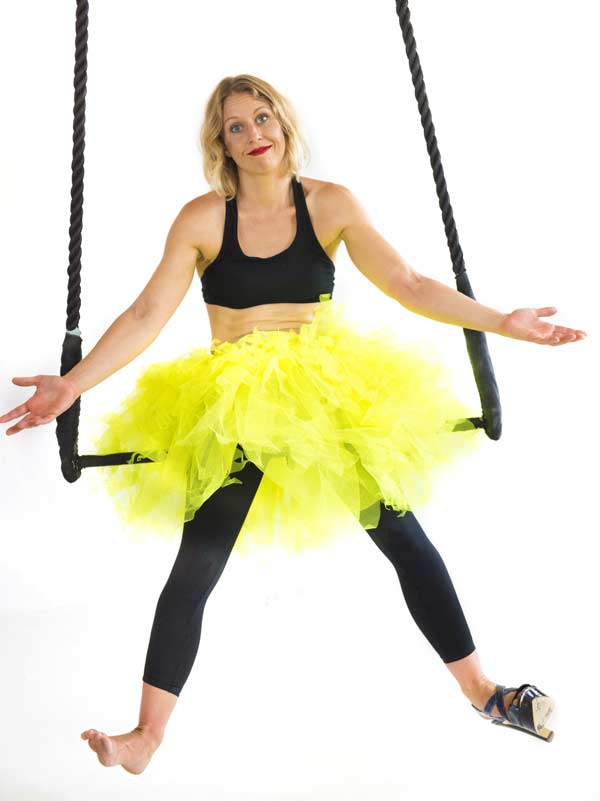 Image © Adam Wayre
In 'Flaws And All', Dawn comically explores her imperfections, all while hanging from her trapeze.
"I started thinking more deeply about the movements I was creating and what story I was telling. It became this story of this woman who's completely flawed in every way – physically, emotionally, relationships, completely awkward in social situations – and how does she accept herself in the end because no one is going to love her until she loves herself. We were thinking about how people are flawed. Food is a huge thing; some people will have a terrible relationship with food. Sometimes you let that inner desire take over you and you eat all the crap. But it's so fun!"
Dawn's performances utilise a transitional trapeze. At the time it was relatively obscure, but she took to it when she discovered the 'triangular-looking trapeze-thing' hiding in the storeroom of her New Zealand circus school.
"It's like a normal trapeze, but they're joined at the top so it becomes a triangle when it's rigged. It's on a swivel and spins. You can do it from different heights. You generally have contact with the ground. The bar can sit two metres off the ground, it can sit a metre, it can sit 30 centimetres. You have this apparatus that you can play within, around, on top of, below. It's been named now dance trapeze, which is quite apt, I think, because you dance with this apparatus... I've really established the style myself, so everything I do hasn't been taught and I haven't been influenced by what other people do."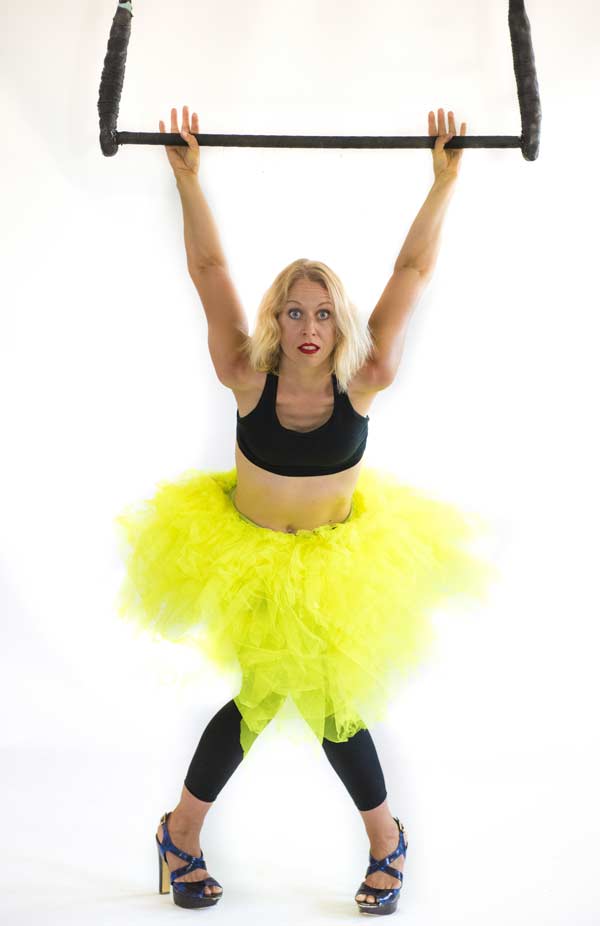 The show may have started as an accident, but 'Flaws And All' has become Dawn's most personal show yet; one which lets her share herself with audiences, flaws and all.
"It's almost become a catchphrase for myself. When I look at myself in the mirror and see all my grey hairs coming through and I just go, 'Yup! Flaws and all!' Or someone I love who's doing something completely ridiculous, you just go, 'Ugh! Flaws and all'. Everything's flawed, but hey, that's who they are and that's fine."
'Flaws And All' plays Black Flamingo at The Pleasure Garden from 19-25 February.