This is the true tale of Jonah and Sophie, and their love affair through the Wi-Fi connected screens of a baby monitor.
'Blink' displays and captures the real struggle between reality and fantasy in the world of modern love. Director Luke Rogers explains a bit further.
First of all, talk a bit about the plot and what happens throughout this show.
'Blink' is a bitter-sweet, delightfully quirky and darkly funny story about Jonah and Sophie. Jonah was raised on a farm as part of a remote religious community. After his mother dies, he discovers she's left him a suitcase filled with cash encouraging him to escape. Sophie's father made her feel like she was somebody, but now that he is dead she feels as if she is vanishing, to the point where she loses her job due to 'lack of visibility'. Jonah ventures to London and ends up renting the flat downstairs from Sophie. With the help of a baby video monitor and camera that suddenly appears on Jonah's doorstep, their lonely worlds collide in the most unconventional ways and this young pair push the boundaries they create for themselves to some very funny and often unsettling scenarios.
What experience do you have with directing plays?
I've been directing around Sydney with professional theatre companies and across the independent sector for over a decade, presenting work with my own company Stories Like These, and with Griffin Theatre Company, ATYP, Seymour Centre, Old Fitz Theatre, New Theatre, and work with many drama schools. I trained as an actor at Theatre Nepean and also studied directing at NIDA. Later this year, I'll be directing the premiere of a new play, 'In Real Life', at Darlinghurst Theatre Company.
Have you ever worked on a show similar to this in any way?
I've done a few plays that have a similar direct-address style where the actors are speaking directly to the audience, relating their own stories to us rather than each other. A lot of the works I've directed have been an exploration of the complicated and dysfunctional nature of personal relationships, and 'Blink' is definitely one of those.
This show is somewhat of a comment on technology-based relationships… What is your opinion on relationships that only occur over the internet?
There are no rules to love and the ways we seek out a meaningful connection will continue to evolve. Making initial contact with someone via a screen is often less threatening than trying to do so in real life. Our obsessions with digital devices are making us redefine the way we connect. We often meet and communicate face to face without ever being in the same room. All of this is changing our notions of intimacy, connection and emotional comfort.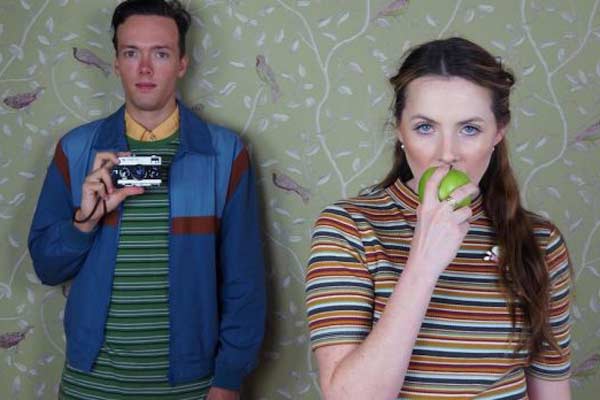 Image © Anna Gardiner
What challenges have you faced directing this show so far?
It's such a layered, nuanced text. The stories the characters tell are so rich and ripe with details, questions and contradictions; they sometimes go off on what seems to be tangents, but then it threads back together so beautifully.
What appeals to you about this production?
This is one of the most delightful and moving plays I've encountered for a while. It is a whimsical, funny, touching, and sometimes a bit creepy tale which teaches us that even in the most unconventional circumstances, love is whatever you feel it to be. The bittersweet nature of the love story is what appeals to me. It's touching and heartfelt, but hopefully never overly sentimental. There's heartache within the beauty of their relationship, as uncanny as it may appear.
The show has been described as having charming rom-com elements but then delving into a darker place... Could you tell us about that?
It's not your traditional love story. For starters, their relationship is founded on voyeurism and some consensual stalking. It's easy for us to judge the behaviours of others from the outside and label them as weird, wrong, different. But when both of you are in the thick of it together, you create your own boundaries and definitions of intimacy, connection and meaningfulness.
Why is this piece of theatre important?
With everything that's going on in the world at the moment, I think we need a good love story. Perhaps not a 'love story' in the usual sense, something more bitter-sweet. But it's love all the same.
'Blink' plays Kings Cross Theatre from 9 February-4 March.