How would you feel about talking about your intimate desires in front of a room full of people? About your fantasies and what makes you excited? How about achieving an orgasm simply through the power of your brain? In public?
This year as part of Anywhere Theatre Festival you have an opportunity to make it happen. 'Hypnogasm' is a comedy hypnosis show for guys and girls described as "'Taxicab Confessions' but under hypnosis" and it's opening with its world premiere in Stafford this May.
The participants are completely voluntary – they self-elect from the audience – but coming along to just watch is ok too. "I probably get two kinds of people that come to my shows," Dizzy, show creator and hypnotist says. "There'll be exhibitionists, they're the people who want to jump up on stage, and then there will be the voyeurs who just want to come and watch. It's why people watch shows like 'Taxicab Confessions' because people are interested in what other people's fantasies are."
While some of this can sound a little confronting, Dizzy puts a lot of effort into making it a safe and fun space. No photography or film is allowed and he even gives participants who have been under hypnosis have the option of having their memory wiped before they leave, so they will have no recollection of the show.
"You won't be able to remember what happened or what you said in the show, therefore it's impossible to be embarrassed."
The show itself is being held in Simply Erotix, an adult store in Stafford, and Dizzy says at the core of this event is addressing taboo around sex. "There was a book called 'My Secret Garden' where she [the author] got women to write in and write about what their fantasies were, as a way of trying to normalise – there's no such thing as 'not a normal fantasy' if that makes sense. It gave people an outlet to express themselves so other people can read and go 'ok, my fantasy's not quite so out there'."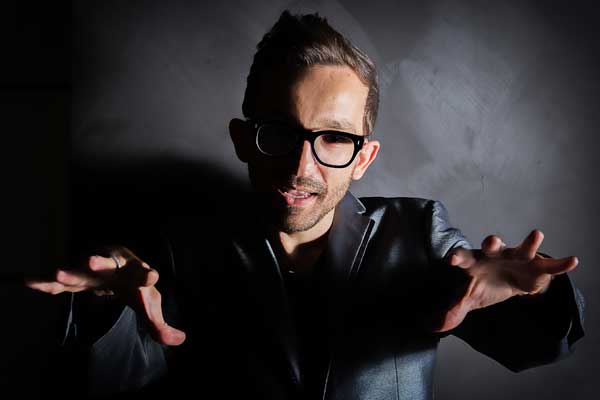 Image © Sullivan Photography
That's what he plans to do with this show, along with being a hilarious night out. While this show has been four years in the making, it is by no means Dizzy's first show – he has been doing shows like this for around 5 years, and before that was performing as a magician, as well as working as a clinical hypnotist assist people to overcome addiction like smoking and alcoholism.
Dizzy admits to initially being a hypnosis sceptic, but after seeing a show in university where a friend was hypnotised he was a convert, and later started using it for his shows. "People come up to me before the show and say 'I don't know if I believe in hypnosis' and I say 'that's fine – we'll see what happens after the show' and it will be one of two things, they'll either see their friends get up there and they'll come back and ask them 'what did you think' or they get hypnotised themselves."
I can't help but ask if he ever uses his hypnotist powers for evil, for instance on the annoying new girl at the office, but unfortunately (or fortunately) that isn't common practice. "Ethically no, that's not something I would do – There's a lot of trust involved."
So if you were hoping to use this show as a roux to embarrass one of your friends, you'll have to buy them a ticket to the show, and cross your fingers they'll volunteer.
'Hypnogasm' takes place at Simply Erotix in Stafford on 6 May.