The magical world of Anna, Elsa, Kristoff, Olaf and Sven is brought to life in 'Disney On Ice presents Frozen', which comes skating into Australia this winter.
Be transported to the wonderland of Arendelle to witness the spectacle of the Academy Award®-winning tale on ice with vivid special effects and an ensemble of premier skating performers.
In case you missed it somehow, 'Frozen' is the heart-warming story of royal sisters Elsa and Anna, princesses of the kingdom of Arendelle. Burdened and ostracised by her possession of magical powers, Elsa flees to lead a solitary life, her magic casting the kingdom into an eternal winter. The fearless Anna embarks on a quest to find her sister, with the help of a rugged iceman called Kristoff and his cheeky reindeer pal Sven, as well as the insufferably cheerful snowman Olaf.
It's a story of love, redemption, friendship and the importance of family. Originally a fairy tale called 'The Snow Queen' written by Hans Christian Andersen in the 19th century, the 2013 film adaptation went on to be a runaway hit and left an indelible mark with its signature tune, 'Let It Go'.
'Disney On Ice presents Frozen' brings all the magic and enchantment of the film into the real world, along with all the songs and lovable characters that have made 'Frozen' an instant classic for children of all ages.
Hosted by none other than Mickey and Minnie Mouse, 'Disney On Ice presents Frozen' features special appearances from Disney princesses, as well as a range of character guest stars from films such as Disney-Pixar's 'Toy Story' and 'Finding Nemo', and Disney's 'The Lion King'.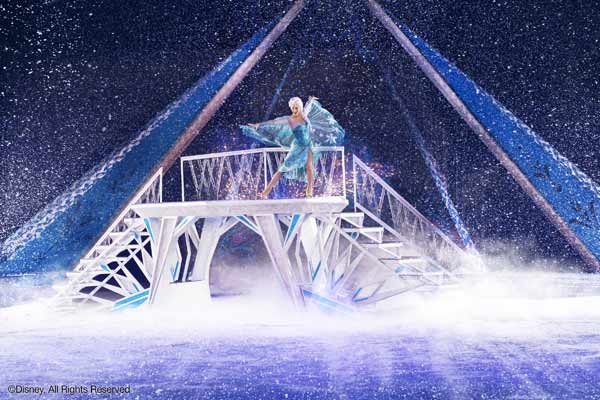 The show also includes appearances from never-before-seen characters such as Grand Pabbie, the Trolls and Marshmallow. It was also recently announced that Queensland TV personality and former host of 'Saturday Disney' Shelley Craft has been selected as the national ambassador for this year's production.
A show for both the young and the young-at-heart, 'Disney On Ice presents Frozen' is a must-see for the family this June and July.
'Disney On Ice presents Frozen' Tour Dates
Friday 2-Monday 5 June – Perth Arena Friday 9-Monday 12 June – Adelaide Entertainment Centre Thursday 15-Sunday 18 June – WIN Entertainment Centre (Wollongong)Thursday 22-Sunday 25 June – Newcastle Entertainment Centre Thursday 29 June-Sunday 2 July – Brisbane Entertainment Centre Wednesday 5-Sunday 9 July – Hisense Arena (Melbourne) Wednesday 12-Monday 17 July – Qudos Bank Arena (Sydney)