As humans, we are perpetually constructing pillars, both physical or psychological, to build our lives around: a job, a belief, a relationship.
Choreographer Alison Currie's new work, 'Concrete Impermanence', examines the despair that comes when the seemingly invincible load bearing struts that surround us come crumbling down.
Alison is an award-winning choreographer and maker who has worked with Restless Dance Theatre and toured her own independent works across Australia and abroad. 'Concrete Impermanence', which premieres at the Adelaide Festival Centre as part of their inSPACE programme, was initially inspired by the prospect of an international collaboration.
"It started with a conversation with a company in Christchurch in New Zealand and there was possibly going to be a work made about the two sister cities of Adelaide and Christchurch. Very soon in that conversation, earthquakes came up and we started looking into earthquakes and then natural disasters, then personal level disasters, and how you can have the global and the personal at the same time."
When a personal disaster befalls us, we often say that we are shattered, that we are a mess, that the walls are falling down around us. This correlation fascinated Alison.
"The words that come up to explain large environmental disasters directly connect to the words that are used for personal disasters."
While watching scenes of carnage wrought by the shifting of tectonic plates, she began to see the visual chaos of natural disasters as a metaphor for often invisible private tragedies.
"The idea came from that adage that change is the only constant and that when you look at earthquake footage, the things that you think are solid forms like concrete walls and metal structures, they all just become liquid in that situation. They all are just moving constantly and nothing is stable."
"When you are dealing with a personal loss or grief, it can feel like that as well; the world isn't what you once thought and that things are unstable."
As with much of Alison's career, the work is a fusion of dance and sculpture. Three dancers, Amrita Hepi, Lewis Rankin and Stephen Sheehan, will interact with sculptural objects made by the design firm, molo. She explains the initial inspiration behind her artistic direction.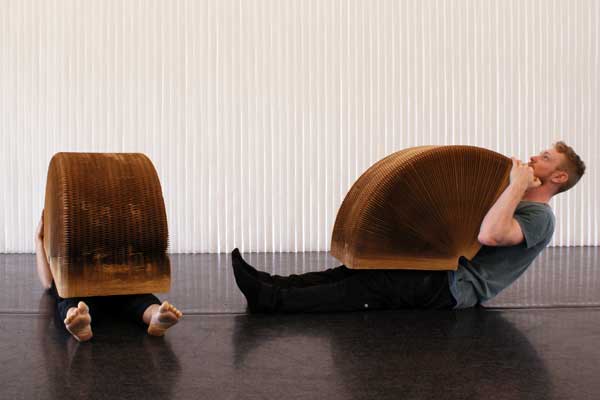 "I think at first, I had this basic realisation I guess that a sculpture is a three-dimensional form that the viewer moves around and the form is static, generally, and then traditionally in Western dance, the dancers are moving and the audience is static. Then I was just interested in combining the two."
The work has been designed with accessibility in mind. An audio description of the script will be available for the visually impaired thanks to Access2Arts, while an LED visual representation of the sound score has been developed for the hearing impaired, as Alison explains.
"It's sort of like an orangey static on the screen that changes in intensity and speed based upon the volume and the complexity of the sound that's happening on stage."
'Concrete Impermanence' premieres at the Space Theatre on 17-18 May.