Acclaimed for its decidedly eclectic curation, FORM Dance Projects' signature programme Dance Bites is proud to present 'Common Anomalies', an exciting triple bill of contemporary dance by three young artists.
The product of Western Sydney dance artist and Producer Carl Sciberras' 2016 City of Parramatta Council Creative Fellowship grant, 'Common Anomalies' explores the unique personal histories of Carl and fellow dancers, Bhenji Ra and Imanuel Dado.
"The fellowship enabled me to do a solo, some research and a few other bits and pieces, and in the process of developing the solo I realised that it would be a much richer experience for an audience to see more than just one," Carl explains. "I know Imanuel's and Bhenji's work quite well, and I approached them with the proposal that we should each develop solos about our own identity."
Hailing from families with diverse Asian and European backgrounds, the trio's performances will explore how their ancestry, experiences and communities directly impact their decisions, views and approaches to dance making.
"The term 'common anomalies' is this idea that what we have in common is something a little bit quirky or off-kilter in terms of our own backgrounds or current identity.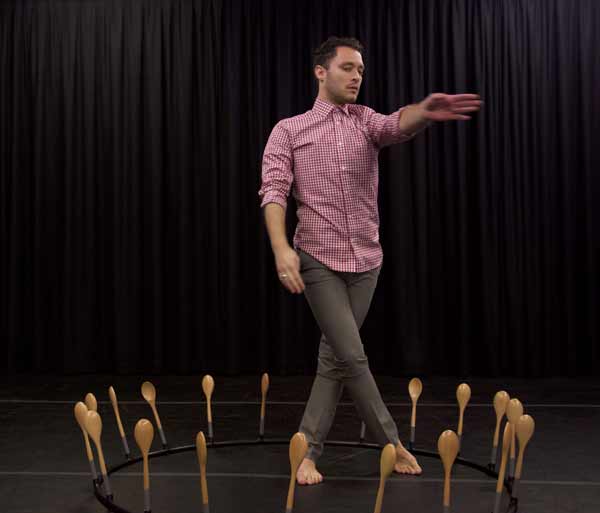 "My work is an intersection of my cultural background, Bhenji's piece is more of an exploration of gender identity and Imanuel's work is more of an exploration in terms of an evolution of styles and movements in dance and how those trainings have fed his identity."
Bhenji, one of eight artists selected for the 2018 Keir Choreographic Award
,
will explore the feminine body in popular culture, modern dance and the ballroom scene in her piece 'Pink Ranger with a Martha Graham effect'.
In his piece 'What We Don't See', Perth based artist Imanuel will attempt to journalise some of his questions about life decisions and second-guessing, including artistic choices, career pathways and personal relationships.
An ode to a soup recipe by his Italian nan, Carl's piece 'Ġbejniet' meaning 'cheeses' in Maltese, will explore his Italian, Maltese and Australian mixed race heritage.
"In terms of an experience for an audience… What's nice about the format of 'Common Anomalies' is that each of the pieces is around 20 minutes and even though they sit under this one theme, they're all incredibly different from one another.
"For my piece I've worked with a visual artist and he's created an animation that supports the work, so there's elements of a story to it. Imanuel's piece is really physical – it's all about the body – so it's much more pared back in that way and then Bhenji's work is incredibly visual, so I think there's something in it for everyone."
The programme marks an important and exciting milestone for Carl, Bhenji and Imanuel, as it is the first time that they have presented solos in this format.
"In terms of our own development as artists and the things that we have to say, this is the first time that we're stepping out as individuals going, hey, this is who I am. We've all worked with other artists before in quite collaborative ways and I'd say that the three of us would describe our work as being interdisciplinary, and while the journey to creating these works is fed by those experiences, they're actually really personal and they're solos, which is a different experience. So I think the works are much more vulnerable and open to how people receive them."
'Common Anomalies' plays Riverside Theatres from 2-4 November.