The acclaimed circus cocktail that is 'Club Swizzle' has been spiked with the wicked spirit of Reuben Kaye for a limited Adelaide run of dates, concluding with a special New Year's Eve performance.
In only his third outing as MC, Reuben's swizzle schtick sparkles like his eyelashes… And his lips… And his wardrobe. Okay, the entire outer surface of his body. While he is only a recent and temporary addition to the touring troupe of cabaret oddities, he has certainly joined the club.
'Club Swizzle' is not a club-themed theatre show, it is a legit club with roving theatre. Your first thought as you enter the venue, having waltzed up the red carpet, is 'how exactly will this glamourous and smoky bar become a performance space?' You do spy bar staff who are suspiciously muscular, though. As the house band Mikey And The Nightcaps, or The Prostate Czechs as they have been renamed, commence their groove, the Swizzle Boys swing into action.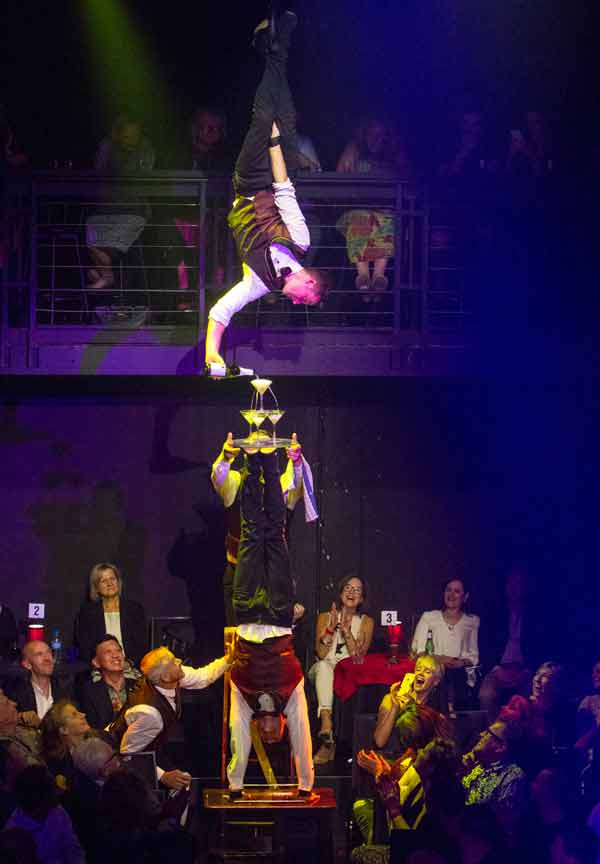 The acrobatic mixologists swiftly transform the bar into a catwalk, while ushering VIP ticket holders to their specially allocated seats. Instead of the rise of the curtain, action in 'Club Swizzle' begins once the Pol Roger has ascended to the ceiling. When the show starts, nobody is safe from potential participation.
When seated at ringside, the proximity to the performers provides a unique and heightened visual experience. The French-Canadian aerialist Frédérique Cournoyer Lessard perilously propels herself inches above your skull; a Swizzle Boy retrieved his errant earring from beneath my seat at intermission. While this component might make the public liability lawyers salivate, the roving eyes of Reuben and seductress Laurie Hagen are far more dangerous, as they scan the masses for likely participants for sexualised audience participation.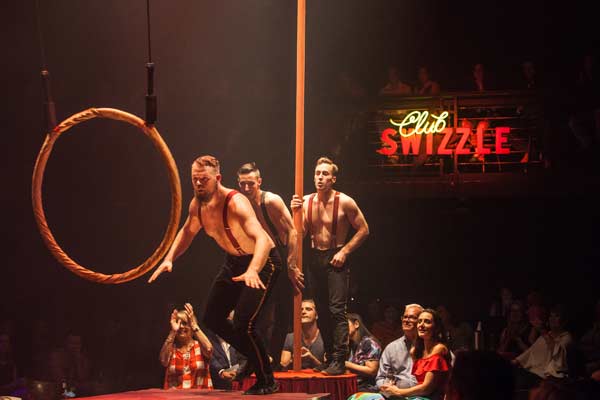 Laurie artfully alternates between sensuality and slapstick, singing and stripping in equal measure. Her 'Blade Runner'-esque robotic striptease in reverse was particularly enchanting. The Rubber Band Boy completes the ensemble, briefly snapping into action in act one.
While still early in its performance run, there was little sight of any teething problems. One or two Swizzle Boy stunts were botched, but this is customary with any acrobatic show. The chemistry and interaction between Laurie and Reuben on their act two duet will continue to strengthen as the season progresses. 'Club Swizzle' is an ideal nightcap for those who just can't wait for the Fringe and Mad March; an espresso martini of a show that is both intoxicating and invigorating.
'Club Swizzle' plays Adelaide Festival Centre until 31 December.