Sydney Festival will be hosting British circus company Ockham's Razor's new experimental circus piece 'Tipping Point'.
The world of circus is an intriguing place, filled with people who can manipulate their body and completely defy gravity to the amazement of audiences.
However, in recent times, performers have been sidelined in order to create more spectacles; requiring more technology to create their vision. This is all fine, but it can lead to having so much gear that it pushes audiences further away from the stage, having less of a connection with the show.
British circus company Ockham's Razor have made it their mission to slash away at the excess to present minimalist shows with maximum emotion, as they have in their latest show 'Tipping Point'.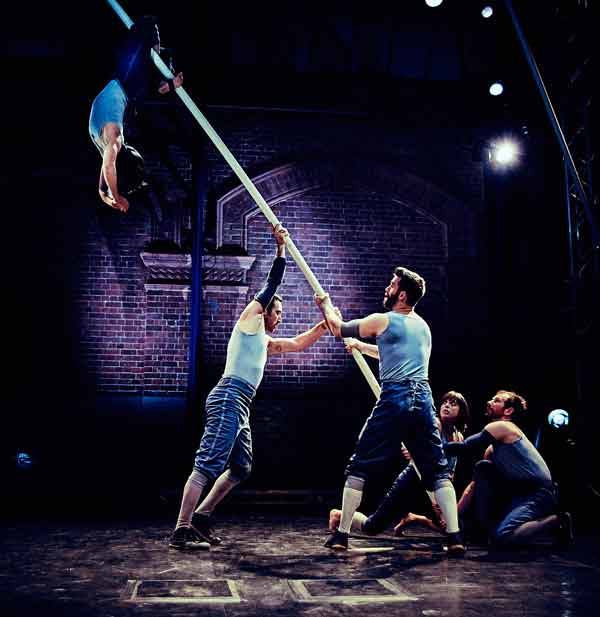 Image © Mark Dawson
Formed over a decade ago, Ockham's Razor came to be when Alex Harvey, Tina Koch and Charlotte Mooney met while studying at Circomedia Academy Of Circus Arts and Physical Performance in Bristol.
Charlotte Mooney – a performer who began her circus journey "wanting to be buff", but will take the director's chair for 'Tipping Point' – explains that Ockham's Razor isn't just a name, but also a philosophy and mission statement for the company.
"William Of Ockham is an English philosopher from the 12th Century," explains Charlotte.
"He had a famous philosophy called Ockham's Razor, which is: if you have two solutions to a problem, you should always go with the simplest. It's called his razor because it's about cutting away parts of an argument which aren't necessary. We chose the name because we work with a simple aesthetic – we'll use one piece of equipment to create a whole world. We try not to put in unnecessary tricks or flairs, and lay down the gauntlet to always use simplicity."
'Tipping Point' follows the company's philosophy of simplicity very closely, Charlotte informs.
"['Tipping Point' has] five metal poles that are five metres long. That's the kit. That's it! It's set within a circle, so the audience sit around, as in a traditional circus ring, which is eight metres across. The audience are very close; the front row is literally in a chair right on the edge of the circle.
"And, if you can imagine, there are five performers within this circle, and these five poles. The poles are balanced on fingertips; they can be hooked up to a rig so they can swing like massive pendulums; they can use them as pole vaults to lift people; and they can be used as tight-wires. Through the course of the piece they use these poles in a million different ways. The last show we made had a bit more of a set-up and 'Tipping Point' is sort of a reaction against that."
The idea behind 'Tipping Point' began with wanting to bring back some of the most exciting elements of the circuses of the past.
Charlotte explains that the initial idea for the show began with placing it within a circle, as they were the traditional stage for many kinds of performances.
But, the group also wanted to bring back the thrill of going to the circus and seeing performers defy death with their acrobatics; something 'Tipping Point' has stunned audiences with.
"Part of the idea is that something seemingly so simple can transform and evoke lots of different landscapes and images. The other element is it's thrilling, and you're so close to it – you really get a sense of the vulnerability of the performers.
"You get that real feeling it's not polished; there's something at stake. There's a thrill because it's happening right in front of you. Really, those poles, they won't, but they feel like they could tip out of the rig at any point. It plays with a real danger and that something could be at stake."
'Tipping Point' plays Sydney Festival from 17-21 January.