Moving away from death-defying stunts and gasp-inducing tricks and moving into storytelling is Cirque du Soleil's 'Toruk – The First Flight', based on the world of 'Avatar' by James Cameron.
'Toruk' told the story of the Na'vi, a race of extraterrestrial creatures living on the planet Pandora. The show was set before the Hollywood film's events, taking audiences on a Discovery Channel-esque exploration through the lives of the Na'vi.
The show was narrated by an english-speaking Na'vi man who, in a way, acted as the David Attenborough of what felt like an in-depth documentary about the lives of a fascinating race of creatures unknown to man.
As an audience we watched them celebrate in triumphs, suffer in tribulations, gather for rituals and much, much more. The name 'Toruk' comes from the huge predatory flying creature of the same name in the show; a creature which would, according to legend, one day be conquered by one brave inhabitant of Pandora.
Aside from the relatively simple (but sometimes rather jarring and a little foggy) storyline of 'Toruk', what truly stood out and made an impression was the visuals of the whole show.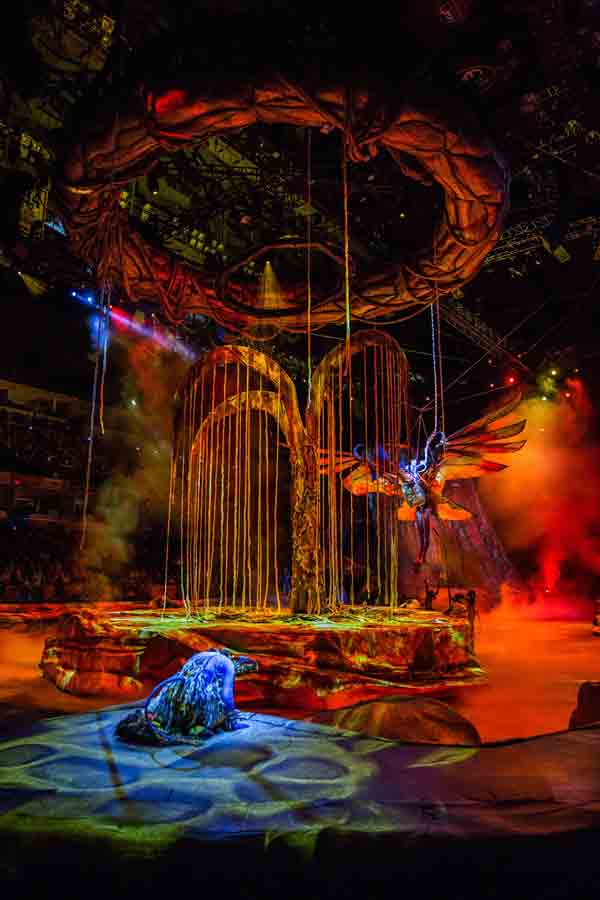 It started with a blank sheet across the entire stage before a stunning, dynamic, living and breathing set was revealed. It was a lot to take in which made it all the more exciting. Projected images/animations along the entirety of the stage's floor meant that things like mysterious shadows and rushing water making their way across the ground looked gorgeous.
At the back stood a huge, triumphant, inflated tree (also featuring digitally projected images) that opened and closed throughout the show. Moments before 'Toruk' started we were told to download the corresponding app to our phones; it helped to bring aspects like lighting and special effects alive not only on the stage but throughout the crowd too.
Another big highlight for me was the animals in the show. They were large puppets controlled by members of the cast wearing black, with controllable limbs and heads so the movement was very realistic and extremely clever. The Na'vi brought the show to life and the animals took it to the next level.
Overall, Cirque du Soleil's 'Toruk' is not a show for those expecting classic, overwhelmingly intense circus tricks and stunts but rather a loaded story that is brought to life by a visually enticing set and beautiful costumes worn by every cast member. The music is wonderful and the way the production flows is generally cohesive, though the plot gets lost from time to time.
'Toruk' is a party for the eyes and ears that defies age limits and is suitable for everyone.
★★★☆☆ 1/2.
'Toruk – The First Flight' Dates
5-15 October – Brisbane Entertainment Centre
19-29 October – Qudos Bank Arena (Sydney)
2-12 November – Rod Laver Arena (Melbourne)
16-19 November – Adelaide Entertainment Centre