After selling out their show 'Barbu' at Adelaide's 2016 and 2017 Fringe Festivals, Quebec locals Cirque Alfonse are headed back to Australia for Adelaide's 2018 Fringe Festival, and they've got something new to share.
Cirque Alfonse were founded in 2005 and are located in Saint-Alphonse-Rodriguez, Quebec. The group of young dancers and acrobats combine arts and circus with elements of Quebec folklore.
'Barbu' was inspired by the origins of circus in Montreal at the end of the 19
th
century, while their show 'Timber!' tells the stories of the first North-American lumberjacks, loggers and farmers.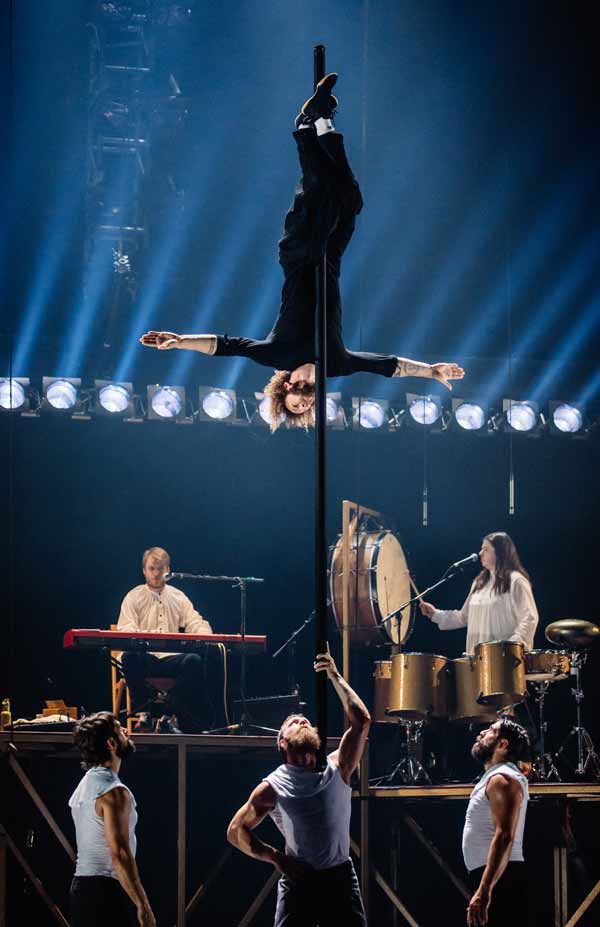 Six months ago they premiered 'Tabarnak', which Adelaide Fringe Festival describes as, "a rock-musical, a celebration of Heaven and Hell and everything in between, a fiesta of circus, music and reaching for the sky."
Cirque Alfonse's Founder, Antoine Carabinier, describes their new show as "a traditional kind of show from Quebec. Our inspiration was the church, because there were so many churches in Quebec back in the day. It's about what it was before and what it has become now."
Even the name of the show has a hidden meaning. "Tabarnak is French for the tabernacle in churches; it's the little locked box where you keep the bread. In Quebec it's a swear word because all of our swear words are from the church. It's really strong in French Quebec language. It was used in church before, but it became something really bad to say in public. We use it when you've hurt yourself or when you're really pissed off, it's really connected to Quebec," Antoine says.
Image © Nicolas Descoteaux
Antoine believes that there isn't really a distinct storyline behind 'Tabarnak', but that it's an overall visual and aural experience. "It's a big picturesque tableau. If you don't know that it's inspired by the church, you can see whatever you want to see. We start in the basement of a church and go higher and higher to the sky. The music is really important in the show because we have three live musicians with us. We do a lot of acrobatics. The show is kind of a musical."
When asked about the circus' experience at previous Fringe Festivals, Antoine replied, "It was fantastic for us. 'Barbu' went really well at Fringe.
"'Barbu' was more of a cabaret show, so the vibe is pretty different now. But it's the same team, the same people, and the same way of doing stuff on stage. ['Tabarnak'] is less edgy, 'Barbu' was for older people. 'Tabarnak' is really for the whole family, open for everyone and everyone will love it. We're really looking forward to coming back to Fringe in Adelaide."
'Tabarnak' has been running for six months now. "We started rehearsing last April. We did three months of full on rehearsals. There's a lot of new acts that we've put together, so it was a long process to learn all those new skills. The premiere was in Montreal in July. Australia is going to be our first country performing it outside of Canada so we're really excited for that," Antoine says.
'Tabarnak' plays The Peacock at Gluttony from 16 February-18 March.