Christmas is coming to Adelaide, and the Kapelle Singers are helping to welcome it in a festive and musical way.
Made up of up to 50 talented singers, the group formed in 1995 as a small choir of female musicians.
In each performance, they strive for musical excellence, and select repertoires that truly represent their abilities.
They have appeared alongside the Adelaide Symphony Orchestra, and are also a past winner of ABC Classic FM's Choir of the Year competition.
As per tradition, the group will present 'Carols Around The World' for Christmas this year.
Committee member Astrid Lane and Guest Director Jonathan Bligh answer some questions about the show, and the Kapelle Singers themselves.
First of all, the Kapelle Singers are planning the 'Carols Around The World' show. How exactly will 'Carols Around The World' be presented?
A: 'Carols Around The World' is a long-standing tradition for the Kapelle Singers – we performed our first in December 2000! So for much of the audience, this is one of a concert series in which we have featured African, Russian, Balkan, and Australian carols alongside the traditional English. This year, as a bit of a first, we are including a major work in the programme – 'Messe Di Minuit pour Noel', a Latin Mass for Christmas by French Baroque Composer Marc-Antoine Charpentier. Charpentier was a little bit 'Christmas obsessed' and composed the Mass inspired by the melodies of a number of traditional French carols. So we've based this year's programme around the English and European carol tradition.
This choir consists of up to 50 members. Was it this big from the beginning? What are the pros and cons of having a choral group this large?
A: The choir started as a small female voice choir in 1995 (there are still a couple of original members) and since the lads were invited to join a few years later, this has expanded. A large community membership is important for Kapelle, because for any given season, members will be away, singers may have conflicting gigs, or students will have exams, and may not be able to commit to a performance. So it takes a lot of organisation for the committee to organise in advance who will be available for what, and for the musical director to then plan a programme, and choose music suitable for the group they will be working with.
The choir contains a large number of younger vocal students. Why is this?
A: It was a founding principal of this choir to be a space for young people. Firstly, It solves a problem for young people who have been singing in school choirs all their lives, but do not plan to follow music in tertiary education. Where do they go?! Kapelle is somewhere for them to belong and share their skills and love of music. Secondly, for those continuing with formal music education, Kapelle provides a different choir experience from uni, and opportunity for solos.
What are you hoping to achieve in the 'Carols Around The World' show?
A: This year we are trying out the different format of including an extended work in the programme. We hope this will interest potential new audience members, but also give our regulars something new, something which they've not heard from us before.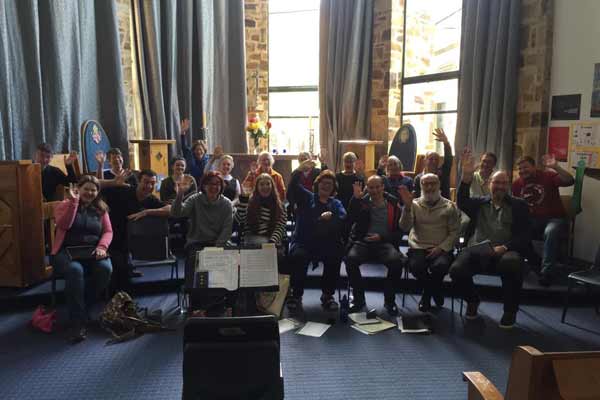 Each year, the choir performs three key shows. What are the other two, and what kind of preparation goes into them?
A: It's different every year. Some concerts are thematic – such as our 2016 July concert with Emma Horwood, in which she created a program for Kapelle of short and mid-length songs on the theme of Shakespeare's world. Sometimes it's preparing a single major work such as 'Brahm's Requiem' which we performed in September of 2015. Each is just as difficult for the choir to prepare with at least ten weeks of group rehearsals, with the occasional weekend sectional rehearsal too. In the background, the committee and the Director have the job of settling the program; sourcing the music and the rights to perform; choosing and booking a suitable venue to rehearse and perform; negotiating with soloists and musicians; and then selling tickets! A lot of work goes on behind the scenes.
How do you (Jonathan) juggle directing multiple groups?
J: Each group I work with has its own personality and dynamic. Often, there will be different styles of music, languages and expectations within each ensemble. As the person out the front, it is always exciting and invigorating as I negotiate the music as well as the personalities within the ensemble. It definitely keeps me on my toes.
What attracted you to the idea of working with the Kapelle Singers?
J: I have always been grateful for the opportunities founding director Colin Curtis and the Kapelle Singers provided me during my time in the choir. I consider it a great honour to have been asked back to the choir as Guest Conductor by President Carol Fort and the members. Everyone has warmly welcomed me and have given me their trust as well as their enthusiasm when tackling new repertoire as well as the 'mainstream' choral works of our programme. I am passionate about music-making and I believe that singing in a choir can offer huge benefits to the human psyche.
What is it like being the Guest Director of a group you were once a part of?
J: To be honest, I was a little nervous meeting the choir again after such a long time, but it was great to see some familiar faces. I probably wasn't the most well-behaved chorister back in the day – and some of the singers remember quite well some of the shenanigans we used to get up to during rehearsal. That said, we are all that much older, and now I return as a professional in my field. I am so grateful for the the welcome and respect the singers have shown me and I love the fact that we can still have a laugh during the rehearsal process.
What are the pros and cons of being part of the choir, and similarly, what are the pros and cons of being Guest Director?
J: The biggest challenge for any conductor coming in as a guest is not knowing the ensemble. So much of music making is about the chemistry that exists between the people preparing or performing the music. Not knowing the members of the ensemble or the quirks that the ensemble may have within its everyday operation can take some time to adjust to. At the same time a Guest Director must be clear in their expectations for the process whilst taking into account the spirit of the ensemble.
The Kapelle Singers have been backed by the Adelaide Symphony Orchestra before. As Guest Director, and someone who has been a part of the group, why do you think integrating with other local musical groups is important for the groups themselves, and the local community?
J: Making music is all about community. There are few activities in life that bring people together in such a unified and positive way as making music together does. The relationships that it builds are quite remarkable – here we have a composer and author whose works may have been written hundreds of years ago – then we have groups of people who form an ensemble and bring that work to life – only then then to communicate a message to an audience. As a singer, it can be especially rewarding to combine with instrumentalists – it opens to the door to a whole new range of musical colours and textures.
'Carols Around The World' takes place on 16 December at Christ Church North Adelaide, and the choir will resume their yearly programme early in 2017.