The desolate grime of a New York netherworld; the sequins and effervescence of Parisian high society; two disparate worlds manifested in 'LIMBO Unhinged' and 'Blanc de Blanc', both birthed in the collective mind of Scott Maidment and his team at Strut & Fret Production House, come to the 2017 Adelaide Fringe.
Director Scott Maidment populates imagined universes with fantastic curiosities of every hue and persuasion; chanteuses and contortionists; seduction and repulsion jostle in a delicate game of tug and push. Scott, with an abundantly stocked pantry of artistic ingredients, sees his role as a baker in a patisserie, delicately measuring portions in search of a cake that approaches perfection.
"I don't think there's ever such a thing as a perfect recipe; there's always sometimes you put too much bitter almond in or something like that. But I think that one of the things that I do look at a lot is the audience reaction and pushing the audience, and giving them something new and something exciting and trying to just work out that balance. One of the key things, especially in a festival, is to provide something that people will talk about, so that there is some sort of wow factor or moment that is going to stick in your head for a really long time or that you'll go home and tell your friends about, and I think that is kind of a key to it as well."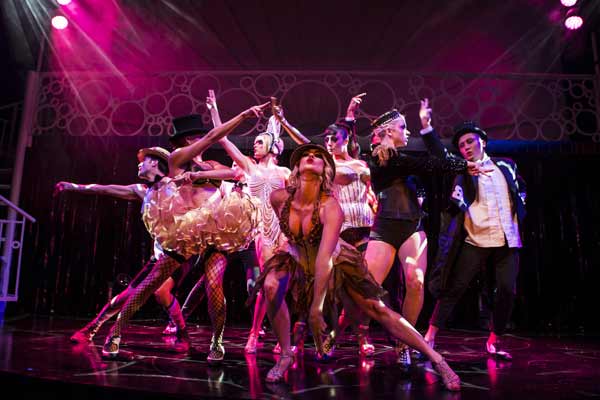 Image © Pamela Raith
'Blanc de Blanc' is hosted by Monsieur Romeo, a chiselled hunk equal parts Gerard Butler and James Bond, and already has Adelaide audience's salivating based upon raving international reviews. "With 'Blanc de Blanc', the show's been playing for a year now; we played two months in the Opera House, two months in London, Brisbane and Perth so it's really a bit of a fine tuned machine at the moment."
While 'LIMBO' is a revered and recognised brand replete with an array of beloved characters, such as sword swallower Heather Holliday, 'Unhinged' is aptly named, as Scott explains.
"'Unhinged' is a big experiment; it's crazy and we're pushing the boundaries. Adelaide audiences are always up for a challenge. We've been doing really cool things in rehearsals with a lot of guitars, we've been doing some archery and some amazing aerials."
Image © Darren Bell
The types of works favoured by Strut & Fret Production House serve a function deliberately devised to evoke reactions that differ from those attained through attendance at the theatre. "I guess one of the things is that the sort of shows we present really break down the fourth wall; you're not pretending that you're in a kitchen sink or somebody's bedroom; there's no doubt that the audience and the performers are in the same room and the events are happening then and now."
"In a world where people are watching movies on their iPhones, I really want to present an experience that you can only get when you're in the performance space. It's not something you can get if you're at the movies or on your laptop."
After extended runs on the hallowed expanses of the Sydney Opera House, Adelaide audiences have the privilege of witnessing Blanc De Blanc in the Spiegeltent.
Image © Pamela Raith
"When the audience surrounds the action and it's almost in the round, the audience not only see the performers, they see other audience members enjoying it. You can see people across from you laughing and enjoying and being shocked and that really adds to it as well."
'Blanc de Blanc' pops the cork at Magic Mirror Spiegeltent from 17 February-19 March. 'LIMBO Unhinged' is let loose at the Vagabond, Garden of Unearthly Delights from 25 February-19 March.