Despite working on La Boite, Brisbane Festival, Dead Puppet Society and PowerArts' collaborative production 'Laser Beak Man' for no less than four years in total, Ball Park Music front man Sam Cromack still can't quite summarise the ambitious project in its entirety.
"It's very difficult to adequately describe what the show is exactly, because it has so many elements," Sam explains.
"The storyline goes to a lot of places, and it has a lot of characters, the list is insane. There's barbies and there's all these different farm animals and there's Laser Beak Man and his nemesis Peter Bartman. I keep describing it as 'Toy Story' on LSD. It's wild."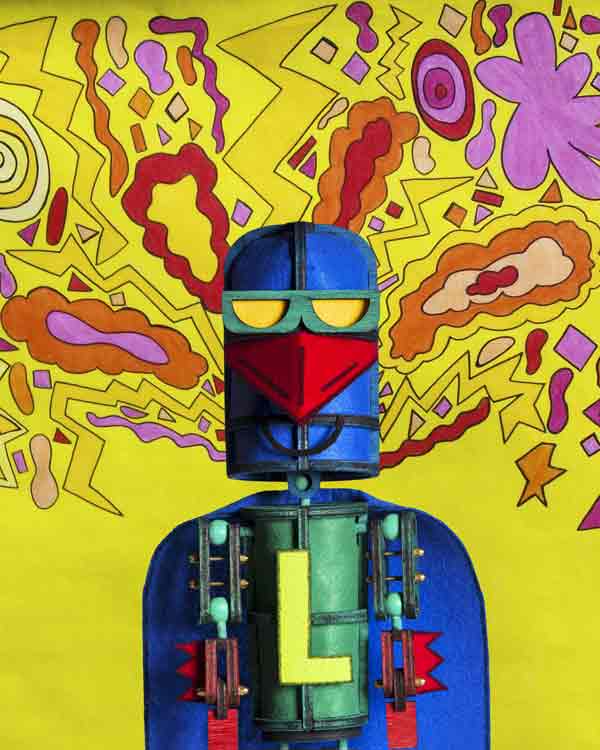 Puppet by Dead Puppets Society based on design by Tim Sharp - Image © Dylan Evans
'Laser Beak Man' was developed in residence at the New Victory Theatre (Off-Broadway); the oldest still-functioning theatre in New York City. The production was originally commissioned by Sydney Opera House, Arts Centre Melbourne, Queensland Performing Arts Centre and Casula Powerhouse, the storyline delving into the life of Australian artist Tim Sharp and steered by his philosophy of 'seeing the world differently, but seeing everyone as equal'.
"Laser Beak Man is a silent character; he doesn't actually speak. I find it poetic in a way, it relates to Tim's story as a man with autism. Communication was extremely challenging for him and his Mum, especially when he was young and drawing became this lifeline between the two of them. She tried drawing to communicate to Tim, almost in desperation, and he really responded to that; drawing became his life."
Every single character stems from Tim's original artwork, represented by more than 40 puppets, many fully-functional and 3D and engaged by both NYC and Australian-based puppeteers. Think large-scale puppetry, filling the stage with activated scenery using massive animations inspired by his drawings. The production even makes use of AirOrbs; controllable floating helium objects that have never been used on stages in Australia.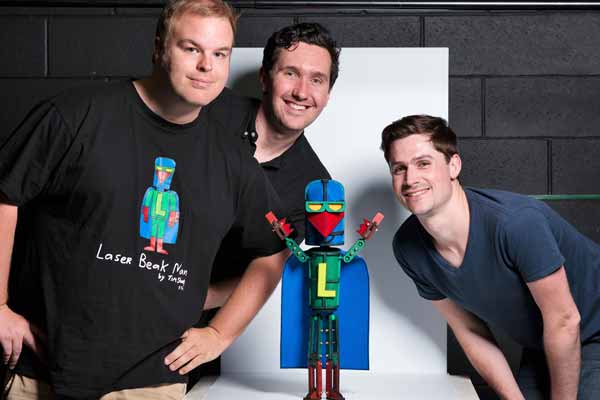 Image © Dylan Evans
"The set design is like the world's biggest multidimensional TV screen; it's like a big, 3D cinema. And all of his artwork is literally animated on those screens; the puppets move in that world," Sam exclaims.
"I think it's going to be a really interesting, and really unique show. For those who do come to theatre and see it, I honestly believe it's going to be an assault on the senses."
Sam's role in 'Laser Beak Man' was to compose the original soundtrack and headline a live, onstage band that includes fellow Ball Park Music bandmates Dean and Daniel Hanson and Luke Moseley.
"I've been involved since day one. When Nick and David from Dead Puppet Society approached me all those years ago, I did know them, we had a lot of mutual friends and they said, 'We've got this idea for a show, it's based on Tim's artwork' and straight away I responded, 'I really like the sound of this, I'd totally be interested'," he says.
"Admittedly I was a little doubtful, it being my most foray into musical theatre. I remember saying, 'look, I don't know much about the theatre world. I'm not a musical theatre fan, and I really don't want to create a musical theatre piece, it's not my jam'. But they explained, 'it's a very different kind of show, it's not like that at all. There won't be a bunch of different characters singing a bunch of different songs, you'll be the only voice and you'll be representing a silent character'. It all felt really good to me."
Sam was required to write around an album's worth of music for the production; he says the creative process can be described as 'homework', a side hobby he worked on in his spare time.
"Obviously I've also done plenty of stuff with Ball Park Music over the past four years, and the Director and Producer who spearheaded the show had a million other things on as well. When we found the time, we met up and worked on it and we did a few developments in New York where we really knuckled down. I actually did a lot of the composing really early on," he reveals.
"Theatre's interesting, the script comes first, it dictates the music. That's one of the big things I've learnt in this show; if you want to write any kind of theatre piece, you begin with a script. Everything grows from there. Even though the script undergoes so much change and is constantly evolving over time, there has been one since day one. That was the first thing I saw after Tim's artwork, a rough script."
Despite being a fresh face in the musical theatre world, Sam says he adapted quickly to the certain 'structure' of the job.
"I think I'm somebody who responds really well to structure and deadline. I was a bit of a nerd at school, I really worked hard and I loved learning and working and being productive. I've spoken in the past about how sometimes I've struggled with that as a musician; you get so much free time and flexibility, and it seems awesome but it's kind of tricky to manage sometimes. So I've liked taking on a project where it's like, 'we need X amount of songs and they need to be about this and we need to have them by this date'," he says.
"I was really guided in terms of what the lyrics needed to convey. And I actually really like that, because as I've gotten older, I've had less to say, and I feel like my knack is becoming more just creating music and melodies. In 'Laser Beak Man', I was able to take myself out of it, which is hard in Ball Park Music. That band is so tangled up with my identity as a person, whereas with this, I could simply think, 'sweet, you need a song about this!' I would bash it out really quickly and I was always pleased with the result. It almost got to a point where I wished I could write that quickly with the band."
He describes the soundtrack's genre as a combination of Ball Park Music and the Wiggles, primarily grounded by Tim's favourite band, The Beatles.
"Tim's a massive Beatles fan and that was part of the brief. They said, 'let's keep this true to Tim's world' and I was like 'sign me up, I'm such a Beatles tragic'."
In terms of challenges, Sam admits the most difficult aspect was balancing 'Laser Beak Man' with his various other music endeavours; besides Ball Park Music, he also has a solo musical project My Own Pet Radio, and plays guitar in Brisbane band, Alex L'Estrange.
"Juggling has never really been a problem, but it sometimes made me feel extremely anxious. You know what anxiety's like, it gets worse when you're not actually doing the things you need to do. Once I was working on the show, I would think, 'this is going to be awesome', but when I was trying to finish the Ball Park record, knowing I would have to keep working on 'Laser Beak Man' soon, that was when I would lie in bed staring at the ceiling thinking, 'how am I going to get all of this shit done?'"
After 'Laser Beak Man' concludes at the end of September, Sam will immediately bounce back into Ball Park Music. The band recently recorded their latest album and will be firing up the engines for a big year of touring in 2018.
"There's so much going on, even now I've got emails where we're organising shit all the way into 2019!" he laughs.
"I really want to convey my pride in the show and my excitement for it. Because really, it's all about Tim and Tim has conquered a lot of challenges. He's achieved so much for someone with the odds really stacked against him. 'Laser Beak Man' really goes into his world and I think his world is incredible. I'd really encourage people to come and see it; I'd be gobsmacked if anyone could leave the theatre without the biggest smile on their face."
'Laser Beak Man' plays La Boite Theatre from 9-30 September.