Le Gateau Chocolat and Jonny Woo are returning to Australia... Because you can never have too much cabaret, comedy and musical theatre.
It's 'Another Night At The Musicals' for these electric performers as they sizzle their way through musical theatre karaoke, vaudeville, variety, sing-a-long and dress-ups. Wear your best and brightest threads, everyone.
Here, Le Gateau Chocolat chats about the new show.
You two have been dubbed by our press as the "Ebony and Ivory of drag"… What does this kind of title mean to you?
I think it crystallises a deeply-rooted friendship and partnership that is intersectional. It's evident in the show that from the moments of hilarity, barbed humour and outrageous silliness, what underlines the entire thing is our relationship and though physically very different, we're very much the same.
This is essentially a follow-up to 'A Night At The Musicals'… What can we expect from this show in comparison to the last?
A lot more sing-a-long than the first, a bigger party, an opportunity to help us actually fully shape the show as this will be its debut. We came to Australia with the first show fully formed whereas we are debuting 'Another Night At The Musicals' in Australia so audiences of Perth and Adelaide, Perth Fringe first, will have a huge hand in shaping the show as a lot of our play is borne out of the dialogue we have with audiences.
Your solo work began in 2011. You've done quite a bit since then… What has been your most memorable career highlight thus far?
To be honest with you, having studied law, this roller coaster ride was never planned and every new experience brings with it its very own highlight. Having said that, performing with Basement Jaxx at the Barbican with a full 80-piece orchestra and 70-person choir is pretty up there.
What are you looking forward to about coming back to Australia?
A proper summer. Reunions with my carny, festival family. Hanging out with Jonny Woo. The beaches. The kindness. The people. The world's best coffee. This list is endless.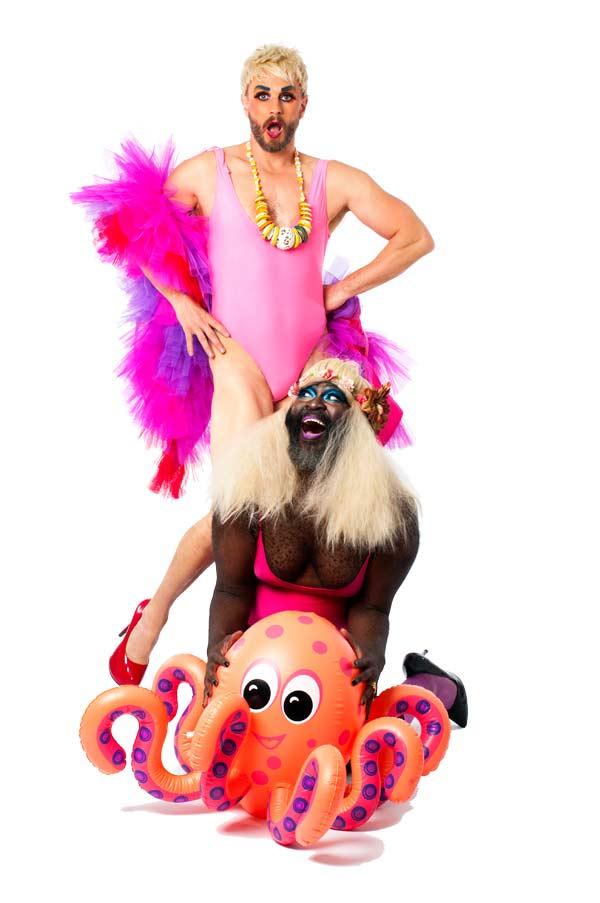 The word 'asshole' is thrown around quite a bit when it comes to both of you and this show. So… Who is your favourite asshole and why?
The 'Briefs' boys because they are such idiots and they make my heart smile. Tiffany Haddish because she's unafraid to be ugly or earnest in pursuit of a good laugh which in itself is soul food. Julie Walters because she's an absolute clown, Meryl Streep because she's a chameleon, Jennifer Saunders, Dawn French, Joanna Lumley because they are a triumvirate for stupidity and utter goddesses at the art of it... Oh, I find my inspiration any and everywhere.
It's basically a huge celebration of musical theatre. What shows will you be taking on here?
'Chicago', 'The Little Mermaid', 'The Bodyguard', 'Cats', 'The Sound Of Music', 'Gypsy', 'Rocky Horror'... And of course, the brilliant jukebox section where the audience control the show.
Do you have a favourite Australian musical/theatre piece?
I only know two and they are by an artist that is my friend and I adore; Katie Miller-Heidke. 'The Rabbits' – an opera, really. And 'Muriel's Wedding' which is just bloody brilliant. So clever.
Describe this new show with a song lyric of your choice.
"Isn't it rich?
Are we a pair?
Me here at last on the ground,
You in mid-air,
Where are the clowns?"
'Another Night At The Musicals' plays Teatro at The Woodside Pleasure Garden (Fringe World Perth) 29 January-10 February and The Box at the Garden Of Unearthly Delights (Adelaide Fringe) from 15 February-3 March.