On Christmas Eve in Belgium in 1914, after months and months of enduring the horrific birth of mechanised warfare, British and German soldiers spontaneously ceased firing and joined together to sing and play.
For one precious evening, humanity triumphed, as booming baritone voices replaced the bombast of artillery, while soaring tenors substituted for the whistling of shells. 'All Is Calm', an a cappella musical by Peter Rothstein, powerfully recreates this historic truce.
Paul Reichstein, the Director of Promise Adelaide's production of the show, expands upon the important and timely message of this work.
During the festive season, Christmas carols are pervasive, but 'All Is Calm' places these songs into an entirely different context. Do you think the show demonstrates the importance of carols or communal singing to humanity?
Absolutely. This was definitely my attraction to the piece from the get-go. I think at its heart, 'All Is Calm' illustrates the ways in which music and song and the sharing of story become the greatest tools for peace and human connection, particular around Christmas which is such a universally celebrated day of everyone's year. I recently went to a Broadway Sessions event in Norwood, in which our cast presented one piece from the beginning of 'All Is Calm'. What struck me about the evening was how communal our love of music is and how lucky we are to find ourselves sharing time and space over theatrical moments expressed through voice and song. The truce in 'All Is Calm' is the same, but the intensity of that sharing between men is even more profound; that in the coldest of landscapes these soldiers found the means, the humanity and the need to connect to each other, regardless of their political opposition. Christmas binds people, as do carols. You are so right about the pervasiveness of carols, we can't really escape them and given that Christmas is my favourite day of the year, this has been the perfect production to view Christmas in a new way. We're bombarded with carols in shopping centres and too often they're connected to commercial gain and Christmas extended shopping hours. This show has made me realise the beauty of carols and that their purpose came from a much more spiritual place. This was definitely the case for the soldiers. They weren't just songs, they were a means of connecting.
The participants in the truce were all very young and their behaviour was quickly stamped out by the hierarchy of older men above them. What message do you take from this regarding the nature of war and humanity?
Well firstly that war, in general, is an entirely unnatural and inhumane thing, but that there are leaders – because of politics, greed and power – that will attempt to make us feel otherwise. It's too easy to say that because we have always been involved in wars, that it's part of our nature; that war is part of who we are. I've never agreed with this and I think it's why I've always been obsessed with war history, in order to question, 'why does that happen?'. It certainly is a massive part of our history, but I think it's our greatest flaw, to think that we're naturally attuned to it. Power has a lot to answer for. The message for me, particularly with so many younger men dying within these battles, is that these wars are so rarely about us, as individuals. They're about the decisions that come from above, from the desires and agendas of those abusing power and position.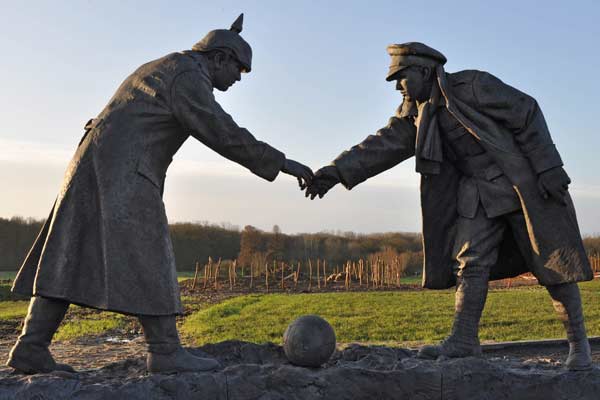 Unlike most musicals, this is entirely a cappella, faithfully reflecting the events of the truce. Do you think this gives the work extra gravitas?
You bet it does and yet again, this is one of the first things that attracted me to the piece. When I first heard the original recordings of the first ever production I found it, above all other things, completely haunting and that was specifically because of the lack of instruments. It was just voices in space and harmonies in the dark. It blew my mind that these men were clever enough to bring out such creativity and love of music and were able to achieve that without an orchestra. I think having an instrumental version of this piece would detract from its main accomplishment; that what these men needed was only their voices, enthusiasm and desire to lessen the burden of what they were in the trenches for.
The cast is predominately young men. Including teenagers. As an actor, director and a high school teacher, what approaches do you find most effective helping emerging artists fulfil their potential?
Firstly, I was thrilled that Promise Adelaide had made the decision to cast young men and boys in these roles, purely because of authenticity. The soldiers in those days (particularly the ones that lied about their birth dates) would have indeed been the age of some of our youngest actors, which frankly, is chilling to me. In my approach to working with these young men, I have been insistent that these aren't actually characters in 'All Is Calm', in the traditional sense of theatre. These were real men and these scripted lines are not constructions, they are verbatim accounts of what men experienced will sitting with rifles in knee-high mud. My approach has been to encourage the actors to feel the full weight of that fact. This isn't a glossy musical with Disney-like characters. This is not so much an acting piece for them as it is a dedication, a memorial and a beautiful honouring of those people who experienced life and death in the trenches. It's very difficult for young actors to get even close to imagining what this war was like, but by pushing them to take on board the weight and the depth of what is described can at least get them to truly honour their privileges, while acknowledging the sacrifices of our forefathers.
How important is an organisation like Promise Adelaide in serving as a bridge for artists between high school and adult professional productions?
It's very important and Promise Adelaide is one of the best companies currently building relationships between students who are still studying and students who have graduated with skill-sets worthy of the Adelaide Theatre community. They are providing opportunities for young people to be involved in theatre and music in the immediate, so that these performers find other platforms to stretch their skills, rather than feeling the need to be validated by drama schools or first tear theatre companies. Promise Adelaide are taking the brave step of selecting new and lesser-known works that not only provide the opportunity to performers to gain experience but deliver Adelaide audiences high quality new or rarely seen pieces to enjoy. This is community theatre at its best.
'All Is Calm' runs from 21-23 December at The Goodwood Institute.