It's something everyone is familiar with, but bath time has never been this energetic.
Returning to Adelaide Fringe after a killer season in 2015, 'SOAP' takes the everyday use of the bathtub and turns it upside down.
It's an all-ages show with elements of contemporary circus, physical theatre and cabaret, performed against a thrilling soundtrack.
The show's creator and director, Markus Pabst, turns on the tap and gushes about the performance.
It has been called "the indisputable hit of Adelaide Fringe 2015"… What makes 'SOAP' so good?
'SOAP' is a fun show with high-class acrobatics in an ambience that is well known to everybody: the bathtub. It can be quite sexy, because you are only sparsely dressed in the tub, but at the same time it is a familiar surrounding in which everybody feels comfortable because we all share the experience of having been in the tub and we know what it feels like. The difference is of course that normal people do not perform brilliant world class acrobatics in this environment.
Where did the idea to create a visual water show come from? Have you created anything like this in the past?
Around 18 years ago, I created a show, in which there was a number with kind of an acrobatic strip in a tub. I loved the concept and I started to look for other ideas in tubs but I only found a clown who had used it. So I thought that I should maybe start being creative myself and I designed the aerial straps number with David O'mer that subsequently toured the world. After that, we decided that we were not done yet with bathtubs and that there might be a possibility for a whole show using this prop.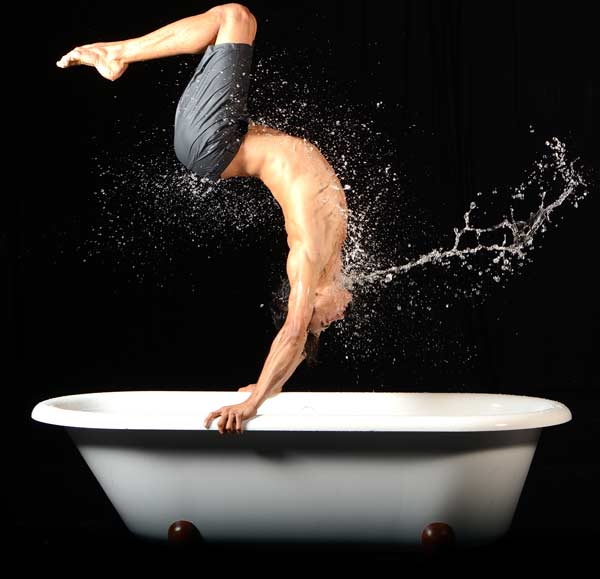 Tell us a bit about the music that accompanies the on-stage action?
We are quite proud of 'SOAP''s soundtrack and its mix. After ten years it still feels modern and up-to-date. Together with Max Rambaek, my co-director, we created this wild mix out of very different musical numbers and styles, including songs by The Doors, Mika, Sia, Tool, Gnarls Barkley, Goldfrapp, Ben Harper amongst others as well as live music from Beethoven, Mozart, Korsakow, Theodorakis and The Beatles. The press called us the "Tarantinos of Vaudeville". We liked this label a lot because Quentin is well known for his use of great music for his films.
Have there been any particularly memorable moments (negative or positive) during performances of 'SOAP'?
A few years ago, one of our aerialists fell down onto a tub. He was ok, but the tub broke… Once during Australian customs inspection, they accidentally dropped a whole shelf with three bathtubs on it from a fork lift so that there were only broken pieces left. We just had very few hours to fix our spare tubs and recreate the set for our opening night in Adelaide… But probably the worst disaster occurred in England, when the water heating system at a corporate event stopped working. It was in the middle of winter and freezing cold. They even had to defrost the water pipes before we could actually fill the tubs. This was definitely the coldest gig our acrobats ever did. The performer had to be revitalised with a stiff vodka afterwards ;)
What is the rehearsal and preparation process like before each run of shows?
We often change cast members to keep the show fresh. Almost every time we go on tour, there is at least a new face in the team. Therefore, we regularly rehearse the entire show with everybody in order to bring in the new members and at the same time make the show tight and light. Good comedy is hard work. Every detail must be precisely rehearsed, otherwise the show won't be funny. The cast members help each other and show the new members how to perform some of the tricks in, on and around the tub. We also have different versions of the show and we experiment with running orders and new ideas to develop the show and make it better, even after ten years. Water and wet surfaces are really dangerous for acrobatics and we spend a lot of time and energy in training the performers to cope with the water and to present their numbers in a safe way in this challenging environment.
What are you hoping 2017's Fringe audiences walk away from this show thinking and feeling?
I hope they enjoy it, have fun and have a really good time. What I love about 'SOAP' is that children of all ages, theatre professionals, grandmas and grandpas, intellectuals, mothers and fathers, men and women of all different backgrounds can have a great time. Everybody finds something for him or herself to enjoy. We can present the exact same show for a family audience at a matinee and an audience with only adults late night, and both shows works the same.
What's next? An acrobatic show based around showers?
We had a shower in the show but we don't use it any longer. We are creating shows all the time and we have a few shows in the pipeline. There is 'dUMMY - variety 2.0' that we have created a few years ago in Germany and it has done over two years of touring in Europe. We would love to bring it to Australia. It is about dummies and acrobats, a kind of cool mix and features amazing real time projections and original live music. We have also done a show with an urban theme, featuring black performers from around the world for a 12 month tour in Germany.
Who has been your best audience? Be honest.
You won't believe me when I say that Australia comes to mind first. We have great audiences there and they react even more spontaneously than our German audiences which means that our performers have a lot of fun. The fact that we are coming back for the sixth time to Australia (plus once to NZ) should be proof enough for this. But the audience at the Sziget Rock Festival in Budapest recently was also not bad and we have had amazing audiences in all parts of the world, so we're really happy.
Sell the show in one word. And you aren't allowed to use 'wet' or 'soapy'.
Sparkling!
'SOAP' plays at The Peacock from 17 February-19 March.