'Whether you're naughty or nice, these reindeer have something they'd like you to unwrap. This salacious evening of cabaret is sure to get you in a holiday mood. If you're lucky, you may even get to sit on Santa's lap'.
'A Very Naughty Christmas' by Understudy Productions will be running at Brisbane Powerhouse. The upcoming cabaret comedy subverts the traditions of the typical Christmas show, promising to leave your smiles as open as Santa's suit will be.
The idea behind the show has been in the works for a long time. It was inspired by 'Friends Christmas', an annual event that producer and co-creator Alex Woodward regularly hosts.
"We'd all get together and it'd only be people you wanted to see. You'd listen to awesome music and dance around, dress up like idiots, get drunk, eat lots of great food and it was awesome," he laughs.
From this event, the idea was born to recreate the atmosphere for a Christmas show.
"At Christmas time I'd always think: I want to do some fun Christmas things, I don't want to sing carols at a church. So, I went to Matt [Semple] and Dan [Venz] and asked how we could do it.
"We had this idea to take Santa and all his reindeer and exploit those character types to find the comedy. I wanted it to be sexy and fun," Alex says.
The talented ten cast members come from critically acclaimed shows including 'Rent', 'Peter Pan', 'Hairspray', 'Grease', 'Single Asian Female', 'Jesus Christ Superstar', 'Into The Woods', 'Miss Saigon' and endless others. The crew have just as much talent to offer, with the Powerhouse website warning it's an 18+ show containing coarse language, nudity, loud noises and strobe and haze effects.
"We have an awesome lighting designer, Travis Macfarlane, so there's going to be lots of flashing moments and headlights. We have a five/six-piece band so it's gonna be a nice sound. Sound Designer John Taylor, who just did 'American Idiot: The Musical', has also come on board," Alex elaborates.
"We're pretty stoked that everyone was looking to do something fun and something they don't normally get to do, so it's been great."
The arrangements and band are led by 'Seven On Sinatra''s Musical Director, Tnee Western-Dyer. The song-and-dance numbers themselves include a two-woman version of 'Baby It's Cold Outside,' adult twists on songs such as 'I Saw Mummy Kissing Santa Claus' and a striptease from the jolly man himself.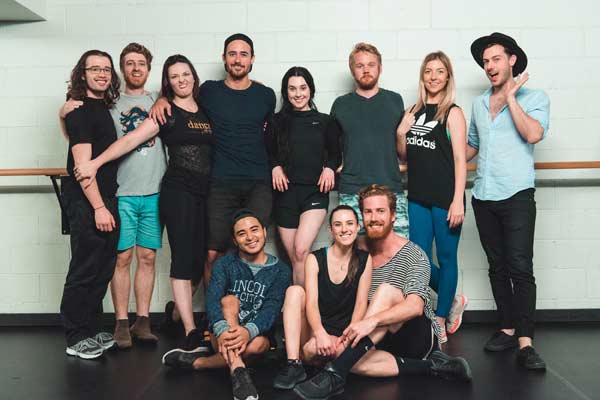 "It's the first time everyone comes out on stage at once and Santa does a bit of a striptease for everyone. Santa being a bit of a narcissist, Christmas is all about him and he loves the attention," Alex says of his current favourite segment.
The entertainment doesn't stop this year however, Alex discusses his hopes for having the adults-only Christmas show return in the future.
"The plan is to do it this year, see what the reaction is and then next year do it bigger and better." Exactly what will be bigger in a show that involves cabaret and striptease makes the imagination run wild.
"I think good comedy is about finding that line where you're making everyone laugh and not necessarily just offending people," Alex explains.
'If raunchy reindeer, carnal carols and big long North Pole are on your wish list this year, Christmas is coming early! Don't worry though – Santa never will.'
Jingle Bell Rock-your-socks-off at 'A Very Naughty Christmas'.
'A Very Naughty Christmas' runs 7-16 December at Brisbane Powerhouse.