She's known as the UK's queen of live vocal drag and for the past ten years she has toured the globe; wowing audiences with her impressive vocal style.
Now, Velma Celli (alter ego of West End performer Ian Stroughair) is bringing her hit show 'A Brief History Of Drag' to Australia.
A smash hit at the Edinburgh Festival Fringe 'A Brief History Of Drag' takes audiences on a journey through drag history and gay culture, exploring critical moments in politics, music, pop culture, film and theatre.
Here, Velma Celli chats to scenestr about the show she calls "a true cabaret rollercoaster".
What inspired you to create this show?
In January 2015, I was in Tanzania – performing, holidaying and having some down time with family and friends who live out there. Oh, and performing in full drag which makes no sense in a country where it is very much not okay to be gay. It's just the kind of 'gal' I am.
I was preparing for my return to London and working on my setlists for my upcoming gigs. As usual, I hopped on Twitter and asked my followers what songs they would like to hear.
I had always stayed well clear of the drag classics, I didn't want to be yet another man in a dress singing the obvious – in fact, I was very proud to be known for doing the exact opposite of that.
Being the youngest of four sisters, I always like to keep folks happy so I thought, screw it. I'll do one gig and shove all the classics together in one set, rip off the proverbial bandage in a 'one night only drag extravaganza' and put it to bed once and for all.
Then something wonderful happened.
I started compiling the list of 'drag songs' and it struck me. Not only was this a show, it was way overdue. I realised that these songs were the soundtrack to the history of the LGBTQI community.
Writing this show has completely changed how I feel about these songs forever. Icons of drag, whether it be in film, music, popular culture or even politics have been our trailblazers for an age, the drag queens always on the front line representing us and these songs (I have now learnt to adore) are the very heart beat and soundtrack to a message – that message being "F... my label, I am a human, much like anyone else and my sexual preference is as important and unimportant as anyone else's".
The show is a combination of cabaret and songs infused with stories. Why did you choose to combine spoken narrative and song in this way?
Well, for me, every one song has a meaning and significance in my evolution in drag and also the evolution of the art of drag itself. Also, many pop songs have hidden meanings or just reasons for existing that aren't so widely known. Musical theatre songs taken out of context of the actual show can also seem random unless explained. In order to explain the importance of each song and why it affected me I have to convey what each song means. Also, some of these young queens don't know their LGBTQI history – so mother is here and class is open!
Why do you think it is important to educate people about gay culture and drag history?
In order for people to understand where we are coming from as a community, the masses have to know the history and try to understand it – if (of course) they are willing.
Some people ask "why do they still need a Pride march?"... That's reason enough to carry on telling these stories and getting out there as much as possible. If we don't, our history will be forgotten or brushed aside as something deemed not as important as a piece of heterosexual history.
You describe your show as a "true cabaret rollercoaster". Why is that? What can audiences expect?
It basically means that we are going to take you on a journey of different styles and hopefully emotions. In an ideal world you'll be laughing one moment and crying the next.
My show celebrates not only those classic 'drag songs' (rearranged in our own unique way) but also artists of various sexualities who pushed boundaries and tore down the walls of stereotypes. To mention one – David Bowie, whose gender-bending images pushed gay culture into the public conscience and in doing so forced many to consider acceptance for anyone different, whether or not we knew it at the time. A more recent artist who has rather vocally had our backs and challenged perceptions is Lady Gaga. I actually open the show with one of her hits.
We also touch on the struggle of those who simply couldn't come out and live life in the music industry as their authentic self, like Whitney Houston, who happens to be my favourite artist of all time.
We explore legendary and defining roles in Musical Theatre including Angel in 'Rent', Frank in 'Rocky Horror' and a tender homage to the grand high witch herself, RuPaul.
Given it is, at least in part, a cabaret show, can we expect some spectacular costumes? How would you describe your style?
You can expect one fabulous costume. My time spent in that hour is on stage, with my audience, so no crafty costume changes for me. Just one sparkly number and a bucketload of showbiz.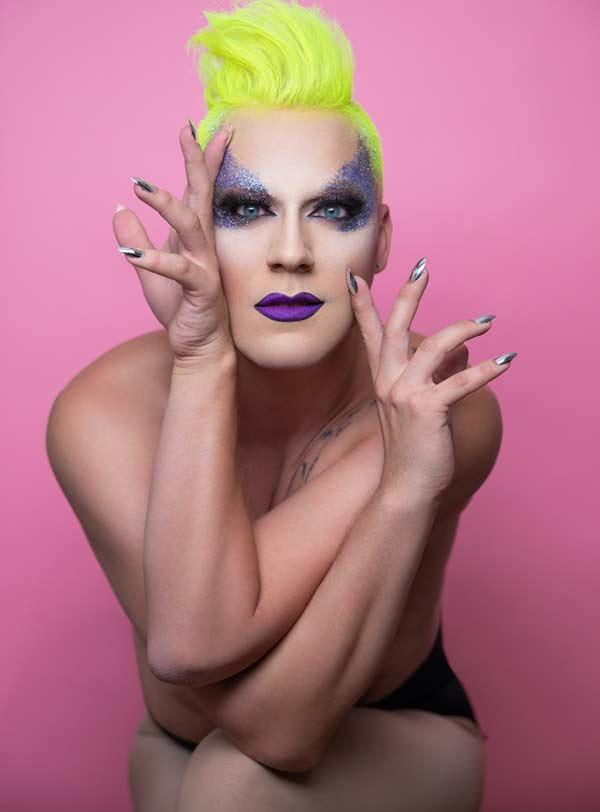 You have performed at some of the world's legendary performance spaces including the Hippodrome in Leicester Square. Is there a location you would love to perform at? Why?
There are a few… Many! But right now, I would have to say that I would love to play Ronnie Scotts in London at some point in my career. Not famous for most people, I realise, but it is the most famous jazz club in the UK – one of the most famous in the world. That would be very, very cool.
You have performed with musical theatre stars such as Ruthie Henshall and also pop icon Anastasia. Is there another particular pop icon/musical theatre star you would love to perform with?
I would have to say Lady Gaga and Liza Minnelli.
What do you hope audiences will take away from this show?
I want people to leave feeling uplifted and fabulous and to want to see more drag shows because there are SO many different types. I would like folks to feel inspired by the stories I tell about those trailblazing queens who gave us the freedom we have today. There are countless queens throughout history of which we all should be thankful for, of course many of them will remain nameless for all time. Celebrating the art form of drag and supporting your local queens is a great way to give thanks.
If you could use one word to describe this show what would it be?
There's a very good word. It's... Supercalifragilisticexpialidocious.
'A Brief History Of Drag' Tour Dates
18-19 January – Chapel Off Chapel (Melbourne)4 February – Factory Theatre (Sydney)7-10 February – De Parel Spiegeltent at The Woodside Pleasure Garden (Perth Fringe World)